Calle 13 Front-Man René Pérez Gets Award From Nobel Prize Organization
The social-activist award-winning singer has written about politics and the disenfranchised for years.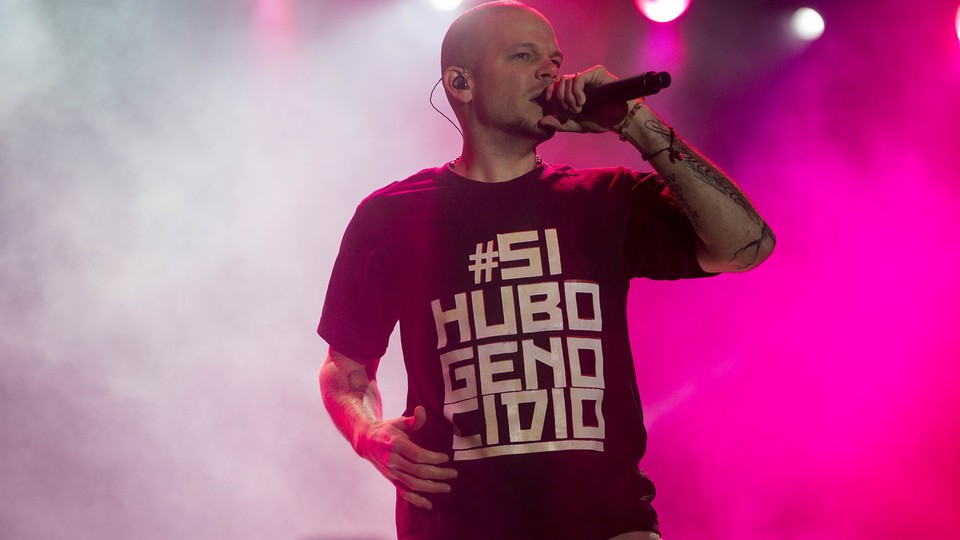 As half of the Puerto Rican duo Calle 13, René Pérez, a.k.a. "Residente," has written about the FBI killing of a local independence leader (a 2005 song that catapulted the band into fame), collaborated with WikiLeaks founder Julian Assange, and extolled the virtues of being Latin American in a world that largely sees Latinos as cheap labor.
It was for his lyrics and themes about the world's inequality and the disenfranchised that, on Nov. 15, Pérez became the first Latin American to win the Nobel Peace Summit Award, joining artists like Cat Stevens, Bob Geldof, Bono, and Sharon Stone.
The 15th World Summit of the Nobel Peace Laureates took place last weekend in Barcelona, Spain. Each year, it honors a person who stands for peace and raises awareness around social issues. Pérez has worked with UNICEF and Amnesty International. His songs have been called protest music, including his collaboration with Assange, "Multi Viral," a critique of the media and its control over information, in which Assange sings in spoken-word.
Pérez and his stepbrother, Eduardo Cabra, or "Visitante," rose to fame in their native Puerto Rico even before they released their first official album. They'd formed in the early 2000s and were just about to release a record. Then a local leader for a Puerto Rican independence movement was killed by the FBI during a raid on his home. Within 30 hours, Pérez wrote and released online "Querido FBI," a caustic song in the form of a letter that urges Puerto Ricans to live free, and called the U.S. federal government pigs and insects.
Since then, the group has won 21 Latin Grammys—more than any other artist or group—and three Grammy Awards.
While Pérez's tone has softened, the political messages have remained. One of his recent songs, "Latinoamérica," rhymes about the pains of overworked and forgotten poor Latin Americans who feel enslaved. It's both a prideful anthem and a condemnation of American capitalism that, he says, wants its cheap labor to be neither heard nor seen.
As he accepted his award, Pérez wore a T-shirt that recalled a scene from a recent music video. It featured an AK-47 with the words "education" written on the rifle's body and "struggle" on the magazine clip.
Pérez's forthcoming work will be his first solo project, as this summer he and his stepbrother announced that they would no longer tour together.