Brown University's $100 Million Inclusivity Plan
The ambitious effort that could transform the institution and inform how other campuses respond to student protests.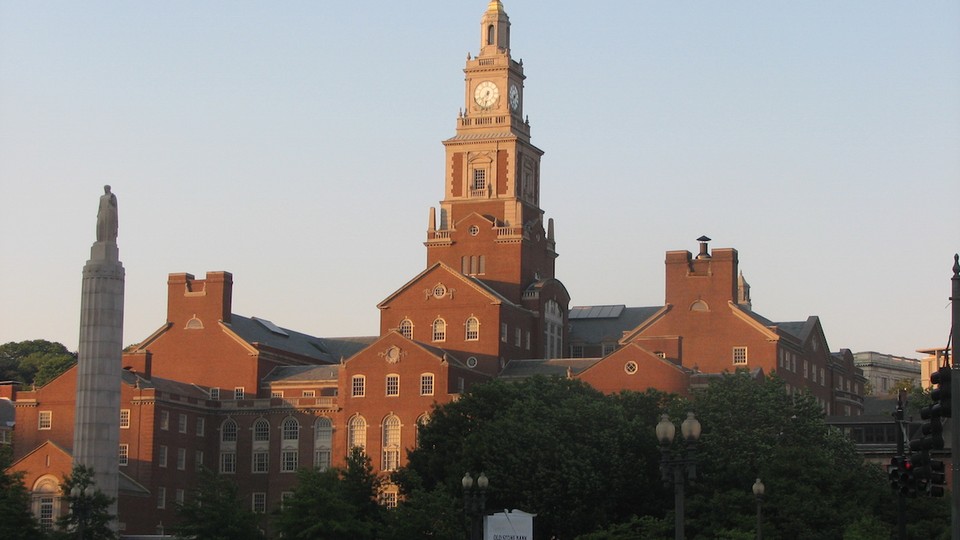 Every university responds to student protests in its own way.
Earlier this month, scores of Brown undergraduates formed a circle on a quad and listened as black classmates expressed pain, anger, and frustration with campus life, following the example set by their analogues at the University of Missouri and elsewhere. Kate Talerico of The Brown Daily Herald recorded several powerful speakers and a diverse crowd that listened attentively and occasionally snapped to signal their agreement.*
Here are some of their words:
Candice Ellis, the first student to appear in the video, declared, "We begged this university to hear our stories about how racism, sexism, and a whole host of other problems prevail … and prevent us from being  safe, from being at peace, from being whole and from being well. They invite us to meetings in the president's office and the faculty club. They say they listen. They say they hear us. They do nothing."
Over the weekend, Brown administrators challenged that last premise. Noting that "this is not the first plan Brown has developed on issues of diversity and inclusion," President Christina H. Paxson announced her intention to spend more than $100 million to create "a just and inclusive campus," declaring that "living up to our values means not just opening Brown's doors to talented people who have historically been excluded from higher education, it means ensuring that these students, scholars and staff thrive." She set forth specifics in a 19-page draft proposal.
Its agenda is as varied as giving more financial support to low-income students; doubling faculty from historically underrepresented groups over ten years; and expanding the institution's scholarly focus on race, ethnicity, and social justice. Administrators will take feedback on the draft and its numerous proposals until December 4, 2015.
As a proponent of diversity among institutions, not just inside them, it strikes me as proper for Brown to pursue a course that reflects its well-established place on the left of the ideological spectrum. Even so, I hope it uses this process to solicit criticism from people who value racial inclusiveness but have very different notions of how to achieve it. After all, contrary to the most sweeping critiques of student protesters, Brown University administrators and faculty were earnestly trying, long before this autumn, to create a diverse, inclusive campus for people of all races.
Many students believe that Brown has failed. If these students are right, but wrong that lack of effort is the reason, it would seem to imply that at least some long-running assumptions about race held by Brown's administrators and faculty are incorrect. I see no effort to wrestle with that possibility in the document, which seems entirely consistent with how Brown would have tackled these issues ten years ago.
I suspect rigorous debate about all aspects of this well-intentioned and overdue effort will increase campus tension in the short run, but improve outcomes in the long run. If recent history is any indication, some disagreements are all but certain. Some of the proposed ideas seem responsive to a statement recently put forth by 35 "concerned graduate students of color" at Brown, whose demands include these:
We demand visible and administrative accountability for departments and centers that have a tradition of racist hiring and retention policies and anti-Black pedagogy… Furthermore, we demand that the university support monetarily and otherwise departments and centers committed to social justice, as evidenced through anti-oppressive pedagogy, and the satisfaction and retention of undergraduate and graduate students and faculty of color. These departments and centers must be incentivized to continue their work with increased departmental resources and faculty hiring lines, like target-of-opportunity hires, cluster hires, postdoctoral fellows, and additional funding for centers....

We demand the introduction of compulsory, in-person, and regular anti-oppression training for faculty, staff, DPS, and administration. Anti-oppression trainings should be led and organized by people of color with significant experience in anti-oppression activism or scholarship...

We demand an in-person and compulsory Title IX training for faculty, staff, DPS, administrators, and students that includes an intersectional framework. The current non-compulsory online Title IX training module is ineffective and does not address the structural racism, queerphobia, economic violence and transphobia that is foundational to sexual violence on campus...
Glenn Loury, a professor of economics at Brown and a prominent critic of the graduate students' statement, recently declared on Facebook that during his decade at the institution as a black faculty member doing scholarly work on race, ethnicity, and inequality, "I have found the university to be an extremely warm, welcoming, supportive and open environment to undertake my work. I know well the people who run this institution, and the notion that they are racially insensitive is a shameful slander with no basis in fact." Noting that  "the administration has lavished resources on me, and has enthusiastically supported any number of initiatives that contribute to promoting a just and decent society, both within the United States and throughout the world," he expressed these specific misgivings:
The notion that Brown needs a revolutionary reshaping in order to become hospitable to "students of color," the idea that "anti-black pedagogy" at Brown needs to be countered with some mandatory indoctrination of faculty, the proposal that external student committees should review purportedly "racist" departmental appointment processes, the initiative of creating "specialty positions" in academic departments to ensure their openness to hiring "faculty of color"—these are all mischievous intrusions on the academic prerogatives of a distinguished faculty which no self-respecting scholar of any color should welcome. They are a step onto a slippery slope that slides down into intellectual mediocrity, and I will have nothing to do with them.
All of this is to say that there are passionate demands for change at Brown and deep disagreements about particulars. The newly announced plan will now frame that debate.
As Brown insiders comment on the draft, titled "Pathways to Diversity and Inclusion: An Action Plan for Brown University," it behooves outsiders to pay attention. This is the most detailed response yet to student protests roiling American campuses. It is likely to serve as a reference point as other institutions consider their next move, and its strengths and weaknesses should be examined for useful insights.
What follows are tentative, initial thoughts.
––"The purpose of this Action Plan," the document declares, "is to establish a set of concrete, achievable actions that will make Brown more fully diverse and inclusive." The emphasis on "concrete" and "achievable" is both auspicious and refreshing.
–– In theory, impassioned complaints at academic institutions should cause the people in charge to think, "Hey, we're a community trained to solve complex problems by devising rigorous studies and establishing discrete facts. Let's study this!" In practice, the ideology of administrators often plays a larger role in driving change than the investigations of faculty members. So I was glad to see the Brown document declare, "a priority in the coming year will be to collect comprehensive quantitative and qualitative information on the climate of inclusivity," and flesh out a specific effort to get beyond anecdotes:
Although we have heard numerous personal accounts from students about incidences of bias and exclusion, systematic data are needed if we are to establish a baseline, track progress, and develop effective new programs.

This major study will focus on inclusion/exclusion inside and outside of the classroom; experiences with harassment or discrimination; and perceptions of and attitudes towards racism, sexism, and other behaviors that disadvantage specific groups of people on campus. This study will have both qualitative (focus group) and quantitative (survey) elements. The study will be administered by an external firm, to ensure confidentiality, and a student-faculty-staff committee will work with the firm on the survey design.
If well designed and implemented, this study could provide the most rigorous analysis ever produced about the "campus climate" at a prestigious university. I don't know what a well-designed study would show. I hope the committee designing it proceeds with the same uncertainty. A racially and ideologically diverse, politically insulated committee would be ideal if Brown wants broad buy-in when the results are announced.
––The Brown document aims to remedy an acknowledged dearth of information about the campus climate at Brown with a significant research effort … but before knowing what that study's results will show, the document urges lots of specific initiatives. I find many of them difficult to assess without additional information, and it's unclear on what basis administrators have determined them to be optimal.
––Among the ideas, plans to better support low-income and first-generation students seem most intuitively promising to me. Even with financial aid, many struggle to pay for "health insurance, trips home for family emergencies, laptops and books," and while they're stuck on campus over breaks, the dining halls shut down. So Brown proposes to allocate more emergency funds for students in need, to extend dining opportunities during breaks, "to provide all students in need with access to health insurance, textbooks and laptops, and to hire a dean dedicated to working with and supporting first generation and low- income students." Concurrently, there is a plan to open a center for first-generation college students. I've heard enough stories from low-income and first generation students to know that they often fall through the cracks at campuses implicitly designed for people who enter acculturated to norms that some had no way of encountering.
My only concern is whether a new dean, a new center, and extended dining-hall hours could cost low-income students more in added debt than they yield in benefits. At some threshold, increased costs would seem to hurt non-rich students more than help them, and administrators are perhaps too biased to set an optimal threshold. If they've crossed it, my instinct would be to cut costs elsewhere and focus on these students. Are there any old deanships that Brown doesn't really need? To ask that question is to presume that the administration should not grow indefinitely.
––The draft proposes:
Expand resources for centers that support students from diverse communities: Three important centers—the Brown Center for Students of Color, the Sarah Doyle Women's Center, and the LGBTQ Center—serve a vital role in supporting and empowering undergraduate and graduate students. It is clear that these centers require additional resources. We commit to adding 2-3 staff positions in support of the work of these centers in 2016-17. The positions will be defined by the new Vice President for Campus Life and Student Services after this position is filled in 2016.
It is hard to assess this proposal without knowing what percentage of Brown University women, minority students, or queer students use their respective centers.
If they're widely used the investment seems sound; if the majority of women, "students of color," and queer students never cross their thresholds, not so much. I've reported at other colleges and universities where, for example, a large percentage of women on campus regard the women's union as an ideological student organization whose subculture doesn't speak to them or their concerns— its funds flow to politically active feminists (which is fine) but not to most women. If Brown is lavishing resources on these centers because that's what the vast majority of students in relevant demographic groups want or what best serves their needs, great. But students and faculty should do due diligence to ensure administrators aren't erroneously prejudging a degree of representativeness or funding unrepresentative activists because they're most likely to protest.
––In response to student complaints about interactions with campus police, the proposal notes:
Special attention will be paid to the training of members of Brown's Office of Public Safety. Their role in protecting the safety and security of the campus is vitally important. It is equally important that their work is conducted so that all members of the community and our guests are treated with dignity and respect. We will examine the need for additional diversity and sensitivity training for all officers in the Department of Public Safety, who currently undergo annual diversity training, and assess whether the role of the Public Safety Oversight Committee, a standing committee of students, faculty and staff charged with overseeing the Department's policies and practices, is functioning in the way intended.
If students are dissatisfied by the Brown police force, despite annual diversity and sensitivity training overseen by faculty and students, is "special attention" to training a promising solution? It sounds an awful lot like continuing to do the thing that isn't working. Here again, more information would be useful. Are the campus police paid enough to retain good employees? Are there racial disparities in who is asked for IDs on campus? If not, why do students perceive that to the case? If so, is the racial disparity driven by campus police exercising their discretion in racially biased ways? Are the culprits biased bystanders who are more inclined to call campus police on black or Hispanic students doing nothing wrong? Are racial disparities in the non-students reported for crimes to blame, causing black or Hispanic students to fit the description of calls to the dispatcher? Even if one believes a remedy is necessary—and I do, if innocent minority students are disproportionately burdened by campus police—the cause of extra stops needs to inform the remedy if it's going to work. Brown seems uncertain of the cause, but convinced that diversity training is the answer even though it has already been tried and seems insufficient.
—The draft states:
Double the number of sophomore seminars related to issues of power, privilege, inequality and social justice: These sophomore seminars, established several years ago, were created in response to a recommendation made during the development of Brown's strategic plan. As the number of faculty and postdocs who conduct research and teach on these issues grows, we will expand the number of seminars that are offered.
And it proposes broader efforts "to explore ways in which the curriculum at large can be changed to more fully engage issues of race, ethnicity and identity." This academic trajectory may or may not be warranted by the substantive importance of those subjects alone. Isn't it also possible that making some of the most ideologically and emotionally fraught academic subjects a bigger, more pervasive part of academic life could increase rather than decrease tensions around race?
Perhaps this change will improve inclusiveness, but that assumption seems unwarranted. It may be that it's pedagogically important to talk about race and identity at Brown even more than is done now, but that doing so will give rise to more speech that is regarded by Brown students as insensitive, or as offensive "micro-aggressions." Or perhaps the tradeoff runs in the other direction: Maybe greater focus on race and identity will leave students less prepared after graduation in other important subject areas, but improve the "campus climate" in various ways. Are there tradeoffs? What are they? If I have one overarching criticism of the document as a whole, it is the failure to search for, acknowledge, or grapple with tradeoffs, as if there are no thorny questions here, just obvious solutions.
––The document states:
Develop and run professional development workshops for faculty, graduate students, administration and staff: These workshops will foster greater awareness and sensitivity on issues of race, ethnicity, sexual orientation and gender identity and expression.  
Again, there may be a tradeoff hiding in there. It could be considered "insensitive" for a feminist scholar to probe whether the transgender community is helping to ossify the notion that there are inherently masculine and feminine traits; or for a scholar of transgenderism to probe whether radical feminism denies real gender identities (to reference one heated disagreement on the left). Are those still legitimate areas of inquiry? Is sensitivity really a primary value that a university ought to instill in its faculty and graduate students? (The work of Darwin and his successors in biology was extremely insensitive to the feelings of several generations of religious believers. Isn't it good that they pressed forwards anyway?) Perhaps it would be better to inculcate humanism or tolerance or inherent dignity, values that help communities flourish without stigmatizing the search for truth.
—The action plan sets forth very specific goals for faculty diversity: "Develop and sustain a diverse faculty at Brown, with the specific goal of doubling the number of faculty from historically underrepresented groups by 2024-2025. This amounts to an increase of 55-60 faculty over the next decade." This is another subject of preexisting controversy on campus, as discussed by Loury and John McWhorter of Columbia University in one of their occasional episodes of Bloggingheads.tv. Their mutual complaint was that some students are misled by their elders into thinking that the relative dearth of black and Hispanic faculty members is clear evidence of racism by faculty and administrators. The students feel hurt and unwelcome, as they ought to in the face of pervasive discrimination, whereas in Loury and McWhorter's estimation, the present lack of diversity reflects an applicant pool, especially in the hard sciences, that's much less diverse than the population at large for reasons, racism among them, occurring long before people enter the university:
Hard data on the applicant pool of today, and of the near future, would be ideal for assessing whether Brown's diversity goals are realistic. My instinct is that marquee universities like Brown, Yale, and Harvard can marshal prestige and resources to significantly increase black and Hispanic faculty with highly qualified new hires, even with a highly skewed applicant pool, but that doing so may come at the expense of racial diversity among faculty at other institutions of higher learning.
The Brown document does arguably address some of the concerns voiced by Loury and McWhorter insofar as it aims to increase the future pool of PhD hires  by increasing racial diversity in Brown graduate programs; to encourage scholars "from diverse backgrounds" through a post-doctoral fellowship program that aims to create new faculty members; and to expand the number of undergraduate students from historically underrepresented groups who are brought to Brown during the academic year and summers "to engage in research opportunities that will help prepare them to be competitive for admission into Brown's graduate programs." Pro-diversity outreach of this sort strikes me as salutary, though I'd love to see rigorous analysis of whether such programs are in fact effective at attracting new faculty and whether they benefit or hurt the individuals who participate.
There is much more to the Brown document. I encourage emails to conor@theatlantic.com from readers with praise or constructive criticism for anything it contains, and I hope that airing some of these opinions will assist Brown and other college communities to achieve the worthy goal of improving inclusiveness on campus.
---
*  This article originally stated that the Providence Journal recorded the blackout rally at Brown University. We regret the error.