Black Mizzou Students Wield Their Power To Oust President
Tim Wolfe failed to grasp that ignoring reports of racism on campus was not going to make the issue disappear.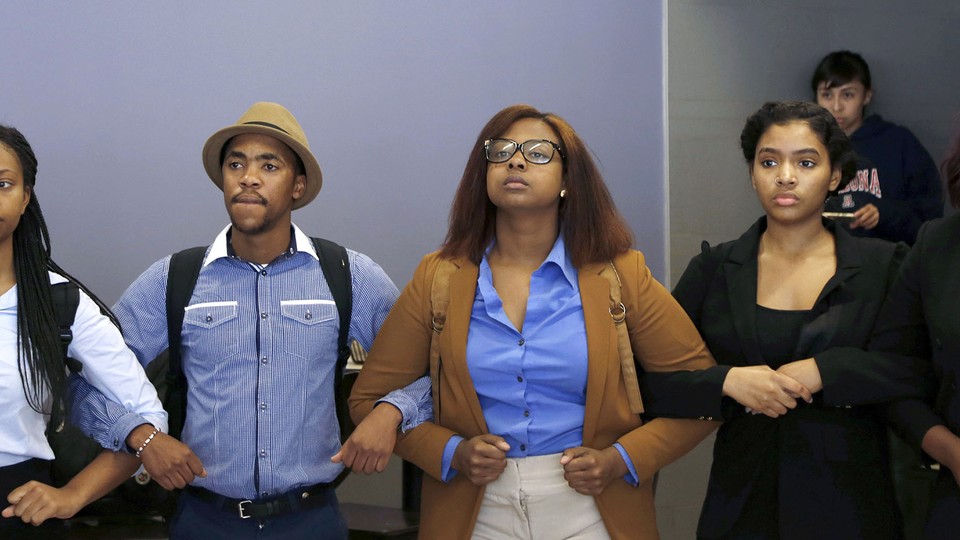 Tim Wolfe resigned his position as president of the University of Missouri on Monday amid mounting pressure from students and faculty.
Given on-campus protests, growing national attention on one student's hunger strike and the threat of a boycott by players of color on the football team, he had no other option.
At best, his handling (or mishandling) of the racism and broader tension that has consumed the school in recent months was a display of utter confusion and blind naivete. More likely it was a determined and misguided attempt to throw blinders up and carry on; a stubborn unwillingness to acknowledge the context in which the unrest on the campus unfolded.
Wolfe, a former IBM executive who, reports suggest, had been hired to curb costs at the school, stumbled badly after a group of black students asked him recently if he understood the term systematic oppression.
"I will give you an answer, and I'm sure it will be a wrong answer...Systematic oppression is when you don't believe that you have the equal opportunity for success," Wolfe reportedly said, sparking outrage at the suggestion that black students had conjured the idea for their own benefit.
In the last several months, black students on campus have reported being called racial slurs. The n-word was tossed around. A swastika was painted in human feces on a dorm wall. Through it all, Wolfe remained largely quiet, failing in at least one instance to even acknowledge student protesters, let alone their demands that he address persistent racism on campus. Of course there is no easy fix or miracle salve, but the silence said loudly to students and faculty, particularly those of color, that acknowledging and grappling with racism on campus was not a priority for him. Only after graduate student Jonathan Butler began a hunger strike calling for his resignation did Wolfe issue an apology--one without real teeth.
Students and faculty were not satisfied and vowed to walk out Monday in protest. Yet only when more than 30 members of the Missouri football team promised over the weekend to also go on strike, prompting the university board of curators to call a meeting, did Wolfe really begin to scramble, vowing Sunday to "create the safe space for a meaningful conversation that promotes change." It was too little, too late.
As the Washington Post lays out in a piece entitled "With $1 million at stake, U. of Missouri's president now taking protests seriously," Wolfe had been hired to save money, not bleed it, and he understood that directive. If the school forfeited Saturday's game, it stood, all told, to lose multiple millions of dollars.
What he seemingly failed to grasp was that ignoring reports of racism on campus was not going to make the issue disappear.
Wolfe also perilously ignored the larger sociopolitical context of 2015. Columbia sits just two hours west of Ferguson. While he may not have felt personally impacted by the Black Lives Matter movement that gained national traction after Michael Brown was killed there, his students certainly did. Students are connected, engaged with the protests through Facebook, Twitter, YouTube and other media, and on the ground in Ferguson. They are aware of the backlash from uncomfortable white residents and defensive police officers. The events that are unfolding (Wolfe's resignation is an important marker, but certainly not an endpoint) on campus are not taking place in a vacuum. Even if he did recognize that something needed to be done, his timeline for acknowledging that fact was, in today's world, utterly untenable.
Racism may be the boiling point, but students and faculty have been on edge all year, since Wolfe tried, days before the school year began, to cut subsidies for graduate students' health insurance. While the school eventually gave in and kept the subsidies in the face of student walk-outs, the incident helped cement Wolfe's position as an outsider. So did his decision to cut the university's publishing house to save $400,000 a year while pushing for a $72 million football stadium expansion. Sure, he had grown up in Columbia and earned a bachelor's degree at the school, but he'd then departed academia for the business world. And while that might have initially bolstered his qualification as the school's funding stagnated, the battle over subsidies and the recent incidents of racism were a visible reminder that Wolfe wasn't familiar with or comfortable negotiating the nuances of a modern university campus. The outsider status that was initially a represented new ideas became a mark of ineptitude.
Regardless of his mandate to fix the school's budgetary woes, Wolfe could not use that directive to shield himself from the reality of post-Ferguson college life, one in which students see the Black Lives Matter movement, see its impact on everything from the presidential election to the growing push for criminal justice reform, and demand to be heard. Ultimately, Wolfe was tone deaf. And it was his stubborn decision to remain so that cost him his job.