Bernie Sanders Makes His Pitch for Socialism
The presidential contender invoked American tradition to explain his ideology at Georgetown University.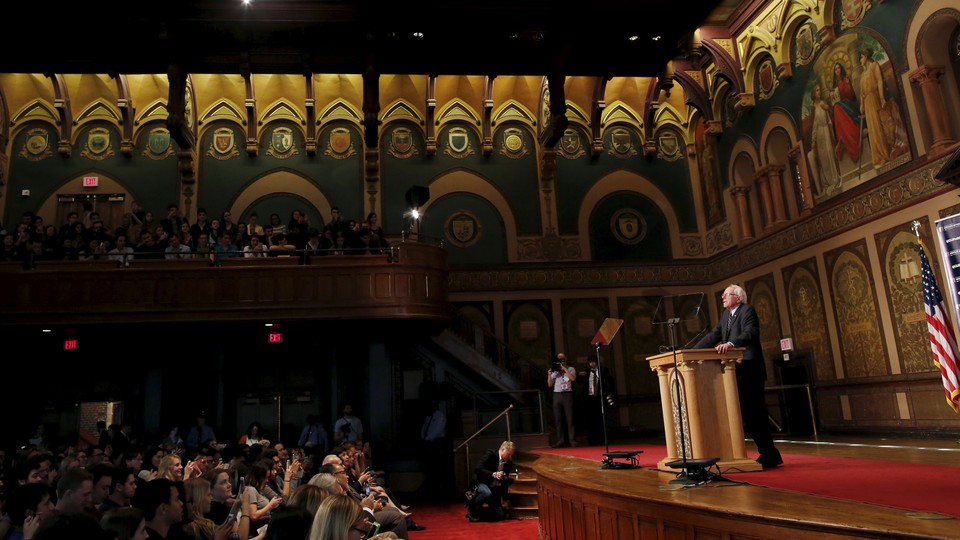 Inside a crowded auditorium at one of the most prestigious universities in the nation, Bernie Sanders made the case for an American vision of socialism.
The presidential contender, who calls himself a "Democratic socialist," delivered an impassioned defense of the much-maligned political ideology at Georgetown University on Thursday. It's a label he's been asked to justify up and down the campaign trail. When pressed, Sanders often points to the progressive values of nations like Sweden, Denmark and Norway. At Georgetown, however, Sanders framed his ideology as a fight against injustice rooted in American political tradition.
During a winding speech that lasted over an hour, Sanders praised Democratic presidents Franklin D. Roosevelt and Lyndon Johnson for wielding the power of the government to create jobs and lift Americans out of poverty.  Actions to strengthen the social safety net were decried by conservatives at the time, Sanders said, but today make up "the fabric of our nation and the foundation of the middle class."
After cataloging a litany of achievements that Sanders ascribed to Roosevelt in the aftermath of the Great Depression, the Vermont senator delivered the punchline: "By the way, almost everything he proposed was called 'socialist.'" Pausing for dramatic effect, Sanders winked at the crowd as the room erupted in cheers.
It was an unusual moment for a country where distrust of an ideology often associated with the Soviet Union runs deep. Yet Sanders was on comfortable terrain as he focused the conversation on the rallying cry that has become his calling card in the presidential race. Again and again, Sanders returned to his core message: In America the rich are too rich and opportunities for the middle class are few and far between. That a presidential contender would bring such a populist message to such an elite university might seem odd. But picking a place where young, engaged liberals were sure to show up certainly guaranteed applause.
There was no shortage of enthusiastic Sanders supporters at the event. Students started lining up for the speech just before 6 a.m.  Anyone who arrived too late was forced to wait outside in the rain. Still, gray skies weren't much of a deterrent. "I really, really wanted to come," said Sonja Erchak, a 19-year-old Georgetown sophomore, while standing outside waiting for the speech to start. "I made sure I hadn't skipped any of my classes the entire semester so if something like this happened I could go."
Christian Mesa, an 18-year-old freshman, was so thrilled to find out Sanders would be making the speech that he staked out the venue the night before to make sure he knew exactly where to line up. ("I heard that people showed up at 3 a.m. to see Hillary [Clinton] last year," he said in an apparent indicator of the seriousness of the situation.) Mesa arrived with his friends at around 5:45 a.m., landing the first place in line. That was the icing on top. "The key was to make it inside," Mesa said. "It just so happened we happened to be the first people."
While waiting for the speech to start, students wondered aloud why the senator settled on Georgetown to deliver what could be called a socialist manifesto. "We were just trying to figure out why he chose Georgetown when he could have gone down the street to [the University of] Maryland which is a public school, but I think it has a lot to do with the Jesuit identity of the school," said 18-year-old Georgetown freshman Aaron Bennett.
The backdrop also gave Sanders an opportunity to deliver a moral call for Democratic socialism. Sanders has been quick to praise Pope Francis for offering up critiques of unrestrained capitalism, and made sure to mention the pontiff on Thursday. "We need to create a culture which, as Pope Francis reminds us, cannot just be based on the worship of money," he said. "We must not accept a nation in which billionaires compete as to the size of their super-yachts while children in America go hungry and veterans sleep out on the streets."
When it came time to articulate his ideology once and for all, Sanders returned to Roosevelt. "Let me define for you, simply and straightforwardly, what democratic socialism means to me. It builds on what Franklin Delano Roosevelt said when he fought for guaranteed economic rights for all Americans," Sanders said. "Democratic socialism means that we must create an economy that works for all, not just the very wealthy."
The defense of Democratic socialism did not entirely abandon the rest of the world. Sanders noted that "many other countries … have done a far better job than we have in protecting the needs of their working families, the elderly, the children, the sick and the poor."
Still, Sanders argued that his ideology has not been imported: "I don't believe in some foreign 'ism', but I believe deeply in American idealism." He went on to warn that the status quo has put the core American ideal of freedom at risk: "Real freedom must include economic security … It is a vision that we have not yet achieved."
Sanders's speech arrives amid concern in Democratic circles that America simply will not elect a socialist to serve in the hallowed halls of the White House. A recent Gallup poll found that roughly half of American voters wouldn't pick a socialist president. And as Sanders has surged in the polls and drawn massive crowds, he has courted criticism for sticking with the label.
Republican presidential contender Donald Trump has mocked Sanders as a "socialist slash communist," while Rand Paul has warned: "I don't want America to succumb to the notion that there's anything good about socialism."
Like Sanders, Democratic frontrunner Hillary Clinton has called for curbs on "the excesses of capitalism." Yet Clinton has hinted that Sanders's devotion to Democratic socialism may be antithetical to American values. "I love Denmark," Clinton said during the first Democratic presidential debate. "But we are not Denmark … We are the United States of America."
It won't be easy for Sanders to reclaim a word so long reviled in American culture. "I think socialism gets a deservedly bad rap," said David Turer, a 21-year-old Georgetown senior who does not support Sanders. (So far, Turer hasn't decided whether to back Clinton or Republican presidential candidates Marco Rubio or Jeb Bush.) "It doesn't have a great history. So this speech seems like a smart, strategic political move, but I don't know if it will catch on."
But many of Sanders's fans don't agree. "I think there's a movement towards it," Mesa said. "But I think it's going to be slow and gradual because as Americans we don't like change so he's going to have to start off slow and not come off too strong."