"Ban the Box" Not Enough for Former Inmates to Rejoin Society
There are three major areas where newly released federal inmates will encounter difficulties: obtaining jobs, obtaining housing, and voting.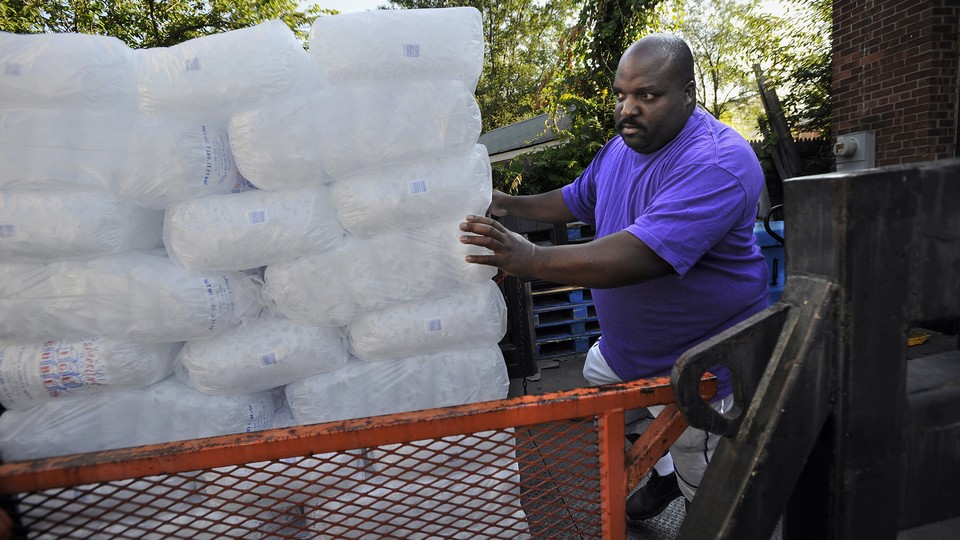 This article is from the archive of our partner

President Obama announced last week that his administration will refrain from asking about a job seeker's criminal background at the application stage for most positions. Riding the wave of similar "ban the box" policies passed in numerous cities across the country, the president's action aims to help ease the process of securing jobs for those coming out of prison, in hopes that the gainfully employed will be less inclined to return.
The announcement coincides with the early release of some 6,000 prisoners from federal custody, who have been either incarcerated or were under legal supervision. Their release began Friday, Oct. 30, and ran through Tuesday, Nov. 3. Another 8,500 federal prisoners are eligible for early release before next November, while some 46,000 drug offenders in total could be freed over the next few years, according to the U.S. Sentencing Commission. These emancipations come courtesy of a retroactive application of new U.S. Sentencing Commission guidelines, which shave two years, on average, off of certain prisoners' sentences for nonviolent, federal drug convictions.
Last year, the Commission acknowledged that too many people have been toiling in prison for too long for crimes that don't warrant lengthy punishment. The result has been a mass-incarceration crisis fed by the over-criminalization of drugs, and a mandatory-minimum-sentencing court regime. The number of people in jail for federal drug offenses grew 63 percent between 1998 and 2012, according to the Bureau of Justice Statistics. More than 75 percent of the prisoners in that group were either black or Latino.
As U.S. District Judge and Sentencing Commission Chair Patti B. Saris wrote in the American Criminal Law Review journal last November, "mass incarceration of drug offenders has had a particularly severe impact on some communities in the past thirty years. Inner-city communities and racial and ethnic minorities have borne the brunt of our emphasis on incarceration."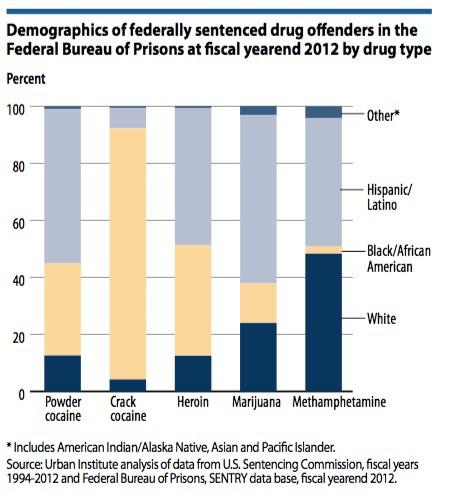 The White House's "ban the box" action, and the early release of prisoners are the federal government's down payment on reversing these injustices. The question now is how well the formerly incarcerated will be received as they reenter cities and communities. The answer will have heavy implications for whether they'll remain out of prison.
The average sentence for those released this weekend is 132 months, or 11 years (before the reduction), with some of them having been locked up since as far back as 1989. As the Associated Press and Yahoo have reported, some of these will return to spouses, partners, or to live with family members, while others have been divorced or abandoned by their families. But many of them will return to societies that are a lot different than the ones they knew before prison, for better or worse.
Deputy Attorney General Sally Quillian Yates told Columbia Law School students recently that one of the department's focuses now is on developing prisoners' reading skills, given that an estimated 70 percent of federal and state inmates cannot read above a fourth-grade level. Yates also informed the crowd, though, that the Justice Department is considerably under-resourced for reentry services compared to previous years. Along with the "ban the box" action, President Obama will be announcing an $8 million education grant, funded by the Department of Education, which will help nine communities in providing educational services for former prisoners.
The vast majority of those released will go through halfway homes, or they have already, to help with their transition. The largest obstacles to full re-integration into society, however, will come from state and local laws that make it difficult for the formerly incarcerated to meet their basic needs. Below are three major areas where returning inmates might encounter problems as they attempt to integrate into society:
Employment: Before those returning from federal prison can get into permanent housing, they'll need to find jobs. However, 90 percent of private employers do criminal background checks on job applicants. Research from the sociologist Devah Pager has found that African American men with criminal convictions are far less likely to get a call back from a potential employer than similarly situated white men. It's no stretch to say that people who can't find jobs or housing are more vulnerable to resorting to crime, and landing back in prison, than those with secure employment and shelter.
Still, many employers want to know if a job applicant has a criminal past. We see this in job applications that ask people to check a box to indicate if they have a conviction. A movement has been building in cities across the nation to remove that check box from job applications. A new "ban the box" policy went into effect last week in New York City, which forbids employers from running background checks on people until after they've been made a tentative job offer. President Obama's action last week asked that the federal government also put off asking job seekers about criminal backgrounds until well past the application stage.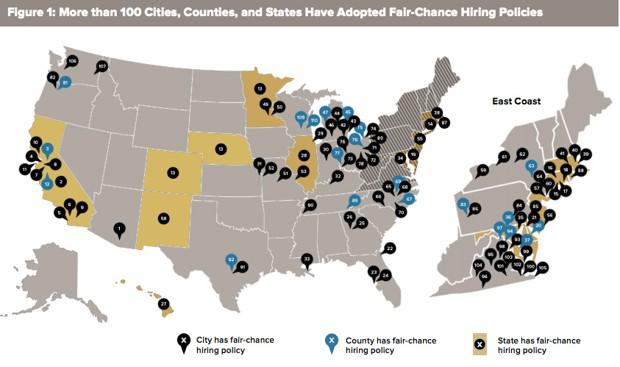 Housing: Many of those released last week and in the future will be sheltered by family and loved ones. Others will have steeper challenges, and even those who do get sheltered may be there only temporarily. At some point, the released need to find permanent housing, or the closest thing to it. In theory, the kind of housing most affordable and available for this population is public housing. But the Department of Housing and Urban Development has unsteady rules on public-housing eligibility for people with felony convictions. People convicted of sex-offender crimes and those busted for manufacturing crystal meth in federally assisted housing are banned for life from public housing benefits. But most other decisions on public-housing eligibility are left to local public-housing authorities, which can have varying and dizzying criteria. As these returning citizens become prospective housing candidates, they're likely to encounter resistance that can be as severe as neighbors actively petitioning against their reentry into communities.
For those returning who might have mental health challenges, permanent supportive housing can be an ideal fit for them, but many neighborhoods shun the placement of this kind of housing in their neighborhoods. As the Ella Baker Center for Human Rights recently reported, four out of five formerly incarcerated surveyed this year were denied housing or were determined ineligible due to criminal backgrounds. President Obama offered among his announcements last week new federal guidelines on admitting people with criminal records into public housing, and $8.7 million for a permanent supportive housing program for the formerly imprisoned.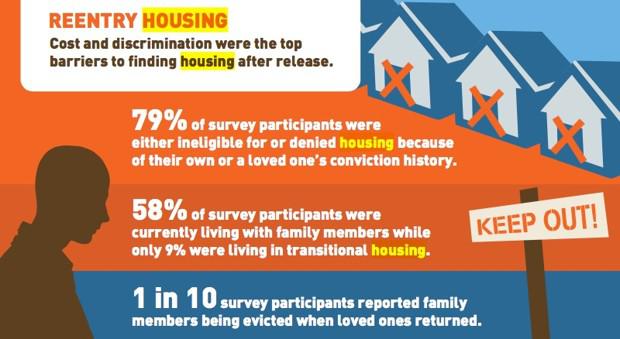 Voting: Over half of states won't allow people who've been convicted of felonies to vote after leaving prison while they're on parole or probation. Another 12 states won't allow some of the formerly incarcerated to vote even after they're released from probation/parole. This is why close to 6 million Americans are ineligible to vote across the country, a third of whom are African Americans. As a result, close to 8 percent of African Americans cannot vote, compared to 1.8 percent of the non-black voting population, according to The Sentencing Project. For the 6,000 currently being released, Texas will take in about 10 percent of them and Florida will take in roughly 5 percent, both more than any other state's intake. Texas is one of those states that won't allow those on parole or probation (for a felony conviction) to vote. Florida is the felony-disenfranchisement capital of the nation, with over a million of its population banned from voting for felony convictions, including almost a quarter of its African-American voting population.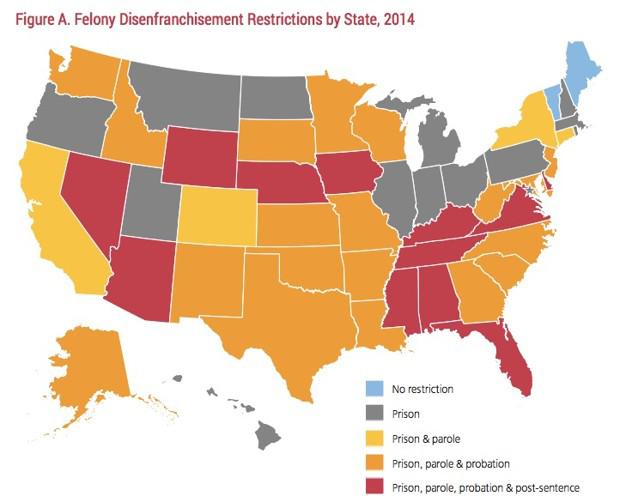 This article is from the archive of our partner CityLab.