At Rally, Sanders Goes Off Script and Into Foreign Policy
Typically focused on domestic policy, Sanders began his speech Monday night with a discussion of the Paris attacks.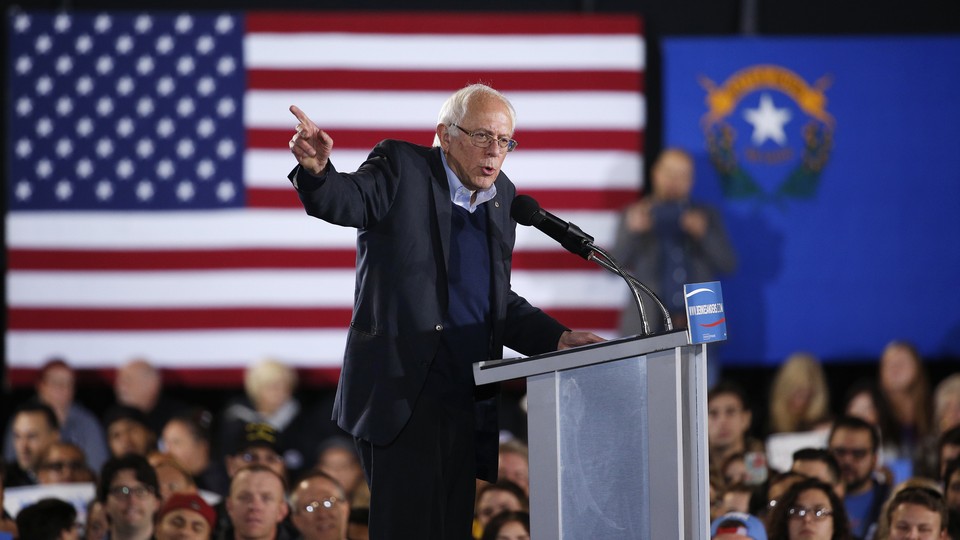 CLEVELAND—Bernie Sanders usually begins his massive rallies across the country by talking about the decline of the middle class and economic inequality in America, drawing cheers from thousands of adoring supporters.
Here in Cleveland Monday night, though, he opened with foreign policy to a crowd that seemed surprised to hear it—a sign of just how much Friday's terrorist attacks in Paris have scrambled the 2016 race and forced every candidate to address the threat of ISIS on the campaign trail, no matter where their focus typically lies.
"Let me begin my remarks in a somewhat somber way, in telling you what you already know: that as Americans we are appalled, we are disgusted, by the attack against the people of Paris by the terrorist organization ISIS," he said. "And I know that I speak for everyone here and everyone in our country when we send our condolences to the families who lost loved ones in that barbaric attack."
The crowd at Cleveland State University, which the campaign said was more than 7,000 people strong, broke the pattern of a traditional Sanders rally as well. Gone were the deafening cheers that erupted when he first took the stage: The crowd remained silent through the beginning of his foreign policy remarks and only cheered again when Sanders called out those who are "trying to take political advantage of this difficult moment."
Responding to the spate of Republican candidates and governors who have called for halting the entry of Syrian refugees into the country, Sanders denounced GOP "demagoguery and fearmongering" and said the United States should welcome refugees with open arms.
"I am disturbed by some of what I am hearing from my Republican colleagues, and I will just say this: During these difficult times, as Americans we will not succumb to racism, we will not allow ourselves to be divided and succumb to Islamophobia," he said. "And when hundreds of thousands of people have lost everything—have nothing left but the shirts on their backs—we will not turn their backs on the refugees."
For Sanders, who has gained his grassroots appeal by speaking at length on issues of economic inequality, foreign policy has rarely been his topic of choice. At Saturday night's debate and again on the Sunday shows the following morning, he reiterated his claim that climate change, not terrorism, is the greatest threat facing the country—and worked to say that climate change is exacerbating the rise of terrorism. ("If we are going to see an increase in drought, in flood, and extreme weather disturbances as a result of climate change, what that means is that people all over the world are going to be fighting over limited natural resources … and that will lead to international conflict," he said Sunday.) And Sanders's campaign reportedly pushed back against changes to the debate format and topics that CBS proposed in response to the Paris attacks.
Until recently, the only foreign policy topic that arose frequently in Sanders's speeches and interviews was his 2002 vote against the Iraq War, a point on which he differs with former Secretary of State Hillary Clinton. He spoke on the topic Monday night, talking about the importance of  "learn[ing] the lessons of history" and unleashing criticism of former President George W. Bush for the Iraq War.
"He was very, very tough—but not very smart. He and Dick Cheney and the whole lot of them, they said we should invade Iraq," he said of Bush, adding that the United States is "paying the price today for that instability.
"So I say to my Republican colleagues: Yeah, we have got to be tough. But not stupid. The United States of America must not be involved in perpetual warfare in the Middle East."
In discussing the best way to eliminate ISIS, Sanders called for an international coalition that includes all enemies of ISIS, including those with whom the United States does not agree on other issues.
"Now is the time, as President Obama is trying to do, to unite the world in an organized campaign against ISIS by bringing together all of the countries who have common interest in defeating international terrorism—even countries that we have disagreements with," he said. "... What we need is an international coalition including Iran and Saudi Arabia, Jordan and Kuwait and Turkey. Putting together this coalition is not going to be easy … but that is what President Obama and Secretary [of State John] Kerry are trying to do, and I support their efforts."
The focus on foreign policy was only temporary, though. After just over 10 minutes on the topic, Sanders pivoted to his more usual rally topics.
Some people "think that the cost of this horrific attack, that the only thing we should focus on, is defeating ISIS," he said. "And what I say is, yes, we will lead the world in defeating ISIS—but at the same time we will rebuild the disappearing middle class of this country. We can accomplish both."