As Clinton Moves Left on the Environment, Sanders Moves Further
Sen. Bernie Sanders is pushing legislation to block oil and coal projects on federal lands.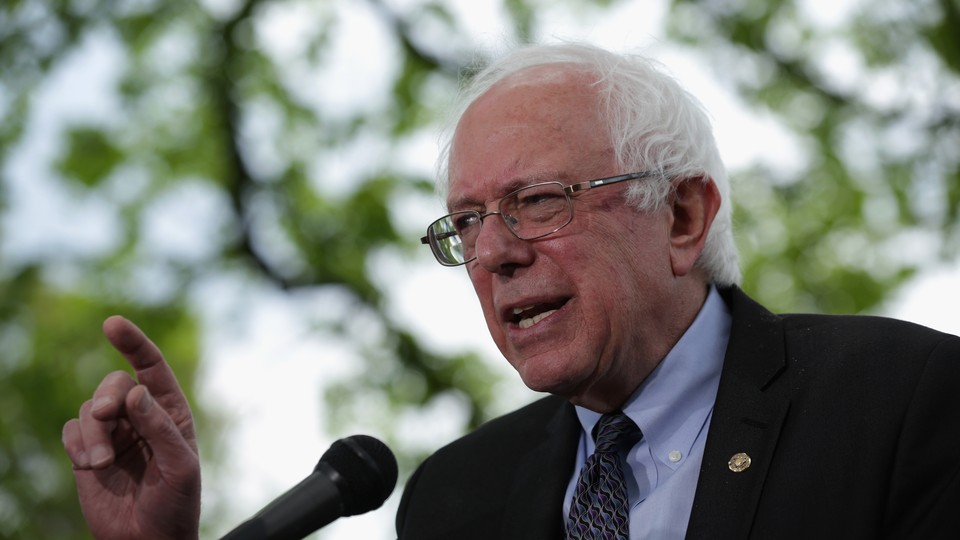 Bernie Sanders is floating an aggressive plan aimed at thwarting extraction of coal, oil, and natural gas from vast swaths of government-owned land and waters in the name of fighting climate change.
New legislation the Vermont senator rolled out Wednesday underscores the clear daylight between Sanders and Democratic White House front-runner Hillary Clinton on the environment, even though she moved left in recent weeks by opposing the Keystone pipeline and drilling in Arctic waters.
The "Keep It in the Ground Act" that Sanders and Democratic Sen. Jeff Merkley of Oregon unveiled Wednesday would bar the sale of new leases for oil-and-gas drilling and coal extraction on federal lands and waters, and bar renewal or extension of existing leases that are not already producing energy. It also cancels existing Arctic offshore leases.
"I don't want to speak for Hillary Clinton, but I would hope that Hillary Clinton will join Jeff Merkley and myself on this issue," Sanders told reporters as he exited a Capitol Hill press conference on the bill Wednesday. "If we are serious about climate change, we can't just talk the talk, we have got to walk the walk; we have to be prepared to take on some very powerful special interests—you know, the Koch Brothers and Exxon Mobil and the entire fossil-fuel industry.
"We should not be, in the future, extracting oil and coal and gas from that land at the same time that we are trying to combat climate change. It just makes no sense at all," he said.
Clinton's campaign declined comment on the bill.
By immediately banning new leases on any federal lands or waters, the plan goes beyond Clinton's policy proposals to date, which include "[u]sing additional fees and royalties from fossil fuel extraction to protect the environment." But Clinton, in remarks last summer, voiced support for curtailing fossil-fuel development on federal lands—at some point.
At a town hall event in New Hampshire, Clinton was asked whether she would support banning extraction (an idea that sounded more sweeping than what Sanders proposed, which would bar new and extended leases but not mandate the end of current production).
"The answer is, not until we've got the alternatives in place," Clinton said. "And that may not be a satisfactory answer to you, but I think I would have to take the responsible answer. I am 100 percent in favor of accelerating the development of solar, wind, advanced biofuels, energy efficiency—everything we can do. And I would hope that we could get to the point that you made, which is looking at our public lands and cutting back over time, phasing out the extraction of fossil fuels."
Clinton also spoke of phasing out development in aspirational terms. "If we can get to the point where we end the extraction on public lands and at least, until we phase it out, get more money to fight climate change from those who are doing the extracting, then I think we will be on the right track to get to where we need to be." Her energy proposals also call for "safe and responsible" production on federal lands, taking some areas off the table entirely.
Sanders's measure arrives as the environmental movement is increasingly focusing its efforts on fighting emissions by trying to prevent the development of fossil fuels, rather than focusing only on programs to cut demand, boost renewable technologies, and burn fuel more cleanly.
The idea of fighting to keep fossil fuels unburned has been central to the battle over the Keystone XL oil-sands pipeline, a project environmentalists oppose because they fear that expanding pipeline access to massive oil-sands deposits in Alberta will enable a huge expansion of development.
Backers of thwarting development point to analyses showing that to preserve a decent chance of holding the rise in global temperatures to 2 degrees Celsius above pre-industrial levels, and thereby preventing some of the most dangerous effects of climate change, most fossil-fuel reserves worldwide must remain unburned.
"To limit our planet's warming to 2 degrees Celsius, we must leave in the ground 80 percent of the world's proven reserves. So part of the answer lies beneath our feet," Merkley said at the press conference outside the Capitol. Environmentalists including Bill McKibben, a key leader of the anti-Keystone movement, attended the event.
"If you find yourself in a hole, quit digging. This is the one place where we literally have to quit digging," Merkley said.
Federal lands and waters account for roughly one-fourth of total U.S fossil-fuel production, and the share of the total has been declining for years, according to figures compiled by the federal Energy Information Administration.
Merkley and Sanders acknowledge that the bill won't move in the current Congress, which they say is captive to fossil-fuel interests, but held it up as a rallying point for the climate movement.
"Up here on Capitol Hill, Big Oil and Big Coal rule," Merkley said.
"So if you are holding your breath, or thinking about holding your breath, waiting for a committee chair to hold a hearing on such an important issue to America and the world, don't, because it is not going to happen at this moment in this building. It is going to depend on grassroots rallying across America," he said.
The American Petroleum Institute, which is the oil and gas industry's main lobbying group, called the measure "extreme" and "anti-consumer."
"It could significantly raise energy costs, destroy tens of thousands of well-paying American jobs, eliminate billions of dollars in federal revenue, and put a big dent in one of the few bright spots of our economy," said executive vice president Louis Finkel in a statement.