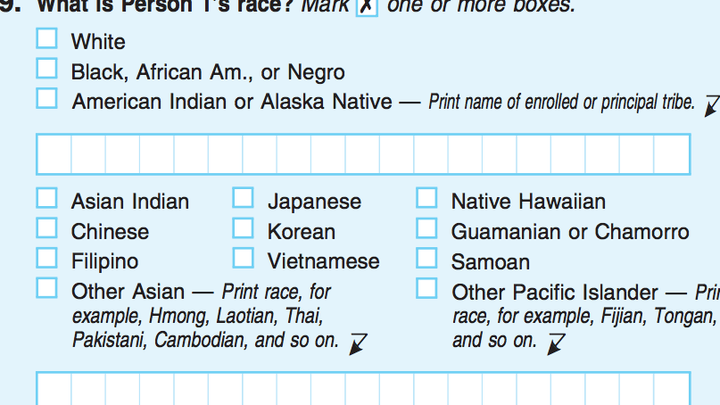 This article is from the archive of our partner

Over the last 200 years, as Americans became more and more diverse, the little boxes on the U.S. Census Bureau forms that attempted to classify people by race multiplied. A new interactive visualization released by the bureau shows all the racial and ethnic labels from the first census in 1790 to the 2010 census. Here's why the bureau created this graphic, via the press release:
We created this interactive timeline to establish a starting point for the public—including community stakeholders, academics and data users—to understand how race and ethnicity categories have changed over 220 years in the decennial census.
Below is a screenshot of the entire graphic. You'll have to click through for the interactive parts: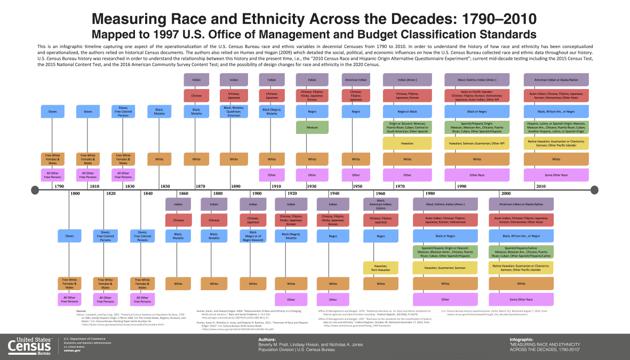 If you hover over the year on the timeline, a little blurb comes up with information about which race options were added, changed, or removed. And if you click on the year, little snippets of the original census form appear. Here are examples from 1890 (left) and 1970 (right):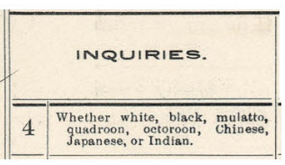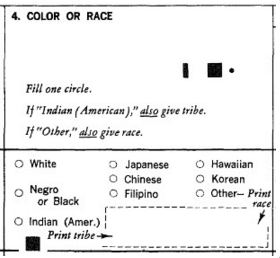 The timeline reveals some interesting shifts. For instance, the category "other race" vanished between 1850 and 1900, then returned as an option in 1910. Asians were acknowledged in 1860, when "Chinese" first appeared as a category. By the 1900s, the sub-categories within "Asian" became more detailed—although not all were quite accurate. From 1920 to 1940, for example, "Hindu" appeared under this umbrella as a separate race, presumably meant to be checked by all South Asians at the time. (Hindus, of course, are the dominant religious group in India and Nepal, not a racial group.)
Despite the fact that Latinos were among the first immigrants to the U.S., the census form recognized only them in 1970 by adding a question about origin or descent (below, top). A version of this question has appeared in every census since (the 2010 version is below, bottom).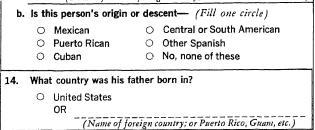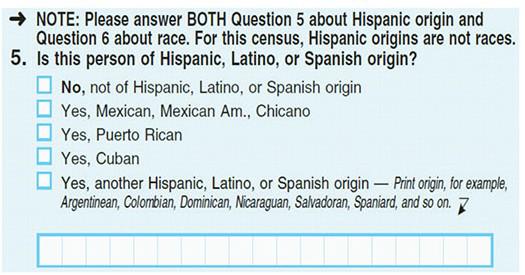 While "white" is the one category that has remained constant since the beginning, people who identify as "white" have not. Two fascinating pieces in NPR's Code Switch blog dive into why Americans identify their race and ethnicity differently with each subsequent census. Here's author Gene Demby:
We tend to think of a race as a static thing, but it's always been much more slippery. American history has seen lots of immigrant groups that were the targets of suspicion and even racial violence—Jews, the Irish, Germans, Italians—gradually subsumed into the big, amorphous category of whiteness. The trajectory of that shift has been a little different for each of those groups—and, notably, was informed by the fact that they were not black—but that's been the general template of immigrant assimilation. For much of our history, the process of becoming American has meant becoming white.
Gene's point is illustrated perfectly in an immigration court case in the 1920s, in which an Indian immigrant named Bhagat Singh Thind argued that a "high caste Hindu" should be considered a "free white person" and granted U.S. citizenship. Although lower courts agreed with this logic, the Supreme Court rejected his petition.
In recent years, Pew Research Center data has shown that more and more people have identified with races differently. More Hispanic-origin Americans, in particular, identified as white in the 2010 Census than they did in the 2000 Census. Part of the reason, Demby writes, is that the way census questions and categories are designed changes from one census to the next. The other part: Not all racial and ethnic identities fit cleanly in a box.
This article is from the archive of our partner CityLab.
This article is part of our Next America: Communities project, which is supported by a grant from Emerson Collective.
We want to hear what you think about this article. Submit a letter to the editor or write to letters@theatlantic.com.