A Short History of Hillary (Rodham) (Clinton)'s Changing Names
How the Democratic candidate's evolving self-identification tells the story of women in American politics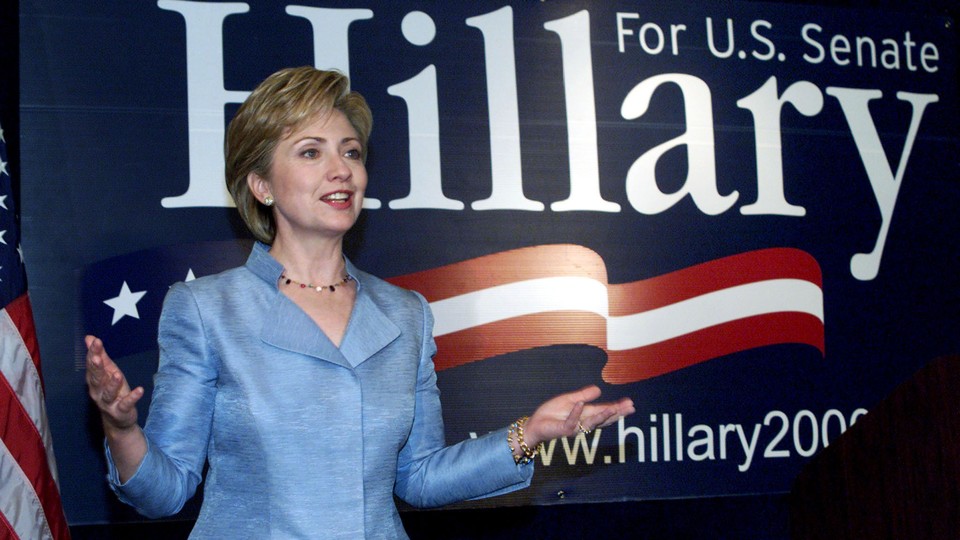 What name will be on the Democratic ballot for president in November?
It's not a rhetorical question. It's not even a question about Bernie Sanders, whose numbers seem to have plateaued. It's a question about how the Democratic frontrunner identifies herself.
On Monday, both the Associated Press and New York Times announced they would begin referring to her not as "Hillary Rodham Clinton" but simply as "Hillary Clinton." That's the culmination of a long, politically charged, and politically important evolution in how the candidate refers to herself.
Hillary Rodham was a product of the women's liberation movement. When she agreed to marry Bill Clinton—the third time he asked—she decided to keep her own name. Bill didn't seem to have a problem with that. His mother did. Virginia Clinton Kelley recalled in her autobiography that when Bill told her, the day of the wedding, she began to weep. "I had never even conceived of such a thing. This had to be some new import from Chicago," she recalled.
Hillary Rodham's decision seemed evidence not only of her roots in a city up north, but also of the future. The couple was married in 1975, smack in the middle of a decade when women's use of their maiden names surged. ("Maiden name," ironically, is an indelibly sexist and patriarchal label.) But in Arkansas, the move was still pretty edgy. When Bill first ran for governor in 1978, his opponent in the Democratic primary made a major issue of his wife's name. When The New York Times profiled the newly-elected Governor Clinton, it noted that he "is married to an ardent feminist, Hillary Rodham, who will certainly be the first First Lady of Arkansas to keep her maiden name." The Arkansas Democrat reported, "Despite the fact that she keeps her maiden name, the wife of Arkansas's new governor, Bill Clinton, claims she's really an old-fashioned girl." (I'm indebted to Karen Blumenthal's forthcoming biography for these anecdotes.) Clinton himself later told The New Yorker's Connie Bruck, "Hillary told me she was nine years old when she decided she would keep her own name when she got married. It had nothing to do with the feminist movement or anything. She said, 'I like my name. I was interested in my family. I didn't want to give it up.'"
Bill Clinton lost reelection in 1980, but decided to run to reclaim his seat two years later. That's when Hillary Rodham decided it was time to take on Bill's name, to assist the effort. Here's how Bill Clinton explained it to Bruck:
When she came to me and said she wanted to change, I could see in her eyes that she had made the decision to do it. And I said, "I do not want you resenting me. I would a lot rather lose the election than lose you." She said, "I'm not going anywhere." I said, "I know, but I don't want you to resent this for the rest of your life. You made this decision when you were a child. I like it. I approve of the decision. I don't care about it." And she said, "Look, Bill, we cannot—this is stupid! We shouldn't lose the election over this issue. We shouldn't run this risk. What if it's one per cent of the vote? What if it's two per cent? You might win or lose the election by two per cent."
That was, Bruck wrote in 1994, an essential moment in Hillary Rodham Clinton's transformation into a politician—the moment when "she surrendered the notion that she could do things in her unvarnished way; and she set about repackaging herself—changing her name, her appearance, and her public demeanor."
Over time, many people became more receptive to women using their maiden names. "Almost twenty years after the fact, my response probably seems laughable," Virginia Clinton Kelley wrote. Yet the number of women keeping their names dropped in the '80s, returning to pre-1970 levels. Hillary Rodham Clinton, meanwhile, stuck with the triple-barreled name, as her husband won back his job, won two more terms, and then was twice elected president.
Something interesting happened in 2000, when she decided to run for Senate in New York. The name that appeared on the ballot when she won the race was "Hillary Rodham Clinton." But the branding for her campaign emphasized something else: simply "Hillary!" As my colleague Peter Beinart points out, that wasn't just a one-time choice: Even her top surrogate, the outgoing president, carefully referred to her as "Hillary" on the stump. She, like Vice President Al Gore, was wrestling with how to use the legacy of a lame-duck president who was at once highly popular yet also deeply scandal-tainted. It was even more complicated for his wife than for his former No. 2—though she, unlike Gore, won.
The change the AP and Times are making on Monday largely just ratifies a change that took place along ago. By the time Hillary Clinton ran for president in 2008, she had almost entirely dropped "Rodham;" she appeared on primary ballots as "Hillary Clinton." As in 2000, her signs read "Hillary"; her website lived at hillaryclinton.com. In discussions of the race in the media (including here) she is referred to simply as "Hillary Clinton," "Hillary," or "Clinton." The super PAC supporting her was "Ready for Hillary." Her presidential campaign now calls itself "Hillary for America," and her logo is a simple H with an arrow. As the Times notes, "Hillary Clinton" is also the name the candidate has used in filing for the ballot this year. (As Hadas Gold notes, however, aides often refer to her as "HRC.")
The transformation from Hillary Rodham to today's Hillary Clinton seems to tell its own story about women's power in the United States. Ironically, she is giving up the last vestiges of "Rodham" in her public persona at a time when maiden names are once again on the rise (more than one in five women now keeps her name in this decade) so that Clinton's decision seems to be a bittersweet moment, and evidence of the age gap between her and younger Americans. Yet the fact that "Hillary" has become a powerful, instantly recognizable mononym—to say nothing of the fact that Clinton is the odds-on favorite for her party's nomination—seems to show just far women have come in politics since the days when Hillary Rodham's decision that she liked her name and had no desire to change it could scandalize the Arkansas establishment.