A New Supreme Court Challenge: The Erosion of Abortion Access in Texas
The justices will take up a challenge to H.B. 2, a state law that effectively makes it much more difficult to end a pregnancy in the state.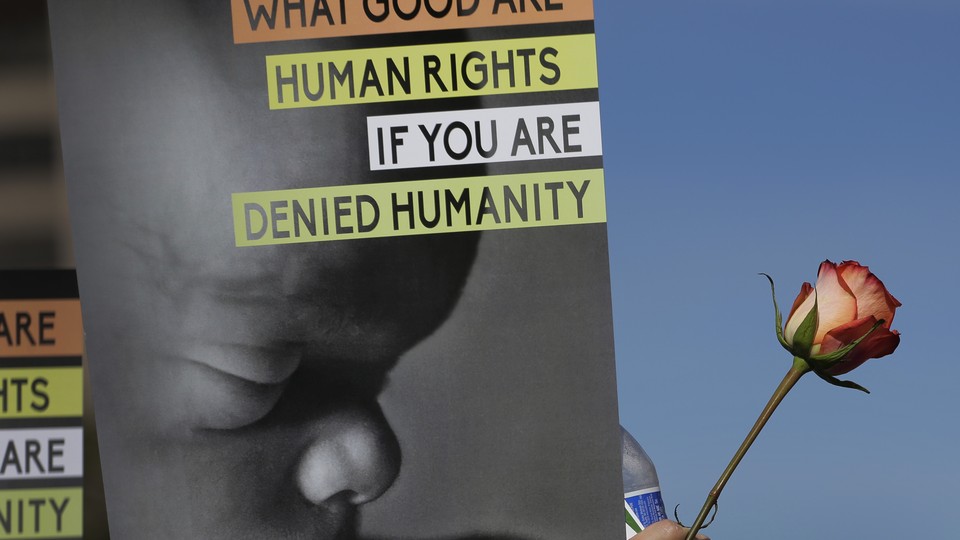 On Friday, the Supreme Court agreed to hear its first major case on abortion restrictions in almost eight years, setting the stage for a high-profile showdown on reproductive rights only a few months from the 2016 presidential election.
The case, Whole Women's Health v. Cole, addresses two restrictions passed by the Texas legislature in 2013 in a bill called H.B. 2. The first restriction requires all physicians performing an abortion to have admitting privileges at a hospital within 30 miles of where they perform the procedure—a restriction that went into effect in November 2013. The second restriction mandates that abortion clinics provide the building, safety, and staffing requirements of an ambulatory surgical center, effectively meeting the standards of a hospital operating room. While this was temporarily enforced in October 2014, it has been on hold pending court challenges since then.
In this case, the Court will decide whether these restrictions violate the undue-burden standard established in its landmark Planned Parenthood v. Casey decision in 1992. In Casey, the Court ruled state regulations of abortion must not place an "undue burden" on a woman's access, which the court defined as any law whose "purpose or effect is to place substantial obstacles in the path of a woman seeking an abortion before the fetus attains viability."
The U.S. Fifth Circuit Court of Appeals upheld the two restrictions on June 9, ruling that the clinics failed to prove that the restrictions would place an undue burden on "at least a large fraction of women" in Texas. The appellate court carved out an exception for the sole abortion clinic in the Rio Grande Valley, whose closure would have forced women to travel over 200 miles to the nearest alternative provider.
The last time the justices heard a major challenge on abortion rights was in 2007, when the Court upheld the federal Partial-Birth Abortion Act in Gonzalez v. Carhart. Since then, the political fight over abortion access has changed significantly. Over the past half decade, states have been steadily limiting and complicating access to abortion services through incremental legislation. These new restrictions began after the 2010 midterm elections, which saw Republican victories in statehouses across the country. Restrictions tend to follow similar patterns, echoing those introduced in H.B. 2, and they all make small but meaningful changes to the way abortions have to be administered and clinics have to operate. Here's a partial list of other kinds of restrictions that have been passed in other states:
Banning late-term abortions, often starting at 20 weeks post-fertilization. This was also part of the H.B. 2 legislation passed in Texas and went into effect in that state in November of 2013, but it is not being challenged in this Supreme Court case.
Placing restrictions on the use of the abortion pill. This was also part of the Texas law, and is also not being challenged in Whole Women's Health.
Requiring women to wait a certain amount of time between their first doctor's visit and the time they can have the procedure.
Requiring women to go through mandatory counseling prior to having the procedure, sometimes accompanied by a mandatory or voluntary ultrasound that may involve a doctor or technician describing the image of the fetus.
Banning the practice of telemedicine, through which doctors can prescribe medication that will induce abortion to patients who live far away.
The politics surrounding these restrictions are complicated. Abortion opponents often portray them as beneficial for women. Texas legislators, for example, have argued that H.B. 2 protects women's health, ensuring that clinics have higher standards of medical care and abortion providers have strong medical credentials. In effect, though, this law has meant that it's much harder for women to get an abortion in Texas, especially because it's such a big state. According to the Texas Policy Evaluation Project at the University of Texas at Austin, wait times for abortions in the Dallas-Fort Worth area are up to 20 days on average, and have been similar in Austin. There are 17 clinics open across the 267,000-square-mile state; many have closed over the last several years due in part to funding cuts for family-planning and reproductive-health services.
Oral arguments in Whole Women's Health will likely be heard in February or March, with a final ruling expected in late June when the Court's term ends. Its decision could potentially affect how abortion restrictions are evaluated  by courts across the country, and how judges should think about the small, ever-more-common restrictions that, in practice, effectively limit overall access.