4 Essential Podcasts That Will Help You Break Into Tech
People of color lack representation in tech yet these four podcasts may help unlock some doors.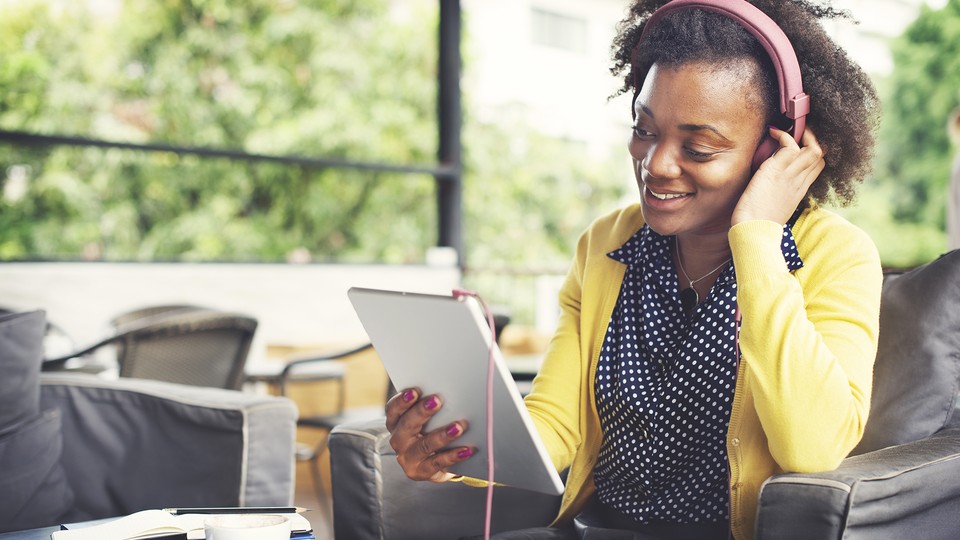 Thanks to the recent boom in podcasts, there's a broadcast for almost every topic—except underrepresented people of color in tech. Even a Google search returns a lackluster list of shows that address the specific challenges blacks, Latinos, and Native Americans face in this industry.
Podcasts, in some ways, are very much a white man's game. Jason Loviglio, founding chair and associate professor of media and communication studies at University of Maryland, Baltimore County, noticed the lack of color among podcasters when he attended the 2015 Podcast Movement in Texas.
"It felt very mainstream white," says Loviglio, whose research focuses on media history and radio studies.
Unlike filming a video on a smartphone and posting to YouTube, recording a podcast — a high-quality podcast — requires money, time and some tech skills.
"What I saw at the conference did seem like the obstacles, or requirements, or trends, or culture of podcasting at that moment had the potential to marginalize minorities and people who lack capital for some of these things," Loviglio says.
This lack of diversity is reflected in other parts of the tech industry and the companies that make it easier to produce videos and podcasts. African-Americans are fewer than 2 percent of employees at Facebook. At Apple, blacks are only 8 percent of employees and Latinos are 11 percent.
People of color interested in diversifying the podcast industry, or contributing to other areas of tech, do have options.
Here are four podcasts that give practical advice for starting and expanding a range of business- or technology-focused ventures.
#BITTechTalk: From the media organization Blacks in Technology, this podcast talks to African-Americans who've made it in the startup world and has them share how they found their footing in the market. The host, Greg Greenlee, interviews entrepreneurs who work in animation and nonprofits, as well as explains how people can join developer boot camps, and the value of digital currency in the black community.
The show has more of a niche following. It's not in the top 100 for U.S. podcasts on iTunesCharts.net, yet Blacks in Technology podcasts have been played at least 5,533 times on Spreaker.
Fast-forward through the intros to about the seven-minute mark when Greenlee tries to answer the real question at the heart of his shows: How can other brown people be their own boss and build wealth?
Must-Listen Episode: "Episode 81 with Zakiya Harris of Hack The Hood." Harris is a cofounder of Hack the Hood, which hires and trains minority youth to build websites.
Logra Tu Dream: Arturo Nava is an entrepreneur by trade but a philanthropist at heart. Instead of sharing money, though, he wants to share success stories. There's the undocumented child who grew up to work on Wall Street, the creator of a social-networking site for Latinos and the founder of Pangea, a company that helps people easily transfer money from one country to another. These are the stories of Latinos who made it, and how they did it.
Logra Tu Dream has a five-star rating on iTunes based on 57 responses and at least 3,449 Twitter followers. The production quality leaves much to be desired but the message—which Nava gives in English and Spanish—is solid: There's room in the technology industry for Latino innovators. Here's how to become one of them.
Must-Listen Episode: "How to self publish an Amazon #1 bestselling book" and "How To Get Abundantly Paid to Do What You Love With Deborah Deras."
Two Black Nerds: Iheanyi Ekechukwu and I. Romeo Kwihangana are friends who debate the differences between software engineering and electrical engineering (hence the show's name). They invite app developers to discuss how they started their businesses and chat about anything else that's part of their natural vernacular as young tech professionals.
Listening to them is like eavesdropping on two best friends who are determined to find the solution to Silicon Valley's diversity problem. Instead of debating this over drinks, they take it to the mic. The podcast is under the radar on iTunes and not yet on SoundCloud.
Must-Listen Episode: "Being Woke in a Tech Office" covers what it's like to be a minority in the office when police brutality against people of color is the most popular conversation at home, at work and everywhere else. "From Problem to Side Project" focuses on how to fix pet peeves with technology.
Startup School Radio: Better known for backing new business ventures, Y Combinator also has a podcast—Startup School Radio—on which host Aaron Harris interviews guests on how their companies went from shoestring startups to establishments.
There's no particular focus on people of color, and Y Combinator's employee roster is very white. But it's also one of the most forward-thinking incubators for nurturing startups. The competitive process that comes with being accepted into the Y Combinator family leaves many on the outside of a very exclusive club. This podcast gives entrepreneurs a peek into how leaders in the tech industry find the potential in what seems to be impossible. It has 978 subscribers on SoundCloud and a five-star rating on iTunes.
Must-Listen Episode: On "PlanGrid & Campus Job," guests include the cofounders of PlanGrid, an app that makes construction blueprints available on mobile platforms, and the co-founders of WayUp (formerly Campus Job), an online marketplace that helps college students find internships and jobs.
Because podcasts are still a relatively new medium, Loviglio believes there will be more variety among who hosts and produces them as time goes on. "If it does become something big then there will be very creative ways that different communities in the country and around the world change it to make it work. In the same way that turntables were not supposed to be percussion instruments but kids in Brooklyn and the Bronx figured out how to do that."