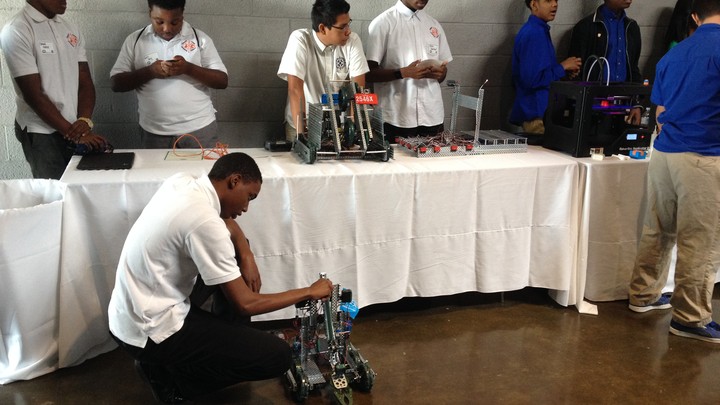 Jayana Johnston couldn't afford to finish college. So the 26-year-old New Yorker found herself working a low-paying job as an office assistant without a pathway to a successful career. Then she heard about a five-month training program through the NYC Web Development Fellowship, which connects people without college degrees to free training, internships, and jobs.
Johnston was accepted into the program, which taught her advanced programming with Ruby and Javascript. The program then connected her with a summer internship at Mastercard's corporate offices. The internship helped her land a full-time job with the company this fall as programmer and Web designer.
"I am now making twice as much as I had made in any position in my entire life," says Johnston, who earns more than $65,000 a year.
Cities around the country are investing in similar training programs and partnering with employers to fill more than half a million vacant jobs in the information-technology sector. This growing industry has more unfilled jobs than any other field. Most openings are not even at tech companies, but in fields like banking and health care.
These companies just can't find enough candidates with skills in software development, cybersecurity, and network administration.
This gap has caught the attention of the Obama administration. The average salary in an IT job—whether in manufacturing, advertising, retail, or banking—is 50 percent higher than the average private-sector job, according to the White House. Because many of these positions don't require a four-year degree in computer science, the White House wants to connect underserved youth to careers in IT.
The 30 cities participating in TechHire
This week, the White House announced that it would spend $100 million to fund nontraditional tech training programs, such as coding boot camps.  At least half of that will go toward training disconnected youth, and another $20 million will go toward training ex-offenders. The funding is part of TechHire, the White House initiative launched in March in 21 communities across the country that are hiring for these jobs. Many are Rust Belt cities that have lost thousands of factory jobs in recent decades, including St. Louis and Cincinnati.
Now there are 30 cities. The latest to join is Baltimore.
"We have extraordinary talent here, and we want to make sure we are reaching everyone in the city," said Megan Smith, U.S. Chief Technology Officer, at TechHire's launch in Baltimore this week.
The event was held at City Garage, a sleek new space for start-up ventures in industrial South Baltimore. Smith pointed out that Baltimore ranks among the cities with the lowest economic mobility, yet has about 200,000 open jobs in information technology. That's why the city needs more programs like Code in the Schools, she says.
The nonprofit offers after-school and summer coding classes at inner-city schools in Baltimore. These schools, which serve mostly black and Latino students, are the least likely to offer computer-science classes.
The program helped high school senior Nicholas Wilkins land a summer internship at Sparkypants Studios, a video-game developer based in the Baltimore. Wilkins learned to build websites during the six-week program and became fluent in the coding languages HTML and Javascript. "I had never had specific training for a job, so I didn't see a path to do what I wanted to do," said Wilkins, a senior at Digital Harbor High School.
This story is part of our Next America: Workforce project, which is supported by a grant from the Annie E. Casey Foundation.
We want to hear what you think about this article. Submit a letter to the editor or write to letters@theatlantic.com.
Alexia Fernández Campbell
is a former staff writer at
The Atlantic
, where she covers immigration and business. She was previously a reporter at the
South Florida Sun-Sentinel
and the Spanish-language newspaper of
The Palm Beach Post
.