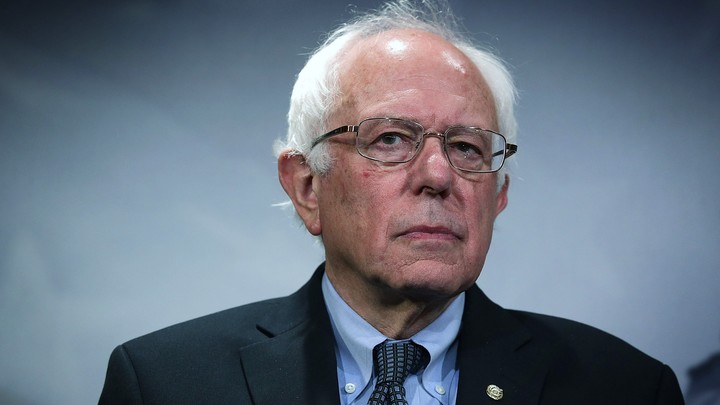 In the wake of a deadly Oregon shooting, gun-control activists are watching closely to see how the 2016 presidential field will react—and many feel that Bernie Sanders has not gone far enough in words and action.
Democratic presidential contenders, including Hillary Clinton, Martin O'Malley, and Sanders, were quick to call for action to prevent gun violence after a shooting at a community college in Roseburg, Oregon left nine dead. On Monday, Sanders outlined a series of steps, including a ban on assault weapons, improvements to a "broken" mental health system, and strict enforcement of background checks, as a way to lessen gun-related tragedy. The Sanders campaign also promised that it will soon deliver a comprehensive platform aimed at curbing gun violence.
But compared to Clinton, who promised to lead a national movement to counter the power of the gun lobby and called out the National Rifle Association by name in the aftermath of the Oregon shooting while vowing to hold negligent gun dealers accountable, Sanders came across as far less forceful in the eyes of many activists.
"The Achilles heel remains. He just doesn't seem like someone who really wants to talk about this issue. There's a body language from him that just makes it seem like the last thing he wants to do and that's not what we need right now. We need energy," said Ladd Everitt, a spokesman for the Coalition to Stop Gun Violence.
The senator from Vermont has long faced criticism from progressives and gun-control activists for supporting legal protection for gun manufacturers and firearms dealers. Sanders also voted against the Brady Bill in 1993, legislation mandating federal background checks for firearm buyers, a dark mark on his record as far as gun-violence-prevention advocates are concerned.
Activists have hoped Sanders will take a stronger stand against gun violence as the presidential campaign unfolds. And some say that they have seen a shift in the way that Sanders talks about the issue, pointing to an apparent willingness by the senator to adamantly call for solutions to gun violence more often and with less prompting.
The senator jumped at the chance to outline reforms to lessen gun violence during an interview Thursday on MSNBC's All In with Chris Hayes in the aftermath of the Oregon shooting. "Condolences are not enough. We've got to do something. We have to stop shooting at each other," Sanders said, calling for improved mental-health services and a "strong instant background-check system."
But while activists can take comfort in Sanders backing an array of gun-violence-prevention measures that they too support, many say that is not enough.
"Well it's politics, and we're in the middle of the political season now, so he is definitely shifting toward the political high ground [by calling for policy changes]. But at the same time, I do not believe he would be the person to go toe-to-toe with the NRA and fight vehemently to end gun violence in this nation, and that's what we need," said Po Murray, the chairwoman of Newtown Action Alliance, an advocacy group formed after the Sandy Hook Elementary School shooting.
The criticism that Sanders faces on gun control mirrors some of the other squabbles he has had to confront while running for president. The popularity of Sanders's campaign has created a megaplatform for a progressive agenda. But that success, in turn, has meant that Sanders faces increasing pressure from progressives to move even further to the left as the primary season drags on.  
Tensions over gun violence are bubbling to the surface at a key moment in the 2016 race. Sanders will square off against rival White House challengers, including Hillary Clinton, during the first Democratic debate, set for Oct. 13.
Sanders continues to draw massive crowds on the campaign trail and perform well in national polls, but he will need all the support that he can get if he wants to edge out Clinton, who has amassed nearly $70 million in donations for her campaign and super PACs supporting her candidacy, compared with Sanders's $15.2 million, according to a New York Times analysis of Federal Election Commission records.
Progressives see gun control as a weak spot in Sanders's record, creating an opportunity for Clinton to paint herself as a strong challenger to the senator on the Left and opening up Sanders to potential criticism from Democratic rivals as the primary race continues.
A super PAC supporting O'Malley has already hit Sanders on guns. "Bernie Sanders is no progressive when it comes to guns," an ad paid for by the outside money group declared in June. O'Malley, meanwhile, has made far more comprehensive commitments to lessen gun violence than Sanders.
On Monday, Clinton promised to act, even without Congress, to curb gun violence if elected president and pledged to hold negligent gun manufacturers accountable, a move that created a stark contrast with Sanders and appeared to position Clinton to the left of the self-described Democratic socialist.
All of that has not gone unnoticed: "In terms of their reaction to last week's terrible tragedy in Oregon, where Hillary Clinton has come out clearly as we saw today with a specific plan and making it a priority in her campaign … that has yet to be the case with Bernie Sanders," Dan Gross, the president of the Brady Campaign to Prevent Gun Violence, told reporters on a Monday press call.
A key sticking point—and source of bitterness—for gun-violence-prevention advocates is that Sanders voted in favor of a 2005 law known as the Protection of Lawful Commerce in Arms Act shielding gun dealers and manufacturers from legal retribution if a firearm is used in the execution of a crime.
Activists feel a sense of betrayal that Sanders backed the bill, which they say gives arms dealers unprecedented legal immunity, and have hoped that he would renounce his support for the legislation. In contrast to Sanders, Clinton voted against the bill, and is now calling loudly for its repeal.
"He is still supporting unprecedented legal immunity for the gun industry, which is really disappointing for a guy who has such an aggressive record going after corporate interests," Everitt said.
Of course, advocates are quick to acknowledge that Sanders has also been a key ally in the past. Sanders has backed measures to expand background checks and ban assault weapons.
The senator vocally defends his record, even touting his D- minus grade from the NRA as evidence of his commitment to the cause. "I do not accept the fact that I have been weak on this issue. In fact, I have been strong on this issue," Sanders said during an interview with CNN's State of the Union with Jake Tapper in August.
"I can get beyond the noise and all of these arguments and people shouting at each other, and come up with real, constructive gun-control legislation which most significantly gets guns out of the hands of people who should not have them," Sanders added.
Advocates are optimistic that as the election drags on, Sanders will deliver on that promise.
"We're hopeful that he will put a plan on paper so that we can see a concrete plan of, first of all, whether he thinks there's a gun-violence problem, which he appears to believe, and what would he do and would it be different from what he has done in the past," said Shannon Watts, the founder of Moms Demand Action for Gun Sense in America, a campaign of Everytown for Gun Safety, an organization that advocates for gun control.
We want to hear what you think about this article. Submit a letter to the editor or write to letters@theatlantic.com.
Clare Foran
is a former associate editor at
The Atlantic
.