Will Matt Bevin Spoil the GOP's Shot in Kentucky?
The Tea Party nominee and one-time challenger to Mitch McConnell is struggling to deliver a winnable governor's race for Republicans.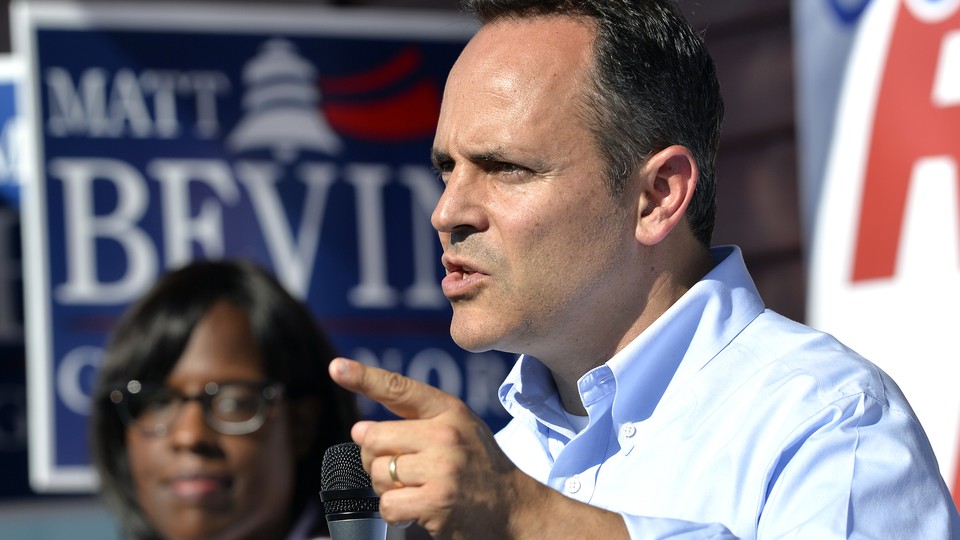 The Republican bid to pick up a governor's seat in red-tinted Kentucky this November has gone as expected in at least one respect: It's been awkward.
On paper, the race should have been a prime chance for the GOP to solidify its hold on the state. The two-term Democratic governor, Steve Beshear, wouldn't be on the ballot, and Republicans had already beaten his would-be successor, Attorney General Jack Conway, in the 2010 Senate race that elected Rand Paul. Last year, the state's most powerful Republican, Mitch McConnell, won a hard-fought reelection race by a wider margin than anyone expected, in a victory that guaranteed his elevation to Senate majority leader.
Things were looking rosy for Republicans in Kentucky. And then came Matt Bevin. Again. The Tea Party outsider had tried to oust McConnell in a primary challenge, and had been routed. But a year later, he squeaked out a victory (by 83 votes!) in the GOP gubernatorial primary over the party's preferred candidate, James Comer. Republicans—McConnell included—reluctantly embraced their unlikely standard-bearer, but Bevin's path to the governor's office has not been smooth.
Conway has vastly outspent Bevin on television, and the Democrat has maintained a small but sturdy lead in the polls. Republicans have been frustrated both by Bevin's frequent missteps and by the manufacturing executive's hesitance to put much of his own money into his campaign. Late last month, the Republican Governors Association pulled its TV ads for Bevin, sending a signal it believed the race was lost. Bevin responded by putting up a million dollars worth of commercials on his own, and on Tuesday morning, the RGA announced it was going back on the air for the last two weeks of the race. "We decided to go back in because we've been doing the polling, and the polling shows the race very winnable," RGA spokesman Jon Thompson told me.
Republican and Democratic operatives agree on two points: The race between Bevin and Conway has been overwhelmingly negative, and turnout will be low. "Nobody has momentum," said Scott Jennings, a GOP consultant in Kentucky. Democrats have tried to seize on Bevin's shaky standing among Republicans and hammered him for inconsistent and erratic statements. He's wavered, for example, on whether he would cancel Kentucky's Medicaid expansion, and in a recent debate, he appeared to confuse Medicare and Medicaid. Republicans, meanwhile, were annoyed when Bevin suggested he would support Ben Carson in the GOP presidential race over Kentucky's own Rand Paul. "I've talked to an awful lot of Republicans who are either scared of him as governor or are mad at him," said Representative John Yarmuth, the only Democrat remaining in Kentucky's congressional delegation.
Conway has run a steadier race than did Alison Lundergan Grimes, the Democratic challenger to McConnell in 2014 who famously refused to say whether she had voted for Barack Obama. Republicans have tried to replicate their winning formula of tying Conway to Obama policies on health care and coal that are particularly unpopular in Kentucky. But that's more difficult to do in a gubernatorial race than it has been in recent campaigns for Senate. While Republicans now control all but one of Kentucky's federal elected positions, Democrats retain most state offices, and the electorate this November "could be slightly more favorable" to them, Jennings said.
Health care has been a big issue in recent elections in Kentucky, and it remains so this year. While "Obamacare" has been deeply unpopular there, it has helped about 500,000 Kentuckians gain insurance either through Medicaid or the state-run exchange, Kynect, which had been held up as a model of success for the nation. But earlier this month, the state's largest nonprofit insurer, the Kentucky Health Cooperative, announced it was going under, jeopardizing health coverage for some 51,000 residents. Bevin has seized on the failure to press his argument that the federal health law has placed an unsustainable financial burden on the state. "The fact that it happened in October was extremely inconvenient timing for [Conway]," Jennings said.
With two weeks to go, neither side is exactly projecting confidence. On Friday, Bevin's campaign released a poll showing him trailing Conway by three points with an independent candidate, Drew Curtis, garnering 11 percent of the vote. It's never a great sign when a campaign promotes a poll with their candidate losing, but Bevin's team probably wanted to spur the RGA and other GOP donors not to give up on the race. "We are still very much neck-and-neck," Bevin spokeswoman Jessica Ditto said. Democrats, however, are still talking about the "challenging" political environment in the state—which is often campaign spin aimed at lowering expectations. Part of that is undoubtedly due to their experience in 2014, when a Senate race that had been expected to be close between McConnell and Grimes turned into an easy 15-point win for the incumbent. In a state where Democrats still outnumber Republicans in registration, party officials were surprised to see just how far the party had slipped in turnout on Election Day.
The Kentucky governor's race is the first of two in 2015 that Republicans should win but could lose. Senator David Vitter—who comes with his own personal baggage—is struggling to lock down a victory in deep-red Louisiana and is likely headed to a run-off in his bid to succeed Governor Bobby Jindal. After a 2014 sweep that saw Republicans secure full control of Congress and expand their state-level advantage across the country, a loss in either race would seem a missed opportunity.