Will Kevin McCarthy Be Any Different Than John Boehner?
He's promising he will be, but he's not really saying how.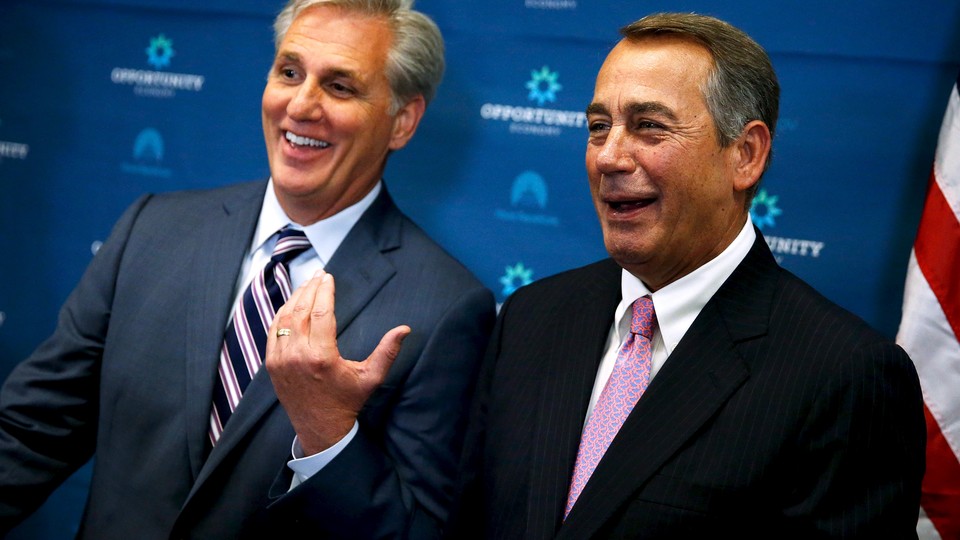 For all of the palace intrigue consuming the Capitol in the wake of House Speaker John Boehner's resignation, there's really only one thing most people want to know about the 50-year-old Californian who is likely to replace him, and to his credit, Kevin McCarthy himself put his finger on it during a Tuesday evening appearance on Fox News.
"The question you really want to ask me," he told a stammering Sean Hannity, "is how am I going to be different? What am I going to do differently?"
What would change under a Speaker McCarthy? Would he cater more to the conservatives who forced Boehner out, or would he sideline them in favor of more compromise with Democrats?
McCarthy's problem is that he didn't really have an answer to his own question. After stumbling into a classic Kinsley gaffe about Hillary Clinton and the House Benghazi committee, he talked about how under his leadership, Republicans would go to battle against Democrats with a "strategy" and would "fight to win." The implication, naturally, was that John Boehner lacked an effective strategy, but McCarthy didn't lay out how exactly he would succeed where Boehner failed, either in corralling the cranky conservatives or in actually winning fights with President Obama.
It's not that Kevin McCarthy is woefully unprepared to lead the House. Yes, he would be the least experienced speaker in nearly 125 years, but he has served in the senior party leadership for nearly six out of his nine years in Congress. McCarthy became the Republican whip—the third-ranking post—after playing a critical role in the GOP majority-winning wave in 2010, and he was easily elevated to majority leader last year after Eric Cantor's stunning primary defeat. (He was a fast-climber in California, too, having become minority leader of the state assembly just a year after his election.)
"At the end of the day, Kevin's really the only one eligible to be speaker," said Representative Devin Nunes, a fellow California Republican who has known McCarthy for 25 years. Nunes meant that not in the technical sense but in the political sense: With Boehner and Cantor gone, McCarthy is the only House Republican left who has done the spade work of traveling around the country, recruiting candidates, and raising money for the party that really defines the role of a modern-day party leader. McCarthy would never be mistaken for a policy guy, like his good friend and fellow "Young Gun," Paul Ryan. But the speakership is not really a policy job. "If you're going to be in any one of those top three jobs, you have to be political," Nunes told me on Wednesday. "I mean, that's the number one requirement. It's most of the job."
Boehner and McCarthy both share a well-earned reputation for affability. They're back-slapping types, each quick to rib fellow lawmakers, aides, and often reporters. But while Boehner joked around with everybody, for important decisions he turned most frequently to his oldest congressional buddies—most of whom were House veterans who rose to power with him long before McCarthy first arrived in Congress. "It's a generational difference," said Representative Bill Huizenga, a Michigan Republican elected in 2010.
McCarthy has always been much closer to the younger, more aggressive Republicans who have given the leadership so much trouble. But those relationships didn't help much when he was responsible for wrangling votes as the party whip, and it's not yet clear whether they'll be any more useful for him as speaker. (Unlike Boehner, McCarthy has virtually no relationship with top Democrats, be it Obama or congressional leaders like Nancy Pelosi and Harry Reid.) Depending on how much Boehner can "clean the barn up" before he leaves, McCarthy could begin his tenure facing politically-difficult decisions over the budget, the debt limit, and highway funding. "It's going to be a tricky minefield," Nunes said.
Huizenga said he understood what McCarthy meant when he talked about having "a strategy" and a plan to "fight to win"—as vague as it sounded. Conservatives have faulted both Boehner and Senate Majority Leader Mitch McConnell in recent years for appearing to surrender fights before they've even begun, first dismissing the chances of winning on, say, Obamacare or Planned Parenthood, and then jamming legislation through without much input from the rank-and-file. McCarthy has told Republicans he wants a more inclusive process and to begin strategizing these battles earlier, which would allow GOP leaders more time to make their case to the public. McCarthy has also indicated he's willing to embrace the role of party spokesman in a way that Boehner did not. "He needed to be out there more often explaining where we were coming from and what the plan was and why we were acting in the way that we were acting," Huizenga said. "Boehner is not that kind of guy. He didn't want to be the defacto party leader." To that end, McCarthy has been all over cable news the last few days, even pledging to do a monthly interview with Hannity, who told him he could never get Boehner to return his calls.
Yet to change the dynamic in Washington, Republicans need McCarthy to be more than a better messenger, and it's not even clear he's an improvement over Boehner in that regard. While Boehner took grief for his tan complexion and his frequently weepy displays in public, he knew how to deliver a talking point and stick to it—even when that talking point was a well-timed profanity. McCarthy can be frustratingly prone to platitudes ("The culture in Washington has to change," he has said repeatedly), and he wasted little time in handing Democrats a gift by saying publicly what every Republican only acknowledged silently: that the Benghazi committee was a political tool designed to bring down Hillary Clinton.
As Nunes sees it, whether McCarthy's ascension marks a real difference from Boehner depends more on others than it does on him. Changing the speaker won't give Republicans the presidency or a filibuster-proof majority in the Senate for the next 15 months. Will the conservative hard-liners go along with McCarthy any more than they did with Boehner? Will McConnell and McCarthy work in tandem? "We'll put a strategy in place for the rest of the year, and hopefully the same cast of characters don't play the same political maneuvers," Nunes said. "Or else we're going to be in the same spot."