Will Closing Alabama DMV Offices Affect Black Voters?
Even with its strict voter-ID law, more than 30 offices in the state are set to close.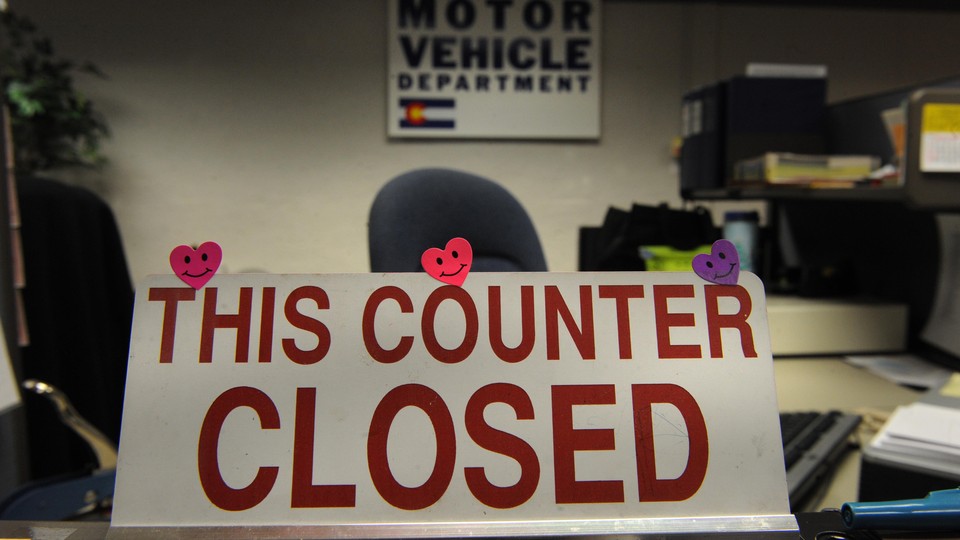 This article is from the archive of our partner

Alabama's Law Enforcement Agency announced recently that it was closing down 31 "driver license offices" across the state due to an $11 million cut in the budget that funds those operations. The closed offices hosted part-time DMV workers in mostly rural counties. This might seem like a typical, unfortunate spate of layoffs that come with budget cuts. But Al.com columnist Kyle Whitmire wrote in a recent op-ed that "there's something bigger happening here."
Whitmire ties the DMV office closings to the state's voter photo-ID law, passed in 2011, which went into effect last year. Such laws, which have been popping up in several states over the past few years, have been controversial because they tend to make it more difficult for certain populations to vote. That happens to be African Americans, Latino Americans, women, and college students—groups least likely to need or have a photo ID, or who have IDs that don't fit within the often-narrow constraints of voter-ID laws. According to Whitmire, as many as half of the counties where the DMV closings are taking place are in the rural "Black Belt," where large populations of poor African Americans live.
"A civil rights lawsuit isn't a probability," writes Whitmire. "It's a certainty."
That might be overstating things. To be fair, the state's listed reasons for closing these offices seems more economical than anything else. The Law Enforcement Agency rolled out a few new online applications earlier this year that can assist in getting people IDs and driver's licenses. And the agency did the math on how many people were actually using the part-time DMV offices and found low usage.
"Analyzing transactions performed in each location throughout the state revealed the combined efforts of the 31 part-time satellite locations accounted for less than five percent of all Alabama Driver License transactions performed by ALEA," reads a press release on the closings. "The busiest of these 31 satellite locations performed less than 2,000 transactions during 2014."
Further, the agency seems to have put up an honest effort to avoid the cuts:
Throughout the 2015 Legislative Sessions, we communicated our concerns to the Legislature, the news media, and the public by addressing the ongoing shortage of Driver License Division personnel created by past budgets and our ability to meet the needs of citizens should additional cuts be imposed. Additionally, we took a proactive approach to solve a decade old funding issue with the Driver License Division's operations by increasing the cost of the driver license to recoup a portion of the cost it takes to actually produce the license. The Legislature then reduced ALEA's General Fund appropriation by the projected recoupment revenue thereby negating the proactive steps taken by the agency.
Whitmire could still be right. When the U.S. Department of Justice rejected Texas's voter photo-ID law in 2012, part of its reason was because so few counties had DMV offices where people could obtain IDs. And too many of those places were in predominantly Latino communities. As the DOJ wrote in its 2012 objection letter to Texas:
Of course, that letter was from back in the good ol' days before the Voting Rights Act was stripped of such objection powers by the U.S. Supreme Court. Alabama's voter-ID law was actually cleared by DOJ in that era, but that was when it had all of its DMV offices intact. Someone could bring the closings to the attention of DOJ, which has powers under the remaining parts of the Voting Rights Act to respond.
The DMV closings are bad enough that Alabama native and fervent pro-voter-ID politician Artur Davis has said that they don't sit well even with him.
"I have always conditioned my support for voter IDs on a simple standard: They ought to be easy to obtain and readily accessible," Davis told CityLab. "In fact, the state ought to provide an opportunity to obtain an ID at every county courthouse."
That's logical. And if a civil rights lawsuit is for certain—well, Davis is a lawyer.
This article is from the archive of our partner CityLab.