Why Students Want to Lower the Voting Age
A group of activists in San Francisco want the city to grant 16-year-olds and 17-year-olds the right to vote.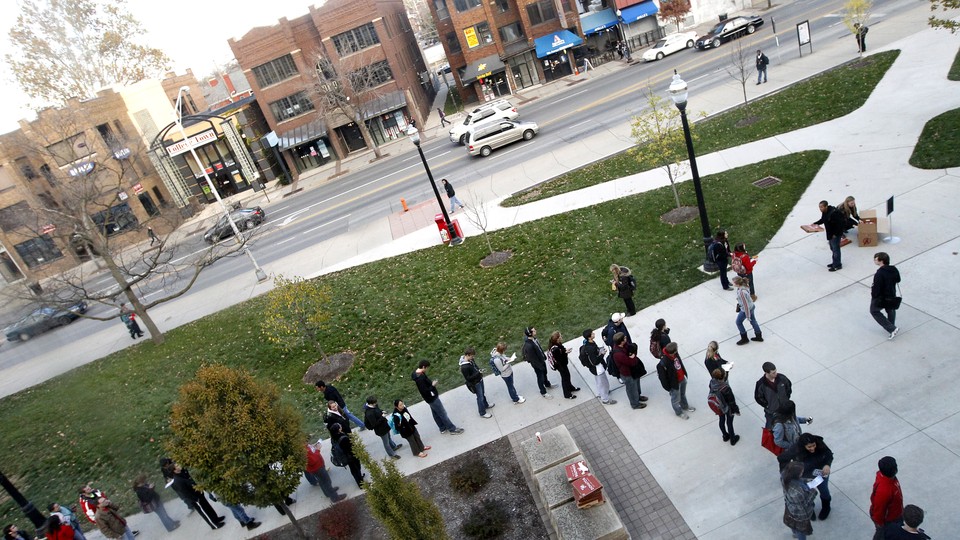 Oliver York has heard it all—and the 16-year-old political activist is always ready with a well-researched answer.
He has heard critics refer to him and his cohorts as pawns of liberal San Francisco supervisors looking for a few extra votes. He's heard that if given suffrage, teens would just mimic their parents' voting patterns. That reminds him of the historical argument against women's suffrage.
"'You'll just vote the way your husbands vote.' They said for workers, 'You'll just vote the way your overseers vote.' I think there are some references on this sheet here," says the teen, who wears a blue plaid shirt and rimless glasses. He leans over to proffer a fact sheet on the local initiative to allow 16- and 17-year-olds to vote in municipal and school board elections.
"People generally vote independent to their own views," says Wu. She represents the Richmond District on the San Francisco Youth Commission, a body created in the 1990s to give teens a voice—but little official power—in city governance. Dressed in a coral dress and white cardigan, Wu is one of those kids you could imagine going straight from college to elected office (even though she's still young enough to make liberal use of the word "like").
It was the historic Scottish vote that inspired then-Youth Commissioner Joshua Cardenas, now 18, to introduce a Youth Commission resolution calling for expanded voting rights in December 2014. Cardenas now attends Wesleyan University, but if the issue comes before the Board of Supervisors this summer as planned, he expects to be home to witness the debate.
The San Francisco teens have mustered a number of persuasive arguments why they should have just as much right to part the voting-booth curtains as their 18-year-old siblings. They pay sales and income tax. They drive and park in the city. They are affected by funding decisions, sometimes more than adults. And they can be tried as adults in court.
But perhaps most persuasive is the idea that granting 16-year-olds the vote could have a positive impact on civic engagement beyond their demographic.
"My parents don't vote—they were not even registered—so growing up, I've never gotten the chance to freely express myself or voice my opinions," says Anna He, 16, the Youth Commissioner for District 6, which encompasses both the single-room occupancy dwellings of the Tenderloin and the tech-industry palaces of South Beach.
Once He was appointed to the Youth Commission and began pushing the Vote16SF proposal, cracks appeared in the ice of her parents' political indifference. Her mother has since registered to vote.
York calls this phenomenon "the trickle-up effect."
"Some preliminary work has suggested that when young adults and children are considering local affairs, their parents will start doing it, too," he says.
Then there's the fact that 18 is a really inconvenient age to start voting.
"Last year I had a whole bunch of friends who [were] going off to college and I asked them, 'Are you going to vote? How does that work?' and they said, 'I don't know. I'll live on the opposite side of the country,'" York reports. For a lot of young people, the disruption of moving away to college pushes back their first vote, sometimes for years.
The hope—and there is some research to back this up—is that casting a first ballot at 16 or 17 will lead to a lifetime of voting and civic engagement.
If they succeed, Vote16SF's champions will have struck a major blow for the fledgling youth suffrage movement. In the United States, so far only two small communities in Maryland, Takoma Park and Hyattsville, have lowered the voting age to 16. A number of states do allow 17-year-olds to vote in primaries if they'll be 18 by the time of the general election.
After a good youth turnout in its referendum, Scotland lowered the voting age to 16 for all elections, but Britain's parliament shot down a proposal to let teens vote in the planned referendum on whether to leave the European Union.
Whether they win or not, the proponents of teen suffrage in San Francisco are in for a valuable, and probably hard-won, lesson in policymaking. This spring, a team of four San Francisco supervisors (described by a conservative San Francisco columnist as "the left wing of the city's left wing") co-sponsored a measure to put the teen suffrage question in front of voters. But then Supervisor John Avalos put the measure on hold, saying it would be better to get it onto the 2016 ballot when the presidential election brings a higher turnout.
Avalos acknowledges that voter turnout is not the only reason for waiting.
"We could try to move it right now, but it probably won't have the legs right now to succeed," Avalos says. The measure will need to be approved by at least six of the city's 11 supervisors to get onto the ballot.
So in the next year, York, Wu, He, and their allies will campaign. When I met them, they had just come from applying for a grant that they would use to recruit supporters in each of the city's high schools, and to create buttons, a new website, and other materials to spread the word. Just last week, they won the support of California State Senator Mark Leno.
Their quest may be a long shot. They face opposition not just from adults who doubt that high school sophomores have the wherewithal to make good decisions (Chronicle columnist Debra Saunders asserts that teens "don't really understand money") but also from the political foes of the supervisors sponsoring the measure.
"I'm sure these kids are earnest. But certainly there's a will to try to make it happen because people know they can scoop up a few extra votes," says political analyst David Latterman.
The young activists turn again to the Scottish referendum to back up the argument that they are voters with minds of their owns, not just an army for their benefactors. In Scotland, the inclusion of 16- and 17-year-olds was proposed by supporters of independence, who thought that younger voters would naturally back them up. But instead of voting in a bloc, the teen voters turned out to be sharply divided and unexpectedly conservative.
The same could happen if San Francisco 16- and 17-year-olds get the vote. "It's not necessarily going to be all young leftists," Latterman says.
The proponents of Vote16SF are learning about the non-uniformity of their target audience firsthand as they introduce the issue to their peers. Cardenas encountered resistance not just from teachers, but also students at Archbishop Riordan High School when he first introduced his proposal. Wu experienced the same when her friends spotted a newspaper photo of her participating in a Vote16SF rally.
"Half the group was like, 'Yeah, that sounds like a great idea,'" Wu recalls. "The other half was like, '16-year-olds can't really vote, because we don't know about politics.'"
---
This post appears courtesy of CityLab.