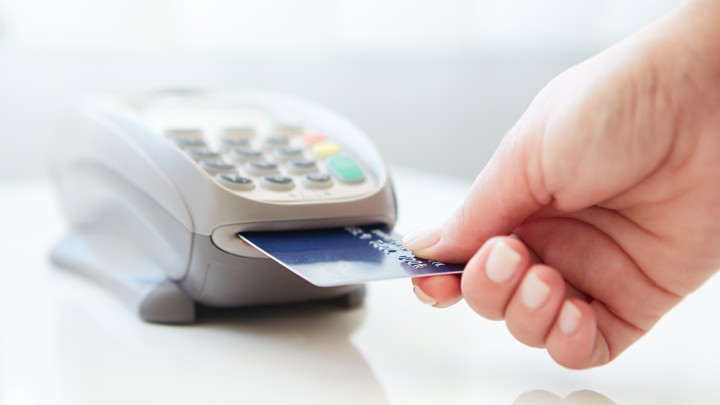 Finally, you can dip your credit card instead of swiping it.
Credit-card companies on Thursday began implementing the use of cards with microchips, moving past the use of the magnetic stripe. While card issuers are prepared for the rollout of the new microchip technology that led to dramatic decreases in fraud in Europe, the same can't be said for the businesses that are now liable for credit-card fraud.
Half of all credit-card fraud that happens globally occurs here in the U.S., which is simply because we have yet to move away from the vulnerable magstripe card technology. The move to microchip technology will surely decrease fraud, and with it fraud costs. But that comes with a major caveat.
Previously, when a fraudulent transaction occurred with your card, you called and complained and the issuer sent you a new card. But the merchant still got paid. Your bank didn't have to pay; MasterCard and Visa paid. Fraud costs were high, but they were paid through the whole system through higher fees.
Now, if your card issuer replaces your card with the microchip, the company no longer has liability for fraud because it has upgraded. You as a customer won't pay for it. But since someone has to pay for it, the merchant will become responsible if it hasn't upgraded its equipment.
There will now be lower fraud costs, but the burden will be on merchants, many of which are small businesses that may not be able to afford the technology or are unaware of the new liability rules, says Rachel Schneider, seni­or vice pres­id­ent at the Cen­ter for Fin­an­cial Ser­vices In­nov­a­tion.
"The fraud has to go somewhere," Schneider says. "There are people who are going to commit fraud."
Alex Johnson, a senior analyst at the Mercator Advisory Group, says that by the end of 2015 close to half of all merchant terminals will have the new hardware. However, only about 20 percent of merchant terminals will be turned on and ready to access the payments by the end of the year.
For larger businesses, they may not be ready because of the amount of time it takes to configure the technology to their payment system. While the size of the payment system may not be an issue for small businesses, the cost of the new technology may be prohibitive.
According to the Los Angeles Times, costs for the new terminals range from $50 to $600. One business owner said it cost her $25,000 for upgrades in her 10 restaurants.
Many of these small businesses made the initial investment in accepting credit cards at least a decade ago. And until now, those payment terminals did everything they needed for transactions.
"For them, they might not be used to allocating a lot of money to replacing those terminals," says Johnson. "To support the chips, you have to bite the bullet and replace their terminals."
Some new payment companies are taking advantage of these concerns by offering promotions to small businesses. Square, for example, is offering the new point-of-sale reader for free to those who sign up with the company, says Schneider. And for those who don't get their reader by Oct. 1, Square will take on the risk of fraud until they receive it.
"That said, I don't know that the mom-and-pop grocery stores are online looking at Square's offerings," says Schneider. "But they might be."
It's also likely that a small-business owner who does everything, including manage payments, may not have had time to learn about this and get educated and ready for the switch.
"They might not notice there's a problem right away, since customers will still be able to walk into the store and use their card," says Johnson. "All the new credit cards that have the chips in them still have the magstripe. People will still swipe their card as if nothing changed. But if there's fraud that happens in their stores with counterfeit magstripe cards, the first indication might be when they're notified they owe money for the liability on the fraudulent charges."
For now, it seems imperative for small businesses to switch over to the new technology. The cost of getting the new machines may be high, but so too could the cost of fraud liability.
We want to hear what you think about this article. Submit a letter to the editor or write to letters@theatlantic.com.