Why Jeb Bush's Staff Shake-Up Is So Alarming
Bush's expectations of an optimistic, general-election-setting campaign is running into the reality of an angry, pessimistic GOP electorate.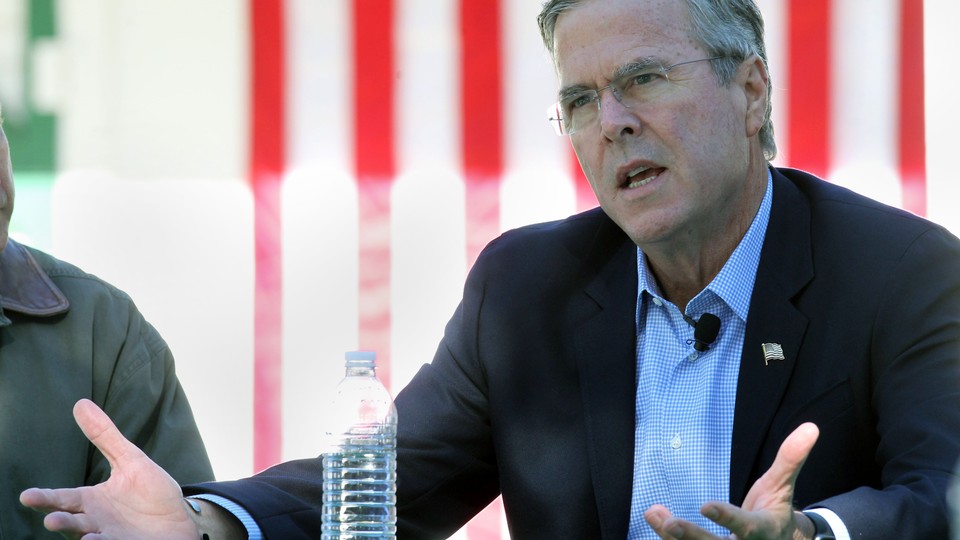 Make no mistake: Jeb Bush's decision to dramatically cut campaign payroll and refocus his efforts on New Hampshire is a significant setback for the onetime GOP presidential front-runner. The Bush campaign's hope of running an optimistic, general-election-style primary campaign hit the reality that Republican voters are looking for a nominee who better reflects their anger at Washington and the political status quo.
With stagnant polling leading to donor anxiety, the current formula was unsustainable for the long haul. And unlike Wisconsin Gov. Scott Walker, the Bush campaign rightly recognizes that the Republican field is so volatile that it pays to retool a struggling effort—and take the short-term hits that will come with it.
But for Bush to turn things around, he'll need to recognize what has hampered his campaign in the first place. Here are the Bush campaign's major problems:
1. Shock-and-awe has become shocked and panicked. At the beginning of the election cycle, presidential campaigns are all about theories. The Bush campaign hoped to translate the family's imposing fundraising network, successful governing record, and brand-name credentials into becoming the clear establishment juggernaut. Aside from a strong first quarter of fundraising, none of that has transpired.
According to The Wall Street Journal, only 25 percent of former President Bush's biggest donors in the 2004 election have donated to Jeb's campaign. Many deep-pocketed establishment donors—paging Sheldon Adelson—have sat on the sidelines instead of investing in the early front-runner.
Running on his past conservative record as governor of Florida hasn't been particularly effective because it reminds voters that he's a figure of the past. Just look at the Bush super PAC's latest ad: It features black-and-white photos of a younger Jeb Bush in office. That's pretty disconnected from the mood of the GOP electorate, which is angry and looking for candidates untainted by long careers in politics.
Meanwhile, Sen. Marco Rubio, also from Florida, is now leading Bush in most national and early-state polls, and is looking more like the candidate who can emerge as the establishment favorite—while not alienating the grassroots wings of the GOP. Given the Bush campaign's shake-up and the candidate's stagnant showing in national and early state polls, more party leaders, donors, and center-right voters will be giving Rubio a close look in the days to come.
2. The early ad blitz isn't working. When Bush's super PAC began its early-state advertising blitz in September, a senior Bush campaign operative said it would be fair to draw conclusions of its effectiveness in a month's time. We're at that point now, and the campaign's decision to shake things up tells you everything you need to know about the results.
Bush has been outspending his rivals on television, and usually that translates into momentum in the polls. But in Iowa, Bush is languishing in fifth place at 5 percent—tied with Rand Paul—in the new Bloomberg Politics/Des Moines Register poll of likely Iowa caucus-goers. A near-majority of Iowa Republican voters (47 percent) said Bush's "family ties" were a negative in their perception of the candidate. In the crucial state of New Hampshire, Bush polls just 10 percent in this week's Bloomberg/St. Anselm's College poll—in third place. Across the board, his favorables haven't budged much from when he first entered the race. His case as the most electable Republican has evaporated; his favorability with the general electorate is still badly underwater (33/49, in The Huffington Post's polling average).
All this suggests Bush faces fundamental challenges that will be hard to alter with money, advertising, and even a staff shake-up. His political profile is badly disconnected from the angry, disaffected, anti-Washington mood of the Republican electorate right now. He could be the right candidate at the wrong time for Republicans.
3. Super PACs aren't so super, after all. Like Wisconsin Gov. Scott Walker before him, Bush is finding out that imposing super PAC totals don't mean much without hard money to back those totals up. Bush still raised a solid $13.4 million in the third fundraising quarter, but the declining revenue couldn't keep up with his ballooning campaign expenses. One Bush bundler told National Journal that the fourth-quarter fundraising total was likely to be lower than the third quarter's $13.4 million—itself less than overwhelming given Bush's access to his family's massive fundraising network.
"They're not raising hard dollars. That's fundamentally the problem," the bundler said privately. "They're cutting, recognizing where they're going to be."
In the three months ending September 30, Bush's campaign spent $2.4 million paying 133 different staffers. Rubio, by contrast, paid 44 individuals a total of $591,500, and Sen. Ted Cruz paid 36 people a total of $563,000. The Bush cam­paign also spent $922,000 on chartered air­planes—al­though the vast ma­jor­ity of that came in Ju­ly and early Au­gust, be­fore the cam­paign star­ted cut­ting back on ex­penses to match smal­ler-than-ex­pec­ted fun­drais­ing totals.
One other glaring red flag from Bush's fundraising: His performance with small donors was particularly poor. Of the $13.4 million raised in the third quarter, only $877,000 came from people who gave less than $200—a rough metric of grassroots support.
If you're going to run a national primary campaign with an unmatched organization, you need to see results sooner than later.
4. It's New Hampshire-or-bust for Jeb. For all the emphasis that Bush super PAC adviser Mike Murphy placed on the delegate-rich March states in a Bloomberg interview, the reality is that if Bush performs poorly in New Hampshire (and Iowa), his campaign will be on life support. "We're not sugarcoating it. New Hampshire is extremely important, and we're putting a lot of our resources there," said one Bush campaign adviser, downplaying the Murphy argument. Indeed, campaign officials told Bloomberg that the staff cuts will allow them to refocus their efforts on New Hampshire, whose moderate electorate should be tailor-made for Bush's reform-minded message.
Bush needs to emerge as the establishment front-runner—a lane that is exceptionally crowded right now, with Rubio, Carly Fiorina, Ohio Gov. John Kasich, and New Jersey Gov. Chris Christie all vying for that title. If he finishes ahead of his establishment rivals in New Hampshire, he will be seen as the "Comeback Kid" who will be able to then consolidate his gains in the bigger, more expensive states to come. But if he can't top his fellow Floridian (or anyone else) in a must-win state, the case for his candidacy will start evaporating.
---
S.V. Date contributed to this article