Why I Still Get Shunned by Taxi Drivers
In most big cities, cabbies aren't allowed to turn away passengers because of their race or destination—but it still happens all the time.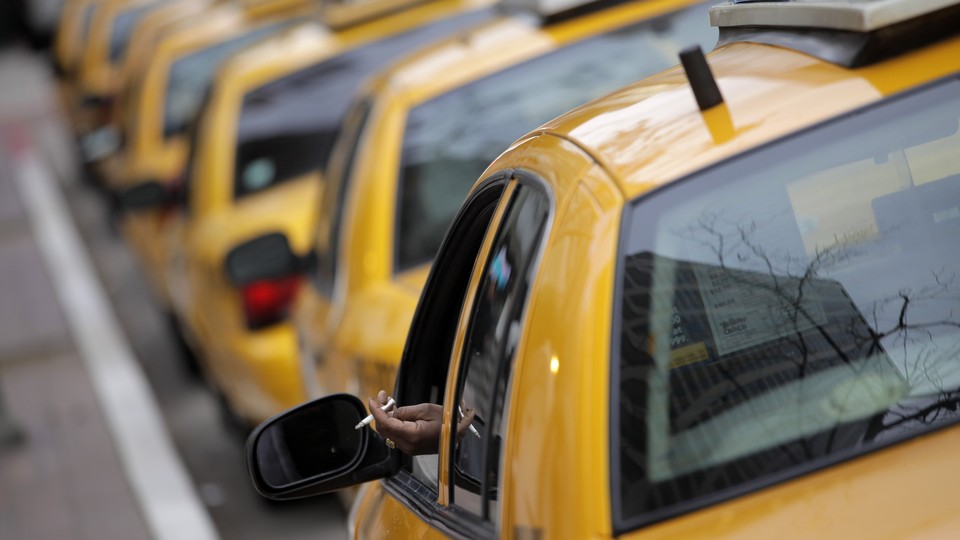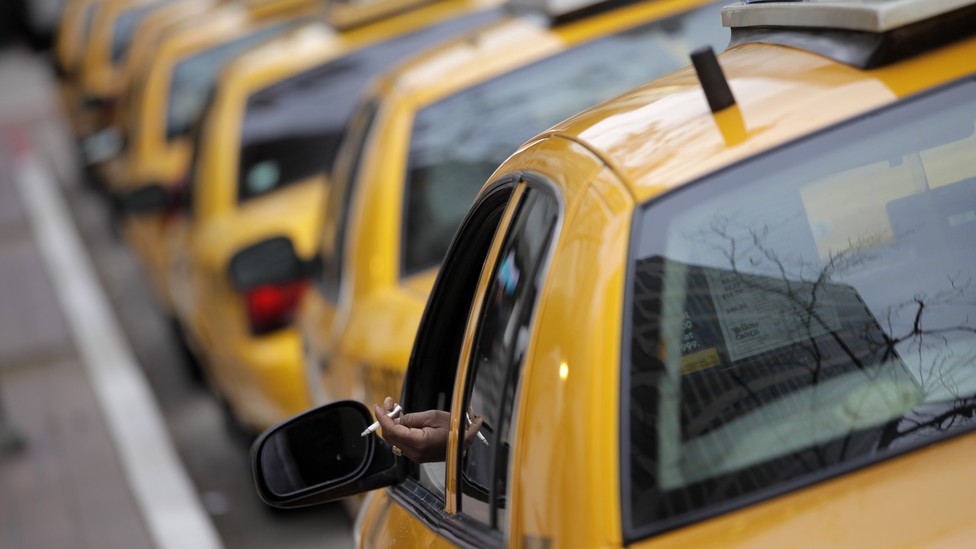 At close to midnight, I had just gotten off of the plane at LAX after a long journey from my home in Hartford. Two hours before departure I had picked up my kids from school and then kissed my family goodbye. Travel is an inextricable part of my job as a baseball analyst with ESPN. This particular week was Los Angeles; the week before was Pittsburgh. So go my Wednesdays.
On my way to Los Angeles, I connected in Minneapolis where I was joined by Joe Vanderford, an ESPN cameraman who hailed from North Carolina. We had a great chat en route to L.A. Joe, who is white, told me how his father had been responsible for integrating the softball league in his hometown to which I responded that his father had been brave. He agreed, but added that his father had also loved the game and wanted to win; before integration, there had been some great players barred from playing because of race.
Since we were both heading to the same hotel, we decided to share a taxi. Outside, we were met with the typical LAX chaos. We found the taxi stand and waited—in what turned out to be a failed attempt at an orderly line. Eventually, with help from an Airport Taxi Supervisors representative (known as a "starter"), we got a cab. My colleague went to the passenger window to give the driver the destination. As he spoke, the driver was already popping the trunk and heading towards the rear, presumably to put our luggage inside.
When the driver saw me approaching to put my luggage in the trunk, he froze and his entire demeanor shifted. His English was not strong, but it was clear. "Go across the street! You take the bus! It is $19!"
What?
"We don't want to take the bus," my colleague told him. "That's why we're taking a taxi." He attempted once again to tell the driver where we were going. But I knew what was going on: The driver had concluded I was a threat, either because I was dangerous myself or because I would direct him to a bad neighborhood (or give him a low tip). Either way, given the circumstances, it was hard to attribute his refusal to anything other than my race. Shortly after we walked away, I saw the driver assisting another passenger, who was white. Briefly, I thought of asking the passenger, "Didn't you see what just happened?"
In any case, I was not in the mood to argue my way into a cab with a belligerent driver. For all I knew, his visceral reaction was based on some experience he'd had in the past (though this would have only explained, not excused, his behavior). Meanwhile, I was fortunate to be at LAX, not one of the more isolated locations where a cab driver has blown me off. At this crowded airport, I had several witnesses. I was not stranded, cold, or desperate, as had sometimes been the case when I was out in some city trying to hail a cab. But I was disturbed, as was my colleague.
To his credit, the ATS starter, who had witnessed the incident, did everything he could to convince the driver to take us. Multiple times, the driver refused, each time getting more antagonistic. He kept repeating, "Take the bus! It is $19." As my colleague later noted, "The more he was asked to comply, the more he dug in his heels."
Eventually, another taxi offered us a ride. As we were getting in, a uniformed airport worker came over to us. She was black. "You need to file a complaint," she said. "This is the third time this has happened to a black man on my shift tonight." It was clear from her tone that she believed the other two had done little about it. I let her know that ATS was filing a complaint on our behalf.
I could understand why the other African American passengers might have chosen to remain silent. I didn't want to be bothered with a protracted (and possibly ineffective) process either, especially after 11 hours of travel. I just wanted to find a willing driver to take me to my hotel ASAP.
But there are laws governing this kind of discrimination at the federal, state, and municipal levels. In California, the Unruh Civil Rights Act "protects all persons against arbitrary and unreasonable discrimination by a business establishment." The City of Los Angeles has an additional law that applies directly to taxis at LAX: "Drivers when 'first up' at a taxicab stand shall not refuse to transport any passenger seeking transportation, unless approval is obtained from a representative of the city. A short trip by a passenger shall not be a valid reason for refusing service, unless a City approved separate short trip system is in operation at the time to transport the passengers."
On top of that, the Los Angeles Taxi Commission states in its rules that a driver may not refuse service to any person unless the cab has already been dispatched on another call or the passenger is acting in a disorderly manner (or threatening to make the car "stained or evil smelling"). There are some additional conditions involving wheelchairs, luggage, packages, and animals.
Such laws vary from city to city and state to state. In New York City, the Taxi and Limousine Commission forbids drivers from refusing service on the basis of race, disability, or any destination within the five boroughs. The commission fielded 2,756 complaints last year alone, many of which were for refusal of service. The most notable refusal, reported by the New York Post and other publications, happened to the mayor of San Juan, Puerto Rico, who was heading from Greenwich Village to the Bronx.
The Taxicab Commission of Washington, D.C., also prohibits drivers from refusing service on the basis of race or destination. A couple of years ago, after passengers complained that cabs wouldn't take them to locations like Navy Yard and Eastern Market, the D.C. Taxicab Commission made it easier to report infractions, putting an LED identification sign on the top of every cab. Drivers who get enough complaints can face hefty fines or even lose their licenses. (In California, ATS utilizes the same type of disciplinary approach, which culminates in a hearing before a judge.)
But making it easier to file complaints doesn't always mean people will do it. When I was refused service in D.C. a few months ago, I didn't file a report. Ironically, I was leaving a celebration for Attorney General Loretta Lynch, who happens to be distant cousin of mine. After the event, I headed out to call the Washington Nationals game for ESPN. The driver pulled up, I got in the car, and he asked where I was going. I told him Nationals Park.
"I do not know where it is," he told me.
Skeptically, I asked, "Come on, Nationals Park? The baseball stadium?" I told him I had my smartphone and could pull up the directions on Google Maps. (I was sure he also had a smartphone, or another device with GPS.) Still, he stayed put and waited for me to get out, saying over and over that he was new on the job and new to the area. So I exited the cab and hailed another one.
In Chicago, where I played on the Cubs and lived for much of my post-career, the same thing happened a few too many times when I was trying to get a ride from downtown at night. In those instances, you had to navigate the "Mason-Dixon" line between the North and South Side. When driver after driver assumed I was heading south into the heavily African American sections of town (which should not have mattered anyway), I was in for a long night.
In expressing these concerns, I don't intend to generalize. Back in Trinidad, where my father was born, my uncle drove a cab. And I've had a lot of good experiences with taxi drivers over the years. I've learned about Sudan, Turkmenistan, Haiti, Pakistan, and many other cultures, hearing about wars in the drivers' home countries and the challenges they faced as immigrants. I once talked to a driver who identified my accent as Trinidadian and "Carolinian," the greatest linguistic deduction I have ever witnessed to this day.
I also have come to understand that drivers have major concerns about safety or about the economics of getting return rides after dropping someone off. But this is where bias is circular—you have to make a lot of assumptions to draw these sorts of conclusions without engaging with the passenger on any level.
I've been refused service by enough taxi drivers that Uber has become a lot more attractive. Ironically, Uber's model is reminiscent of the jitney, or "gypsy cab," which served black passengers in the days when cab companies refused to send taxis to black neighborhoods. Today, ride-sharing services have sprung up for other reasons, and they're far from perfect (there have been questions about their driver screenings and the implications of working outside certain regulatory bodies). But they have some clear advantages. Once I put my credit card on file, I can enter my destination and get a ride without any hassle. The only color that matters is green. I understand why airports are wary of allowing companies that aren't subject to access fees or regulations. But if cab companies and their facilitators can't find more effective ways to prevent discriminatory practices (maybe by improving driver and staff training or implementing stringent policies like New York's), nimble competition from ride-sharing companies like Uber may prove to be a powerful force in solving the problem.
It's worth noting that in my experience, the drivers who most blatantly refused me service have never been white. According to a 2004 The New York Times report, 84 percent of New York City cab drivers are immigrants (the vast majority are "of color"), just like my father was in the mid-1950s. English was not the first language of the driver who refused me at LAX. This fact complicated the story for me. On the one hand, it was sobering to see how newcomers to the United States could not only adopt longstanding racial and institutional biases, but entrench them even further. On the other hand, I knew that I was in a position of power, and that I was in danger of making assumptions myself.
This last point became clear to me after ATS sent me a photo of a driver, based on my written description. I'd gotten to this point after ping-ponging between ATS and the taxi company for two weeks. I'd worked hard to clarify the details of the story, yet the driver still hadn't been identified. My colleague and I had been so stressed and confused by the encounter that we hadn't gotten the license plate or the cab number. Eventually, ATS sent me a single headshot of an elderly Asian man and asked me to verify if that driver was the one who'd refused to serve me.
But as I looked at the photo, I felt a growing sense of discomfort. I was 90 percent sure this was the man who'd refused me service (and my colleague concurred). Yet there was a slight possibility I could be wrong; some companies in LA have upwards of 1,000 drivers. I realized that in my desire for resolution, I could end up making the same kind of biased mistake so many taxi drivers make: punishing someone who only looked the part. An innocent man who simply fit my description might well lose his job. I decided not to take further action unless the company could provide a more reliable method of identification, such as evidence that this particular driver was at LAX at the time I was waiting for a cab.
In the end, it is all a lot of effort to get a ride to a hotel. Like anyone else, I just want to get to my destination in peace. But far too often, it seems that bias, economics, and fear are actually in the driver's seat.