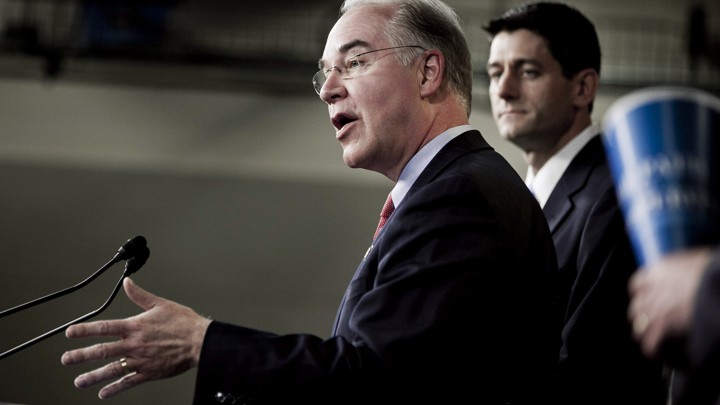 The soul of a party can be seen through the cold numbers of its budget. And for years, Republicans have been split between deficit and defense hawks.
Now, as members look to cast a vote for their leadership near the end of the month, military-minded Republicans are pushing hard for a clean win to promote Majority Whip Steve Scalise to the No. 2 post over Rep. Tom Price.
They can point to the date that sealed their support: March 25.
That's when the GOP leadership, including Scalise, went around Price to push for a $3.8 trillion budget that was nearly identical to his, but with $2 billion more war funding and fewer restrictions, potentially loosening up billions more. The initial blueprint released by Price, the Budget Committee chairman, stalled at 105 votes, while the one backed by leadership and the Armed Services Committee ultimately nabbed 228 votes. Rep. Richard Nugent, a member of that committee, says he backs Scalise for majority leader because he "whipped hard" for their preferred budget.
"That was the deciding factor," Nugent said. "I really like Dr. Price. He stands for the values that I believe in. We just happened to disagree on how we're going to get to that end number."
Noting his three sons who followed him into the U.S. military, he added, "They're the ones that ultimately will pay the ultimate price if we're not trained and equipped to where we should be."
At issue is how to get around the 2011 budget caps that almost everyone now wants to avoid. Democrats want much more for domestic spending, while many Republicans want much more for defense. Price's budget, which claimed up to $94 billion in off-the-books spending to boost a Pentagon war fund—Overseas Contingency Operations—still didn't appease several members on Armed Services, including Nugent, Mike Turner, Bradley Byrne, Ryan Zinke, Duncan Hunter, and John Fleming, who are publicly supporting Scalise.
Price's supporters say that he admirably dealt within the confines of the budget caps, known as sequestration. Paul Ryan, the former Budget chairman and the highest-profile Price backer, told National Journal, "I think defense hawks are more frustrated with the situation of the sequester—and that's not really Tom Price's creation.
"There's always a temptation to shoot the messenger, but the Budget chair simply is delivering the message of the facts surrounding the budget," Ryan said. "That's really not Tom Price's fault; that's the budget's fault.
"Tom is dealing with the law and the numbers and the facts as they exist," he added. "And a lot of folks just aren't pleased with that, and I understand."
To Ryan, Price's work on the budget is a "perfect example" of how he can "advance conservatism" rather than merely give a "good speech," and unite the various factions of the conference. Price voted for both of the budgets put forward.
"Tom was able to balance the different concerns in our caucus between defense hawks, budget hawks, and everyone in between, and he was able to get everybody to support a budget, which is a very hard thing to do," he said.
And even some of those who support Scalise acknowledge that the fight over his budget isn't the be-all and end-all. For Fleming, who like Scalise represents Louisiana, serving his own constituents matters most. "What he can do for us in Louisiana—that level of representation—is far more important than the issue about his difference with Price on defense spending," he said.
Rep. Trent Franks, who identifies as "one of the more committed defense hawks," says that both Scalise and Price are "truly Valley Forge Americans," both committed to "fiscal sanity" and national defense.
"I am always mortified that we try to juxtapose national security and fiscal security against each other. They are critically integral to each other," said Franks. "They are like two wings to an airplane. You can't fly without either of them."
Although Franks won't say who he's supporting, when push came to shove, he—along with nearly every other person in the 36-member Armed Services Committee majority, voted for the plan backed by Scalise.
We want to hear what you think about this article. Submit a letter to the editor or write to letters@theatlantic.com.
Alex Rogers covers Congress as a staff correspondent for National Journal. He previously worked as a political reporter at TIME. He is a native of Bethesda, Maryland and a graduate of Vanderbilt University.