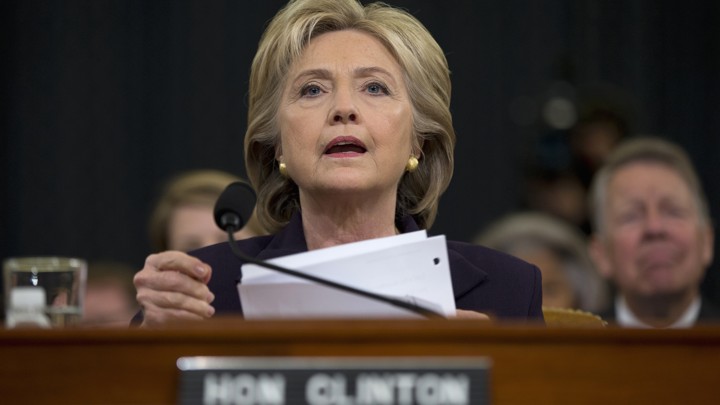 Is she a liar or a stateswoman? For the vast majority of Americans who long ago answered that question in their own minds, Hillary Rodham Clinton's testimony on Benghazi changed nothing.
Republicans won't vote for the former secretary of State, much less give her any credit for a marathon of emotional testimony in which Clinton took responsibility for the 2012 attacks that cost four Americans their lives.
Democrats won't hold Benghazi against her, much less use her actions as a critical measure of Clinton's leadership. Should the presidential nomination go to Vermont Sen. Bernie Sanders or another Clinton rival, it will not be because of her adventurism in Libya, her department's failure to secure the U.S. mission in Benghazi, or any part she may have played in misleading voters about the election-year assaults.
If you don't have a dog in the fight—if you're among the growing number of independent voters drifting away from the two parties—you probably don't care about the hearing. You know what you missed: shallow theater, naked partisanship, and institutionalized incompetence.
Committee chairman Trey Gowdy, a Republican from South Carolina, set the tone with a tribute to Ambassador Christopher Stevens and three other men who died Sept. 11, 2012. "We know what they gave us. What do we give them?" Justice to their killers, he answered, and the truth.
The truth about why the U.S. intervened in Libya.
The truth about why Stevens' request for additional security were rejected.
The truth about where and how U.S. military assets were deployed.
The truth about the Obama administration's false initial statements.
The truth about why Clinton withheld her email from investigators.
"Why was the American public given such divergent accounts of what caused these attacks," Gowdy asked, "and why is it so hard to get information from the very government these four men represented, served and sacrificed for?"
In a few minutes, Gowdy framed the argument Republicans will use against Clinton should she win the Democratic presidential nomination: You can't trust her.
Confronting her on the email scandal, the chairman chided, "Your emails are no less or no more important than the emails of anyone else. It just took us a little longer to get them."
If this was a theatre review (and it might as well be), I would criticize Gowdy's delivery. He lectured Clinton liked a parent does a child, forgetting that condescending behavior doesn't play well in Peoria, especially when a man is sharing the stage with a woman.
Clinton began with her own tribute to the four fallen Americans, personalizing their stories. "I took responsibility" for the deaths, she reminded the committee before describing her efforts to belatedly correct long-known security issues at State Department facilities abroad.
"Let's be worthy of the trust the American people have bestowed upon us," she concluded in her opening statement. "They expect us to lead. To learn the right lessons. To rise above partisanship and to reach for statesmanship. That's what I tried to do every day as secretary of State. And it's what I hope we all strive for here today and into the future."
That future won't involve a second President Clinton if the former secretary of State can't convince independent voters she would be a less divisive figure than they've seen since 1993. Clinton has a major re-branding challenge, and got to work on it Thursday, urging the panel to "rise above partisanship and reach for statesmanship."
Under questioning from Gowdy, she spoke of the burden she carried out of Benghazi. "I would imagine I've thought more about what happened than all of you put together," she said. "I've lost more sleep than all of you put together. I have been racking my brain about what more could have been done, or should have been done."
Her voice was soft and wavering as Clinton delivered what political pundits call a heartfelt moment. A theater critic might call it a quietly powerful performance.
One after another, GOP committee members questioned Clinton about why her department rejected Stevens' repeated requests for additional security. She deflected the questions by claiming the requests were handled by State Department security experts. The pleas never got to her.
One after another, GOP committee members questioned Clinton about her advocacy for the ill-fated intervention in Libya. She deflected the questions by saying President Obama made the final decision. Not her.
One after another, GOP committee members questioned her about the stream of emails she received from political troublemaker Sidney Blumenthal, who passed along intelligence on Libya and his negative views about the Obama White House.
They kept asking: Why could a former reporter lobby the secretary of State directly while there was no evidence that Stevens had her private email address?
The ambassador and his urgent security concerns went through other channels, Clinton replied.
No wonder she can't sleep.
We want to hear what you think about this article. Submit a letter to the editor or write to letters@theatlantic.com.