Why Access to Health Care Is Not the Same as Having Good Care
Coverage for millions of newly insured Americans requires a coordinated, multipronged approach, experts say.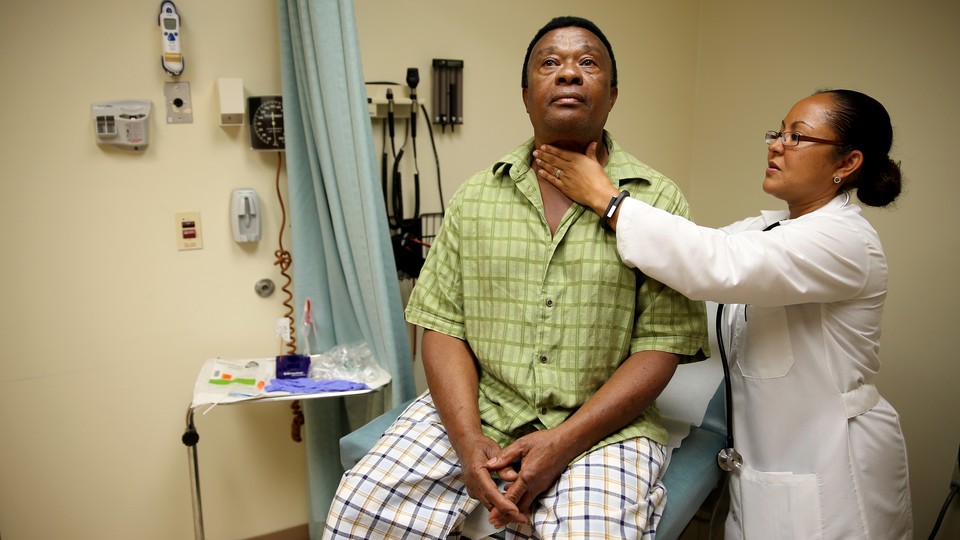 Improving the health outcomes of the millions of low-income Americans of color who have recently gained access to health care coverage through the Affordable Care Act will take more than simply handing people an insurance card.
Right now, blacks have higher rates of cancer, diabetes, and other conditions than whites. For the U.S., reducing the health disparities between people of color and whites will require a coordinated effort that involves not only insurance companies and doctors, but community workers and faith-based organizations.
That was the key takeaway from Thursday's From Coverage to Care, a Next America event that convened a panel of experts to discuss ways to improve the health of low-income communities of color.
"We have to also think about what are the other factors," said Dr. Nadine Gracia, director of the Office of Minority Health at the Health and Human Services Department.
Gracia, who delivered the keynote, and other panelists stressed the importance of cultural competency, having access to providers who not only speak your language, but who understand your background and beliefs.
"Coverage is just the first step," Gracia said, noting that providers will need to understand the unique characteristics of the communities in which they work to be able to connect with patients.
Since the Affordable Care Act's first enrollment period, the uninsured rate has dropped nearly 30 percent (12.3 percentage points) among Latino adults and 41 percent (9.2 percentage points) among black adults, resulting in nearly 7 million people gaining coverage, according to government data.
But the people who have gained coverage often have not navigated the country's complicated health care system before, and the panelists who work with these communities said there is a lack of trust among many.
Dr. Ramanathan Raju, president and CEO of New York City Health and Hospitals Corporation, said undocumented residents are often unwilling to give a valid phone number because they fear deportation.
To bridge such divides, Gracia and others suggested, health care providers need to meet people where they are; at barber shops and beauty parlors, for instance. Community organizers and churches have a role to play in educating people about how to navigate the health care system. McCrae Parker, managing director of ZeroDivide, which aims to use technology to foster change, said mobile technology—reaching out to people on their mobile phones and reminding them to exercise or take their medication, for instance—can help connect people to the health care system who have traditionally been on the margins.
Outreach and intervention, Gracia warned, will need to be tailored to each community. A remote Alaskan fishing community is not, she said, going to have the same needs as a Cuban community in Miami.
While targeted outreach efforts are already under way across both the public and private sectors, there are more entrenched issues that will take longer to address. There is a discordance between doctors and the communities that need care. There are not enough primary-care doctors in the places where people have gained coverage through the ACA, said Dr. Seiji Hayashi, executive vice president for transportation and innovation at Unity Health Care and a practicing physician. The people who are graduating from medical school, he added, do not look like the broader population.
Gracia, who drew on her personal experience as a Haitian-American helping her own family navigate the health care system, said that unequal access to quality education, housing, and nutrition are factors that need to be addressed to overcome the gaps in life expectancy and other health outcomes between whites and people of color.
But there are signs of progress.
The government, Gracia said, has invested billions of dollars in helping people connect with community health care workers who can link them to services, and launched a national effort to improve cultural competency. There is relatively new acknowledgement among government and the private sector that taking steps to improve other "social determinants," such as high school graduation rates and early-childhood education, lead to better health outcomes. For example, there is a need for more data collection, the panelists agreed, and health disparities remain a persistent problem.
Calling those disparities "an anchor on our progress," Gracia said they have cost the nation more than a trillion dollars. If the gaps in health outcomes shrink, she said, the overall economic health of the nation will improve.
The next open-enrollment period begins Nov. 1.