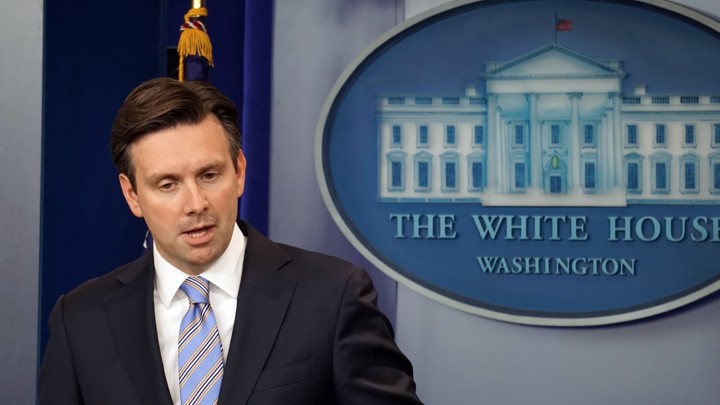 Disappointed? No way.
That's the message from the White House Thursday regarding President Obama's announcement that thousands of troops will remain in Afghanistan through the end of his presidency.
The revised troop-withdrawal timeline goes against Obama's 2008 campaign promises that he'd end America's wars abroad. But in a press briefing Thursday afternoon, press secretary Josh Earnest repeatedly pushed back against suggestions that the president is disheartened by his decision to keep U.S. troops in the country through early 2017. After all, the U.S. military has made substantial progress there, he said.
"As the next president takes over, that president will be in a much better position to confront the challenges of Afghanistan and a much better position to accomplish the goal we'd all like to see": a more stable Afghan government and national security force, Earnest said.
Flanked at a press conference by Defense Secretary Ashton Carter and Vice President Joe Biden, Obama revealed Thursday morning that 9,800 U.S. troops will remain in Afghanistan "for most of 2016." As soon as the end of next year, there will be a drawdown to 5,500 troops, who'll be stationed at bases in Kandahar and Jalalabad and at Bagram Airfield. The announcement marks a revision in the administration's plans to keep only Kabul-embassy-based troops in the country after 2016.
Obama, too, dismissed the idea Thursday that he's disappointed in the postponed drawdown: "The nature of the mis­sion has not changed, and the ces­sa­tion of our com­bat role has not changed." U.S. troops haven't been engaged in combat since December 2014, and the remaining troops have a "narrow mission" of training Afghan forces and engaging in counterterrorism against al-Qaida, Obama said.
But just because the American troops in Afghanistan aren't officially in a combat role doesn't mean they're not ever engaged with opposition forces. Though no troops are patrolling the mountains and valleys of the country looking for the Taliban, Earnest said, "when a terror threat is detected … they can undertake an operation to deal with it."
During his press briefing, Earnest wouldn't validate reporters' suggestions that the president hadn't lived up to his campaign promises, characterizing Obama's pre-presidential pledge as one "to make the kinds of decisions as commander in chief that were in the core national security interests of the United States." Earnest cited Afghanistan's 2014 election and the mission to take out Osama bin Laden as evidence that the U.S. has made gains in Afghanistan.
In a press call shortly after the president's announcement, Earnest said the president has "advanced the vision" he had in 2008, when he pledged to end the war: The U.S. has been able to reduce its military presence in the country even as the president "ramp[ed] up" American investment in Afghan security forces' capabilities and anti-al-Qaida operations. And by Earnest's telling Thursday, Obama inherited a much tougher atmosphere in Afghanistan in 2009 than he's leaving to the next commander in chief.
The number of troops committed to Afghanistan stemmed from the "highest recommendation" from military leaders—and it was the same recommendation Obama received from 20-odd House Republicans who signed a letter urging him to maintain troop levels in the country (including Rep. Joe Wilson, Earnest quipped, "who called the president a liar.")
Earnest was also asked whether U.S. commanders in Afghanistan knew that the Doctors Without Borders facility that was bombed earlier this month was a hospital. A report from the Associated Press Thursday afternoon suggested American special-operations analysts were well aware of its status. Though Earnest said he hadn't yet seen the story—it was posted after the briefing started—he said it will be considered by the Department of Defense in its ongoing investigation.
We want to hear what you think about this article. Submit a letter to the editor or write to letters@theatlantic.com.
Nora Kelly
is a senior editor at
The Atlantic
, where she oversees politics coverage.