Campaigns have spending habits, just like people. And what a 2016 contender buys can say a lot about what they stand for—even if it's just booking a hotel room.
National Journal took a closer look at two areas of campaign expenditures—taxis and hotels—to see how campaigns vary in which brands they use the most.
The Uber campaign
When a presidential candidate needs a ride, who do they call? Most of the time, Uber. Payments to the ride-hailing app account for three-quarters of all campaign spending on taxis.
Of the 17 candidates with available data, five didn't even report a single traditional taxi charge—that is, nothing with "taxi" or "cab" in its name or description. And only two candidates—Hillary Clinton and Mike Huckabee—spent more on traditional taxis than they did on Uber or Lyft. 
Lindsey Graham's campaign is, in fact, the only one to have used Lyft, a popular competitor of Uber. Lyft rides accounted for 31 percent of Graham's taxi spending.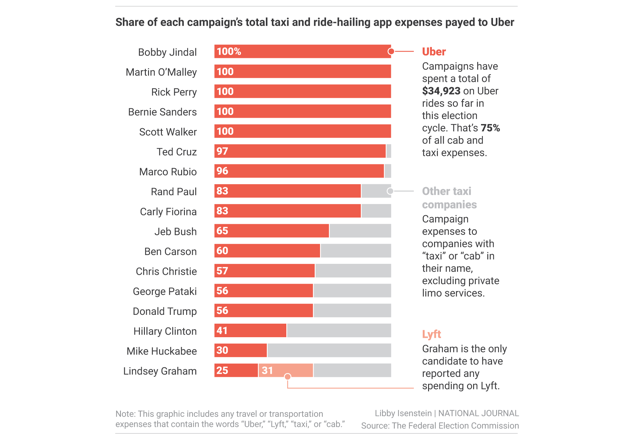 The only other ride-hailing app used by any campaign was Curb. Ted Cruz listed a single $21 charge—too small an amount to highlight on its own. That ride is included in Cruz's "other taxi" total.
This analysis didn't look at hired car services or limousines, which see plenty of use on the campaign trail.