Where Is Ben Carson's Money Going?
The outsider candidate topped the Republican field in fundraising last quarter, but he's also spending a huge amount of cash to raise it.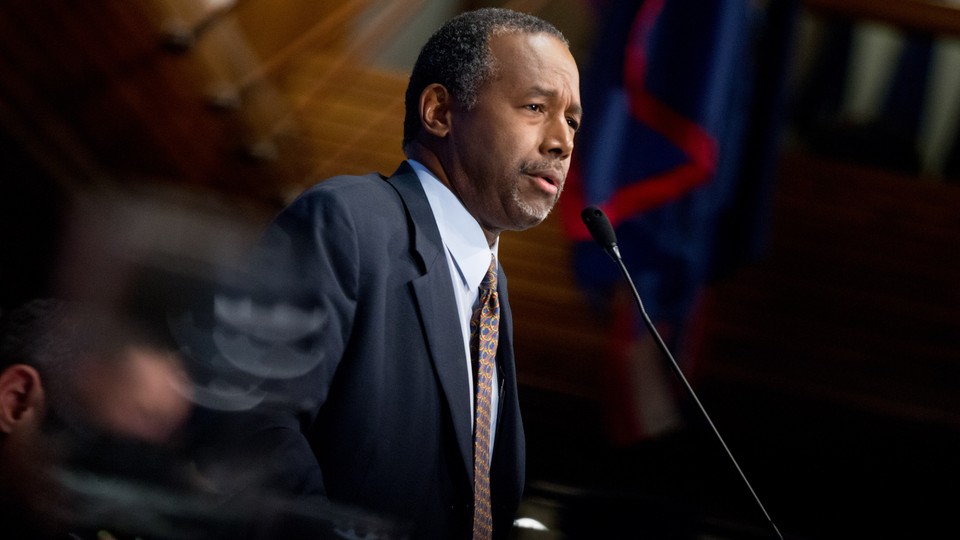 Ben Carson is raising a ton of money. He hauled in an impressive $20.8 million in the third quarter, shocking the political world and topping the Republican field in fundraising. That comes after a strong second quarter, when he raised more than $10 million.
But Carson is also spending a ton of money—he spent nearly seven out of every $10 he raised in the quarter. What is that money being used to do, and is that rate of spending sustainable?
One of the most important metrics in fundraising numbers is the burn rate—the proportion between the cash that campaigns are raking in, and the amount they spent in the same time period. Carson's burn rate is 69 percent. That's generally considered high, though it's hardly the highest total in the field: Hillary Clinton's campaign had a whopping 86 percent burn rate. As logic holds, it's generally preferable to have a lower burn rate now and save for later in the campaign. But a lot of that depends on how the money is spent: Is it building a long-term organization that will provide for the campaign going ahead? If so, spending now isn't an all-bad thing.
In Carson's case, a majority of what he's raising is being plowed right back into fundraising costs—$11.2 million of the nearly $20.8 million. That means 54 cents out of every dollar Carson raises is going to raise more money. Carson's campaign only spent roughly $3 million on everything else—merchandise, office supplies, field staff, space, travel, and so on. Compare that to Clinton, whose biggest expenses included media buys, payroll, and online advertising, spending that's designed to build a real campaign infrastructure and future strategy. She's also spending significantly more on rent. (A headquarters in downtown Brooklyn doesn't come cheap.)
Carson spokesman Doug Watts says the campaign is not worried about the burn rate.
"It's not only sustainable, it's strategic and it's profitable," he says. "We have a more innovative approach here. We're using modern tools that allow us to do things more efficiently. We're doing a lot of things with tools that are not on most people's radars. They're showing effective results in these polls."
But some of Carson's most-favored tools are among the oldest in the book. His campaign relies on direct-mail and telephone fundraising—literally sending fliers to voters or cold-calling them and trying to talk them into giving money. Those are common tactics for political campaigns of all types, and in particular for Republicans, since they reach older voters better. One advantage these methods confer is that they help to build up a grassroots base. Carson has astonishing grassroots support, with a wide base of small-donor dollars, and that support has helped push him near the top of the Republican field.
"Strategically it was our plan to build a donor base," Watts said. "There's only one way you do that—you invest in prospecting in direct mail, prospecting in telemarketing, prospecting online. By the end of the year, we'll have a unique donor file of half a million names."
The downside of the tactic is that it costs a lot. "Prospecting is expensive," Watts added. You've got to mail the fliers—nearly $2.5 million, or about a quarter, of what Carson spent in the third quarter was categorized as postage-related—and you've got to have human beings making those telemarketing calls. And even when the investment pays off, what it yields are small-dollar donations—$25, $50, $100—rather than anything approaching the $2,700 maximum.
While direct mail has its detractors, even its champions argue that the goal is to spend less on it over the course of a campaign—to make direct mail obsolete. As a campaign builds its donor file, it can return to those supporters repeatedly, convincing them to give a little more each time. Carson's campaign burn rate actually increased in the third quarter, from 64 percent in the second quarter, but Watts said the fundraising costs are down.
"We spent 54 cents on the dollar to raise money this quarter," he said. "Last quarter we spent 64 cents on the dollar. That is an 11 cent reduction. I expect we're probably going to have a 10 or 11 cent or maybe more reduction the next quarter."
The campaign has some 700,000 donors, about 300,000 of whom have given more than once, and Watts said several thousand donors moved from giving less than $200 to giving more than that amount in the third quarter. The test for the Carson campaign's strategy will be to see whether the portion of repeat givers continues to rise, whether their donations continue to climb, and whether the amount spent to raise each dollar continues to fall.
Is this just the price of getting grassroots support? Not necessarily. Compare Carson to the other major grassroots candidate in the race: Bernie Sanders. The Vermont senator has also put up fundraising numbers that dropped jaws, and he's also doing it almost entirely with small-dollar donations. But Sanders's overall burn rate is less than 45 percent, and he's spending very differently—by far his largest expense is on digital consulting and advertising, and he spent less than $100,000 on postage. Sanders's trick is that much of that money is coming in through ActBlue, an online platform for making donations to liberal causes. It's highly useful because it provides candidates an off-the-shelf tool, it tends to hook donors by, essentially, gamifying giving, and it's extremely cheap—in general, it charges less than 4 percent commission to candidates. So while Ben Carson is netting around half of every dollar he raises, Bernie Sanders is taking in 96 cents of each greenback. (So much for the free-spending socialist.)
This isn't a problem unique to the Carson campaign. Ted Cruz also had a high burn rate, for example. Republican candidates are at a disadvantage because there's no GOP equivalent to ActBlue. Democrats are just farther ahead on the digital game, much to the frustration of forward-thinking Republican strategists. Despite the high fundraising costs, the Carson campaign promises a great field organization, including the best ground game in Iowa. If so, it's not obviously showing up in the reports so far, and skeptics say the campaign isn't built to last—it isn't spending enough on personnel and on TV ad buys.
"We have our own approach. It's much more akin to the Obama operation in 2007 and 2008, and way off the page of the normal Republican playbook," Watts said. He says the campaign poured $5 million into targeted online advertising that's more effective than buying 30-second spots in primetime. "What they're talking about is a traditional campaign. It's only been gone for a couple of years, but it's long gone. Putting all your money into TV just doesn't cut it. Just ask Karl Rove." (Watts also noted that the campaign was beginning ad buys on Friday. NBC has more details on that here.)
The campaign may also not need to worry so much about actually building the organization. The expanded role of super PACs means that the Carson team can leave this work to an outside committee. "The Carson Super PAC team has the state blanketed," an Iowa source told Politico. "You can't go to a county GOP or local community event without seeing someone in a Ben Carson shirt handing out literature and signing people up."
Direct mail's reputation has been tarnished in recent years. Matt Lewis, a conservative journalist, has asked bluntly whether it's ethical. The major villains are "scam PACs," particularly those purporting to support Tea Party causes or candidates, that raise a great deal of money through direct mail and then spend it on … nothing, save hefty salaries for their employees. The total spending on actual politics ends up being close to nil. Often they have no real connection to candidates. "It is a terrible blight on the conservative movement and on the tea party in particular that the hucksters have come up to cash in," wrote Erick Erickson.
Many strategists say direct mail is an important part of a diversified strategy. Other operatives, though, when discussing the Carson campaign, use words like "grifters" or "unconscionable." They complain that Carson's fundraisers appear to be reaping small-dollar donations from atypical donors and true believers while doing little with that money to build the infrastructure to win the nomination. For the majority of analysts who still consider Carson a very long shot to win the nomination, anyway, there appears to be no big downside for the candidate. But what about the earnest folks writing the checks?
Even with the best of intentions, a heavy reliance on direct mail has sometimes led campaigns and PACs to squander their muscle and money—including some staffed by the same people who are now working for Carson. One of Carson's chief fundraisers is Mark Murray, who's also president of TMA Direct, a direct-mail firm. TMA Direct was one of the top vendors to the Carson campaign in the third quarter, along with InfoCision and Eleventy Marketing, two companies based in Akron, Ohio, that have long worked with TMA Direct.
Murray was previously treasurer of American Legacy, a PAC affiliated with Newt Gingrich. As Mother Jones noted at the time, American Legacy's spending in 2013 looked questionable. As of July 15 of that year, it had raised $1.4 million while contributing only $27,500 to actual candidates. The biggest recipient of American Legacy's cash was InfoCision. TMA Direct also took in about $14,500. American Legacy's mid-year report for 2015 is even worse. It raised $1.25 million but spent $1.38 million, and gave just $2,500 to candidates.
Carson's national finance director is Amy Pass. She was previously the national finance director for Newt Gingrich's 2012 campaign, and before that she was the director of major gifts at American Solutions, another blandly named Gingrich-affiliated PAC. Pass was apparently good at her job—American Solutions raised some $50 million over four years. But in 2011, the PAC went bankrupt. "Campaign finance reports showed that much of that money went to pay for charter flights for Mr. Gingrich as he traveled the country, keeping his political profile high," The New York Times reported.
The 2012 Gingrich campaign and the 2016 Carson campaign share staff, and they share candidates who have proven they are able to rise to the top of the field—though the former speaker's campaign showed that such success can be fleeting. Both campaigns have also been accused of using a campaign as a tool to sell books. Late in 2011, Gingrich and his wife Callista seemed to be combining a tour for their various books along with his stump appearances, requiring a delicate balancing act to adhere to the law.
Carson is now doing something similar, spending some time doing book events—which can't be paid for with campaign cash—while also doing some fundraisers and campaign events. (The campaign notes that he isn't suspending all political activity.) Leon Wolf at RedState rolled his eyes at the move. "If Ben Carson wanted the job of being President, there is no way that a book tour would prevent him from doing everything in his power to expand his campaign right now and to take over the lead for good from Donald Trump," he wrote.
Since Carson took his quasi-break from the trail, however, polls show him increasing his support nationally and maybe even pulling past Trump in Iowa. Which all goes to show: Few of the traditional rules seem to apply to candidates this cycle. But Carson's burn rate and his spending on fundraising in particular remain weak spots for the campaign, and his continuing success will depend on bringing those figures down. "If we need cash, we're going to have all the cash we need for whatever purpose," Watts told me. The next few months will determine whether he's right.