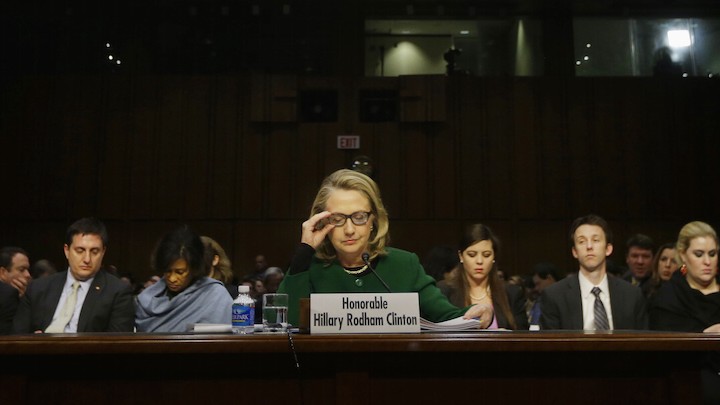 Thursday will be among the biggest moments of Hillary Clinton's presidential campaign, and it won't be occurring in Iowa, New Hampshire or another early-voting state. Instead she'll be in a crowded House hearing room all day fielding questions from the House Select Committee on Benghazi.
The run-up has already been intense. Clinton's allies, including the super PACs Correct The Record and Priorities USA, are waging a war to attack the GOP-led committee's credibility. Republicans have been counter-punching with their own TV appearances and PR, and this week brought on a new press aide, Matt Wolking, from Speaker John Boehner's office to bolster their ranks.
Here are four key things to watch Thursday.
A Starring Role for Clinton's Email Server? Or Just a Cameo?
Republicans have been intensely interested in Clinton's unusual private email set-up, and that includes the Select Committee, which uncovered the arrangement. The transcript of the panel's Sept. 3 interview with Cheryl Mills, Clinton's State Department chief of staff, that Democrats released Wednesday shows lengthy questions about the genesis and operation of the system.
But since Rep. Kevin McCarthy's infamous comments three weeks ago that credited the panel with harming Clinton's campaign, Republicans have been on the defensive over charges, which they hotly dispute, that the probe is a political weapon. That could dampen their willingness to make the server a major focus.
"I care about her e-mails only to the extent that they relate to Libya and Benghazi," said Trey Gowdy, the panel's GOP chairman, in a CBS interview Sunday.
Are New Revelations About Benghazi in the Offing?
It's unclear how much the hearing will provide fresh insight or facts about the Sept. 11, 2012 attacks on a diplomatic compound and CIA facility that killed four Americans, including Ambassador Christopher Stevens.
This month the State Department has provided roughly 8,000 pages of Stevens' emails to the panel, and according to Republicans the vast majority have never been provided to Congress before. Almost 900 pages arrived on Tuesday alone, Republicans said.
Gowdy said the production to the committee is important and breaks ground that other committees that explored the Benghazi attack didn't. "If you want a window into Libya and what was happening in the weeks and months before these four were killed, why would you not look at the ambassador's e-mails?," he said Sunday.
But how much new insight into the security situation in Benghazi, the Sept. 11, 2012 attacks themselves and State's response that the messages—and the hearing overall—will provide is uncertain.
Alec Gerlach, a State Department spokesman, told Government Executive that the Stevens' emails "do not change our understanding of what happened before, during or after the attacks." Stay tuned.
Last Hurrah for Democrats?
Look for Democrats to highlight comments by McCarthy and GOP Rep. Richard Hanna that fueled Democrats' claims of partisan motives, and try and ensure that Clinton isn't targeted in ways they call unfair.
"We'll endeavor to make it fair. To make sure the secretary has a chance to answer the questions, that documents aren't used in a misleading way, that witness interviews aren't mischaracterized," said Rep. Adam Schiff, a Democratic member of the panel.
But what about afterward? Democrats say they might walk away from the committee that they call a partisan weapon against Clinton. Rep. Elijah Cummings, the committee's top Democrat, says they will make a decision at some point after Thursday.
"We will cross that bridge when we come to it," he told reporters in the Capitol on Wednesday. "We need to see what comes out of this hearing." But Cummings said Democrats face a tough decision.
"Somebody has to defend the truth," he said. "If you are not in the room, you can't do anything. So that would be a real problem. So that is the dilemma we find ourselves in."
Will Either Side Provide a Viral Moment?
The former secretary of State is coming off a widely praised performance in last week's debate, but the grilling before the Benghazi panel will be a far longer affair.
So one thing to watch heading into the hearing is whether Clinton will be prodded into any statements or moments that become Youtube sensations, and grist for GOP attack ads and criticism from Republican White House contenders.
But Republicans are on a tightrope too and will be seeking to avoid fueling new allegations that the event is aimed at damaging Clinton, rather than the neutral, fact-based probe they say they're conducting.
Committee Republicans have hit a rough patch due to comments from GOP lawmakers outside the panel, and more recent controversies, such as the CIA disputing Gowdy's claim that Clinton's email contained highly classified information about an intelligence source.
---
Alex Brown contributed to this article
We want to hear what you think about this article. Submit a letter to the editor or write to letters@theatlantic.com.
Ben Geman
is an energy and environment correspondent at
National Journal