Will the Benghazi Hearing Help Hillary?
Congressional Republicans are squabbling over the investigation on the eve of the Democratic frontrunner's highly anticipated testimony.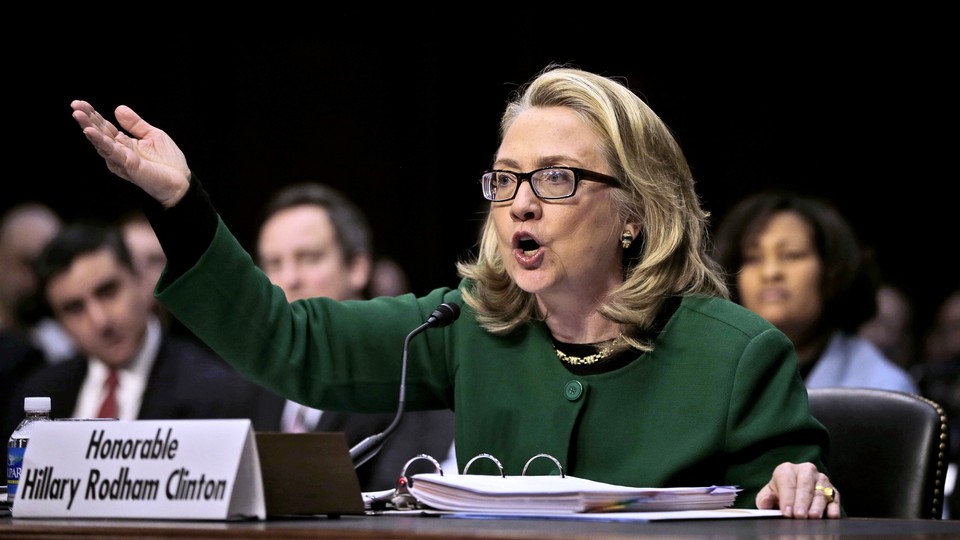 Few House hearings are must-see TV. But on Thursday, Hillary Clinton will testify ahead of the House Select Committee on Benghazi in one of the most anticipated hearings of the year—but maybe not for the reasons originally predicted.
The hearing was never supposed to be easy for Clinton, whose campaign has been hampered by inquiries into her use of a private email server during her tenure as secretary of state. But the threat the committee once posed to her political fortunes has dissipated, as it has instead become a political challenge for House Republicans, as they try to prove that the focus of the committee is on the 2012 attacks in Benghazi, Libya, and not a political ploy.
The committee's chair, Representative Trey Gowdy of South Carolina, has been fending off a deluge of criticisms since House Majority Leader Kevin McCarthy suggested that it was reason for Clinton's drop in the polls.
"Everybody thought Hillary Clinton was unbeatable, right? But we put together a Benghazi special committee, a select committee." McCarthy said on Fox News. "What are her numbers today? Her numbers are dropping. Why? Because she's untrustable. But no one would have known any of that had happened had we not fought and made that happen." McCarthy's spokesman Matt Sparks later issued a statement saying that the committee has "nothing to do with politics."
The disarray among members of the House was striking, but Clinton suspected from the start that a public hearing would likely work in her favor. Gowdy had offered Clinton to come in for a private interview. But Clinton's extensive experience testifying before committees is reason enough to take what's expected to be a heated hearing public. My colleague Russell Berman smartly explained the move earlier this year:
And it reflects a confidence that despite Gowdy's beset efforts to keep the hearing on track, it will devolve into a circus in which GOP lawmakers will compete to offer the most damaging interrogation. Clinton would then come off as sympathetic rather than secretive.
Clinton is preparing to field a flurry of questions from committee members. According to Politico, Clinton is poised to approach her testimony "solemn and serious in manner" and her camp is setting up talking points that call out the Benghazi committee as a "partisan charade."
Meanwhile, House Republicans will have to stick to the facts and prove that they are not out to get the Democratic frontrunner and that the committee hasn't been a waste of money. Over the weekend, the feud within the committee seemed to have reached a tipping point when its top Democrat, Representative Elijah Cummings of Maryland, and Gowdy engaged in a spat about the intentions of the committee.
Within the GOP there's also been trouble for Gowdy after two congressional Republicans and a GOP staffer said that the committee was politically motivated. Gowdy, perhaps feeling the pressure, responded on CBS's Face the Nation.
"I have told my own Republican colleagues and friends, shut up talking about things that you don't know anything about." Gowdy said. "And unless you're on the committee, you have no idea what we've done, why we've done, and what new facts we have found."
If the matter actually was being politicized, it would have likely gone unnoticed among the general public, but that changes when people tune in for Clinton's testimony on Thursday. The committee's line of questioning is expected to touch on the attacks as well as Clinton's use of a private email server.
The revelation of Clinton's email set-up has snowballed into questions about the content of the emails, if they were vulnerable to cyber-security threats, and why it was wiped clean after she left office. When it came up during the first Democratic debate, Clinton got a helping hand from Bernie Sanders, who refused to jump at the opportunity to blast his opponent on the email controversy. "I think the American people are sick and tired of hearing about your damn emails," he said.
Like the debate, the hearing could ultimately work in her favor. Clinton's email scandal hasn't been put to rest, but the hearing may not have the resounding effect it once threatened to have.