What the 2016 Republican Candidates Are Saying About Hillary Clinton's Benghazi Testimony
Some took to social media before the former secretary of State had said anything Thursday morning.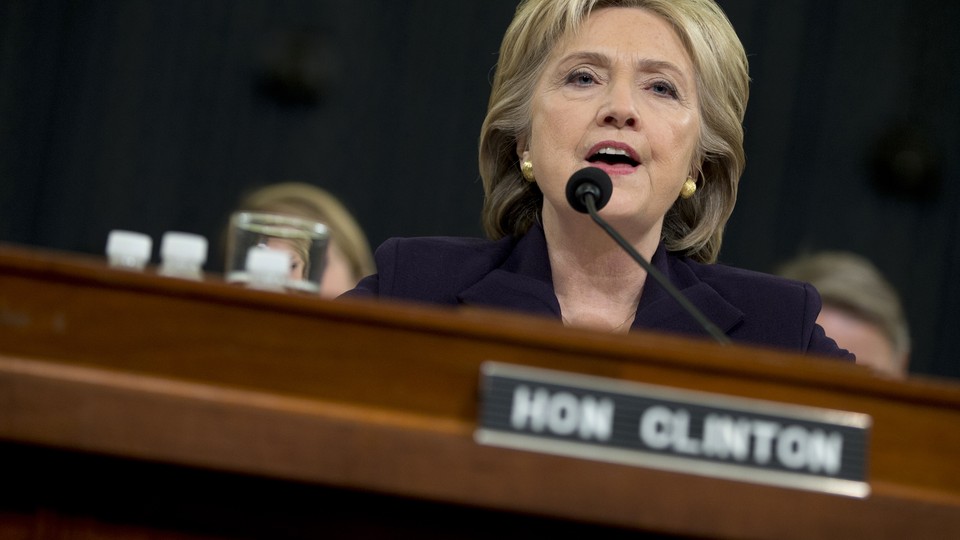 For Hillary Clinton, her testimony Thursday in front of the House Select Committee on Benghazi is a chance to publicly combat the image the GOP has crafted about her: that she is a leader unworthy of the public's trust, that she mishandled the 2012 terrorist attacks in Benghazi, and that she set up a private email system to evade the American public's eye.
For her Republican opponents in the 2016 race, it's an opportunity to weigh in on one of the most potentially dramatic political moments of this campaign cycle.
Even before Clinton entered the chambers of the Ways and Means Committee—where she'd be spending the next eight to 10 hours, according to CNN—some candidates were already on Twitter criticizing her tenure as secretary of State and giving their support to the Benghazi committee. By the time Clinton started speaking, they were responding in real time to her testimony.
We'll keep this story updated with their comments as Clinton's testimony proceeds.
JEB BUSH
Bush characterized the Benghazi attack as emblematic of shortcomings within the Obama administration.
The former Florida governor also posted a quasi-petition on Facebook against Clinton, asking supporters to "[a]dd your name to hold her accountable."
LINDSEY GRAHAM
The hawkish senator sent out a series of tweets via his official Hill account in support of Benghazi committee Chairman Trey Gowdy, whose motives have been repeatedly questioned by Democrats. It's noteworthy that he didn't mention Clinton by name, keeping his comments solely focused on the committee's work.
By the time Clinton began testifying, Graham switched to his campaign account, where he responded directly to one of her comments, and placed responsibility for security in Benghazi squarely on her shoulders.
MIKE HUCKABEE
Huckabee, always one for crafty rhetoric, took to Twitter with rhyme.
After Clinton described the career of Amb. Chris Stevens, who died in the Benghazi attack, Huckabee addressed her directly.
Huckabee even shared a photo to prove he was carefully watching the hearing.
RAND PAUL
Paul got a shoutout Thursday morning from committee Ranking Member Elijah Cummings, who noted in his opening remarks that Paul called Benghazi a "3 a.m. phone call that [Clinton] never picked up." But Paul took a different tact Thursday as Clinton spoke: He tweeted a link to an item his campaign is selling in homage to her email controversy.
MARCO RUBIO
Breitbart News published an op-ed from the Florida senator as Clinton's testimony proceeded. In it, Rubio took on not only her approach to Benghazi, but also Clinton's posture toward Vladimir Putin, the Obama administration's nuclear deal with Iran, and the crisis in Syria. An excerpt:
In the case of Benghazi, despite her advocacy of the intervention that resulted in the fall of a brutal dictator, Clinton appeared to show little interest in the deteriorating situation in Libya. … This disengagement from a major crisis facing her Department is symptomatic of her broader approach to her role as Secretary of State. Indeed, she really has no major accomplishment to point to from her four years as Secretary of State and the issues on which she engaged the most often had the most disastrous results for U.S. foreign policy.
CARLY FIORINA
The former HP CEO posted a video of herself speaking about Clinton to a crowd on Twitter on Thursday afternoon.
In the video, which doesn't mention Benghazi specifically, she criticizes the "Clinton Way" and accuses Clinton of being untrustworthy.
"Now, of course, they're scrambling to refile their tax returns and account for her decisions as secretary of State," Fiorina says. "And I tell you what: When the general election rolls around, we better have a nominee that can throw those punches all day long."
DONALD TRUMP
Typically pugnacious Trump has remained fairly silent on today's hearing, preferring to tweet about his poll numbers and Vice President Joe Biden's decision not to run for president.
He did, however, retweet another Twitter user who complained about Clinton's performance: