How Big Will Boehner's Pension Be?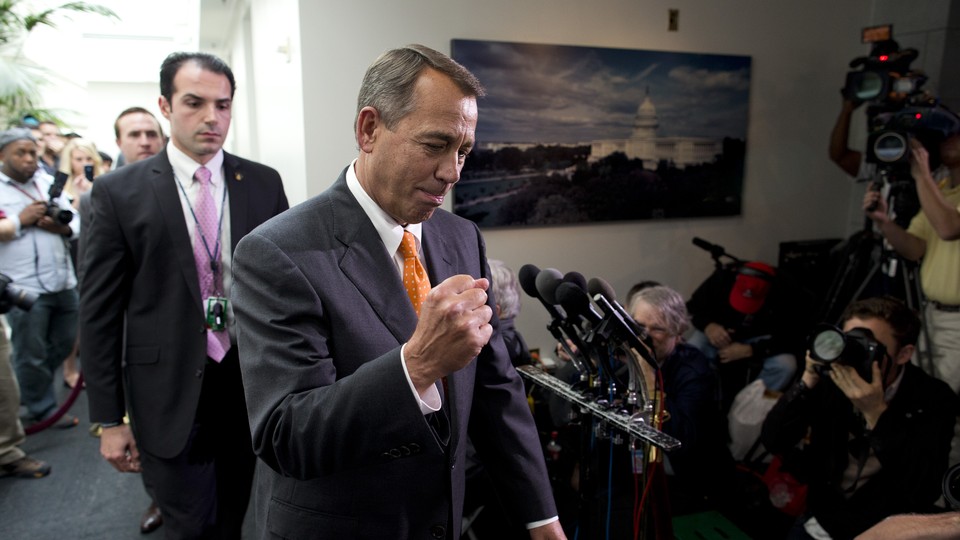 Editor's Note:
This article previously appeared in a different format as part of The Atlantic's Notes section, retired in 2021.
John Boehner is fond of telling stories of how he rose from mopping floors at his family's bar to being speaker of the House—literally a rags to riches tale, in the finest American fashion.
A reader writes in to ask what retirement benefits Boehner will receive now that he's handing over the speaker's gavel and leaving Congress. Suffice it to say, Boehner won't have to go back to mopping floors at Andy's Cafe unless he wants to do so. He has long had close ties to lobbyists, and if he chose to go to K Street he could easily make seven figures. Even Boehner's former Majority Leader Eric Cantor, ignominiously defeated in a primary election, scored a base compensation of $1.6 million, including salary and signing bonus, this year. But Boehner's loyalists say they don't think he'll do that, and the man himself says he has no idea what his plans are.
So what would Boehner make in pension for being in Congress?
The Congressional Research Service has a useful paper on this topic if you really want to nerd out on it. Here's the short version: Anyone who serves at least five years in Congress is eligible for a pension, and everyone is generally required to pay into both it and Social Security. (A few members, including former Representative Ron Paul and current members Ron DeSantis and Thomas Massie, opt out, but it's rare.) The amount members receive depends on both their salary in the House or Senate and how long they served.
Here's the relevant formula for Boehner, based on when he entered Congress, in 1991. (Members who joined earlier or later may be subject to slightly different calculations, as explained in the CRS report.)

"High-3 salary" is the highest salary a member made in three consecutive years. For Boehner, that's the speaker's salary of $223,500. My back-of-the-envelope calculation comes up with an annual pension for Boehner of about $86,600, depending on how precisely you calculate his service time.
Boehner is 65 and will turn 66 on November 17, shortly after he leaves the House. At that point he could also begin drawing a full Social Security benefit on top of the pension. (Beware of false claims about congressional pensions, probably forwarded to you by your well-meaning but Snopes-unaware aunt via chain email.)
The case for why members of Congress should receive pensions is fairly simple. First, they worked for it, in some cases forfeiting higher paydays to serve, though your mileage may vary from member to member. Second, making sure that members are taken care of helps to avoid creating untoward temptations for corruption for members concerned about providing for themselves. Presidential pensions were introduced in 1958 because Harry S Truman was suffering financial difficulties, and Congress found this did not match the dignity of his former office. The case against is equally simple: Do they really deserve this on top of their taxpayer-funded salary, especially in a time when most members of Congress are millionaires?
A few members have lost their pensions. A member can forfeit a pension by committing one of several felonies, including bribing a public official, acting as a foreign agent, wire fraud, and racketeering. But that rule dates only to 2007, making it too late to deprive Duke Cunningham, the California Republican convicted of taking bribes, nor convicted felon and Star Trek enthusiast Jim Traficant, the late Ohio Democrat.