What Jeb Bush Doesn't Get About the Presidency
Running for president has almost always been a performance, and Bush is a lousy performer.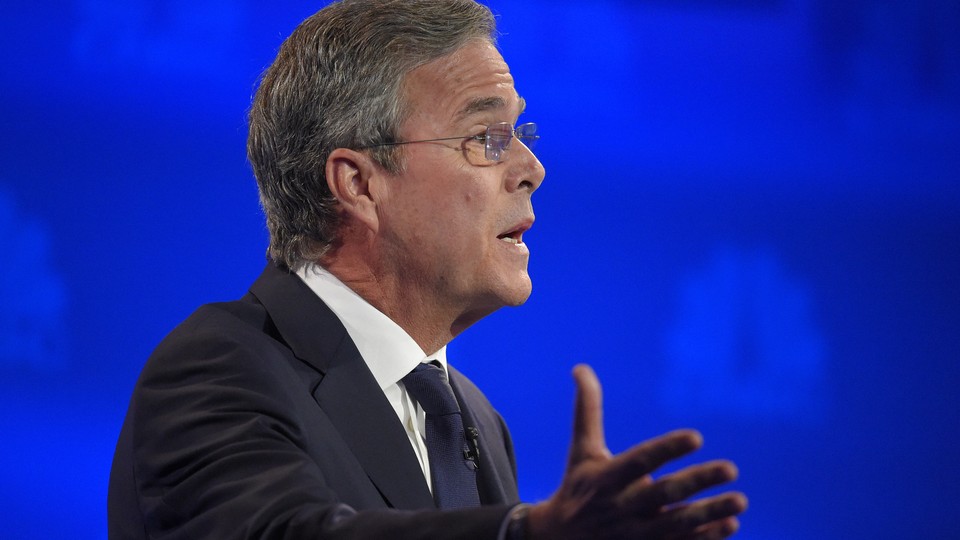 I listened to the first few minutes of Wednesday night's Republican presidential debate in the car, chauffeuring my teenage son home from an after-school event.
"Who's the loud guy?" Tyler asked.
"John Kasich," I replied.
"Which one is Trump?"
"The other loud guy."
"Who's that guy?" Tyler nodded at the radio as a young-sounding GOP candidate responded to a CNBC moderator who had just asked why he was in such a hurry to leave Congress. "That's exactly what the Republican establishment says, too: 'Wait in line,'" the candidate replied. "Wait for what?"
I told Tyler that was Marco Rubio. "He's a good debater."
Tyler nodded. "Yes," he said, "but a good debater doesn't make you a good president." Not necessarily.
I suspect Jeb Bush went to bed Wednesday night telling himself something similar after Rubio, a fellow Floridian and former protégé, wiped the Colorado floor with him. A good debater doesn't make you a good president.
But a bad debater probably can't become president—not in an age of celebrity and social media, when a reality TV star sits atop the polls and every American has the power to create and crawl into electronic fantasy worlds.
Jeb Bush is a bad debater.
This became apparent as Tyler and I pulled into our driveway, and Bush began his well-rehearsed attack on Rubio's record of high absenteeism in the Senate. "When you signed up for this, this is a six-year term, and you should be showing up to work," Bush said. He turned to face Rubio, almost dramatically. "You can campaign or just resign and let someone else take the job."
Rubio's voting record had been in the news for days, so the younger man had his script ready. Rubio first compared his absentee record to that of past presidential candidates, including 2008 GOP nominee John McCain. "I don't remember you ever complaining about John McCain's vote record," Rubio said.
With Bush sputtering, Rubio added, "The only reason why you're doing it now is because we're running for the same position, and someone convinced you that attacking me is going to help you."
Boom.
Later, moderator John Harwood asked Bush about the fast-rising fantasy-football industry that is under legal and political scrutiny. "I'm 7-0 in my fantasy football league," Bush replied. The former Florida governor was clearly trying to connect with the millions of fans who bet on players' performances. In another context, his answer would have been endearing. On this night, with the stakes so high for a campaign losing the confidence of the GOP establishment, Bush was a bit goofy.
"Fantasy football!" New Jersey Gov. Chris Christie shouted from stage left. "We have ISIS and al-Qaeda attacking us and we're talking about fantasy football?"
Toward the end of the debate, Bush campaign manager Danny Diaz angrily confronted a CNBC producer about the relative lack of time the moderators gave Bush. "I expressed my displeasure about the way the debate was managed and the amount of time [we got]," Diaz said.
While every campaign and the Republican National Committee had complaints about the moderators' questions, Diaz's displeasure should be reserved for his boss.
Privately, donors and consultants close to the Bush family told me they were horrified by his performance, especially given that it came after the Floridian was warned that he was running out of time to break out. Analyzing her friend's performance on CNN, Bush backer Ann Navarro looked and sounded so despondent that the former governor felt compelled to buck her up.
"Hang in there, baby," Bush told Navarro via an interview with CNN's Dana Bash.
The reporter pressed: Isn't he worried how his performance will play? Bush shrugged and said if people want a performer-in-chief, he's not their guy. Later, while leaving the debate site, Bush snapped at reporters: "It's not a performance. I'm running for the president of the United States."
Here's the problem: Running for president and serving as president have almost always been a performance, certainly in the modern age. Abraham Lincoln created and fed the rail-splitter's myth. Teddy Roosevelt campaigned across the nation in a private train car, his traveling stage. His cousin Franklin gathered a weary nation around a virtual fireplace. John Kennedy starred in Camelot, Ronald Reagan gave a City Upon a Hill its second act, and Bill Clinton cast himself in the Place Called Hope. Every president since Washington used the latest technology to amplify his hero story.
Like it or not, Bush is running for president amid the dismantling of a media business model that had its roots in Teddy Roosevelt's presidency. His is an era dominated by social media, partisan media, and corporate media.
He's right: There is much more to the presidency than a performance. Rubio may be no deeper than a spotlight. But if Bush wants the job, he's gotta perform.