What America's Mayors Want from Washington
U.S. Conference of Mayors outlines federal wish list for 2016.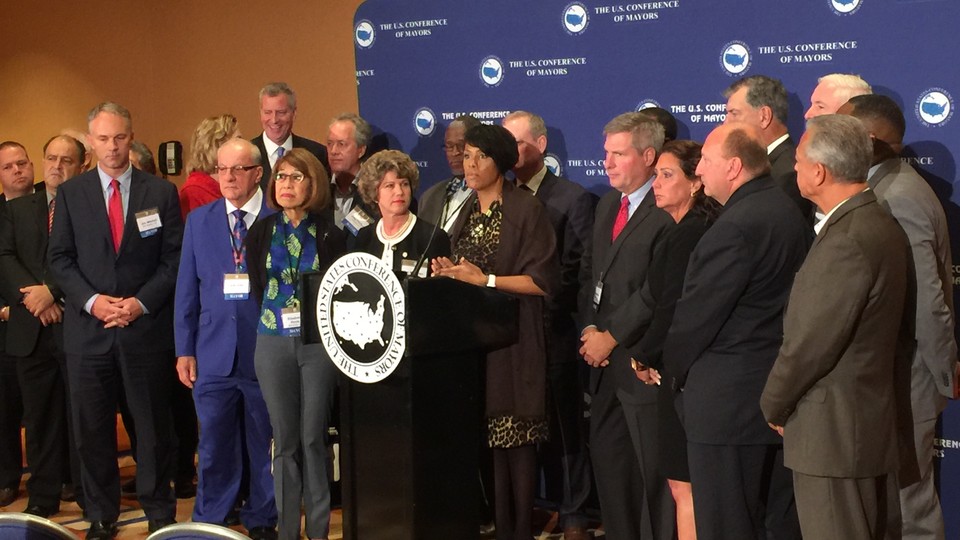 American cities want more attention from Washington. And what they really want is money for workforce training, public safety, health care, infrastructure, and clean water, air, and energy.
Over the weekend, Baltimore Mayor Stephanie Rawlings-Blake and mayors from dozens of American cities met in Baltimore to put together a wish list for presidential candidates and members of Congress.
Members of the influential U.S. Conference of Mayors say their cities are responsible for leading the country out of the economic recession and will be key in closing the current opportunity gap.
"We know people are frustrated thus far," said Rawlings-Blake at a press conference Saturday in Baltimore. "This campaign has not been wholly focused on issues that matter most to working families. We want to refocus the conversation about things that matter to people's lives in the cities that we serve, where the vast majority of people in this country live."
The "Mayors' Compact for a Better America: A 2016 Call for Action" will be released Wednesday at the National Press Club in Washington.
Though details of their plan have not been released, here are five things they've asked the federal government for this year:
More money to maintain and build roads and bridges by reauthorizing the Surface Transportation Assistance Act. But mayors would like to see more investment control given to cities, not just states.
Restore cuts to federal Community Development Block Grants to help low- to moderate-income neighborhoods by creating senior centers, homeless shelters, daycare services, and meals for the elderly.
Increasing funding for the Low-Income Home Energy Assistance Program, which helps families pay heating and cooling bills. The idea is to prevent low-income families from choosing between heating their homes and buying food.
Renewing and expanding the EB-5 visa program, which gives foreigners visas to live in the United States if they invest in massive development projects.
Reforming hiring practices that discriminate against people with criminal backgrounds, and banning companies from asking questions about criminal backgrounds on job applications for certain types of work.