Watchdog Files Ethics Complaints Against 11 Members Over Payday-Lender Support
Campaign for Accountability accuses the lawmakers of colluding with the industry, but such cases can be hard to prove.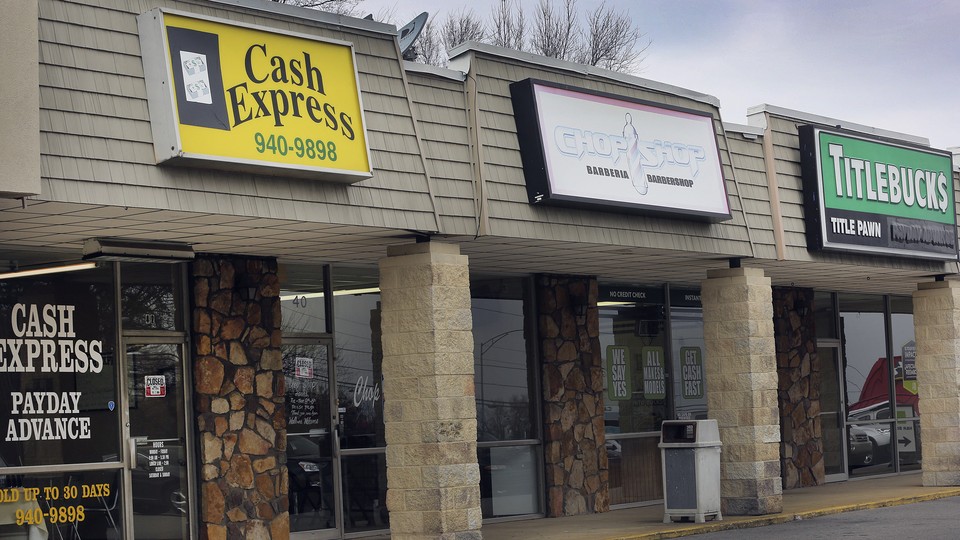 A watch­dog or­gan­iz­a­tion filed a com­plaint Monday with the Of­fice of Con­gres­sion­al Eth­ics, al­leging that 11 House mem­bers col­luded with the pay­day-loan in­dustry.
Cam­paign for Ac­count­ab­il­ity, a new non­profit aimed at hold­ing gov­ern­ment of­fi­cials ac­count­able, is ask­ing OCE to in­vest­ig­ate con­tri­bu­tions mem­bers re­ceived from the in­dustry shortly be­fore or after they took of­fi­cial ac­tions—such as spon­sor­ing le­gis­la­tion, sign­ing onto a let­ter sup­port­ing pay­day loans, and more. This re­quest comes after an­oth­er watch­dog group, Al­lied Pro­gress, is­sued a 19-page re­port de­tail­ing its al­leg­a­tions that the tim­ing sur­round­ing con­tri­bu­tions "raises a ser­i­ous ques­tion of wheth­er they were made as a quid pro quo for of­fi­cial ac­tion."
OCE—the House's non­par­tis­an, in­de­pend­ent in­vest­ig­at­ive arm—is re­quired to take a look at every com­plaint that gets filed, but this doesn't mean it al­ways launches an in­vest­ig­a­tion. That de­cision lies with the of­fice's board. And some eth­ics law­yers say that cases tied to tim­ing and polit­ic­al con­tri­bu­tions can be dif­fi­cult to prove. "Mak­ing a case like this is a very big hill to climb," said Ken­neth Gross, an eth­ics at­tor­ney who leads Skad­den's Polit­ic­al Law prac­tice. "It can get the camel's nose un­der the tent, but it doesn't go any­where un­less you can con­nect the dots and show there was some ex­pli­cit agree­ment."
The eth­ics com­plaint, like the Allied Progress report, delves in­to the of­fi­cial ac­tions mem­bers took around the time they re­ceived cam­paign con­tri­bu­tions from pay­day-lend­ing ex­ec­ut­ives and in­dustry polit­ic­al ac­tion com­mit­tees. The re­port cites sev­er­al ac­tions, such as writ­ing to the Justice Department about its in­ten­tions to stop some pay­day-loan prac­tices; spon­sor­ing or co­spon­sor­ing le­gis­la­tion that, Campaign for Accountability says, would hinder the Con­sumer Fin­an­cial Pro­tec­tion Bur­eau's work of reg­u­lat­ing the in­dustry; and more.
"The pay­day lend­ing in­dustry preys on some of the most vul­ner­able mem­bers of our so­ci­ety, de­lib­er­ately plunging them in­to a cycle of debt in or­der to reap high profits," the com­plaint states. "The idea that mem­bers of Con­gress are trad­ing the power of their of­fices to help un­scru­pu­lous pay­day lenders avoid badly needed over­sight and reg­u­la­tion in re­turn for cam­paign con­tri­bu­tions un­der­mines pub­lic con­fid­ence in the in­sti­tu­tion as a whole."
El­ev­en law­makers are lis­ted in the non­profit's com­plaint: Re­pub­lic­an Reps. Steph­en Finch­er of Ten­ness­ee; Scott Gar­rett of New Jer­sey; Jeb Hensarling, Randy Neuge­bauer, and Pete Ses­sions of Texas; Blaine Luetke­mey­er of Mis­souri; Patrick McHenry of North Car­o­lina; Steve Stivers of Ohio; and Kev­in Yo­der of Kan­sas; and Demo­crat­ic Reps. Al­cee Hast­ings of Flor­ida and Gregory Meeks of New York. Only a few of the mem­bers' of­fices responded to requests for com­ment.
"This so-called com­plaint was con­cocted by one lib­er­al front group and mar­keted by an­oth­er," Hensarling's chief of staff, An­drew Duke, wrote in an email. "Con­gress­man Hensarling has al­ways be­lieved that one un­elec­ted, un­ac­count­able bur­eau­crat should not hold so much power that they can vir­tu­ally deny any fin­an­cial product or ser­vice to con­sumers—and he is on re­cord dat­ing back to 2009 op­pos­ing this flawed struc­ture. The as­ser­tion be­ing made by these groups is ri­dicu­lous and not worthy of fur­ther com­ment."
And Car­oline Boothe, a spokes­wo­man for Ses­sions, said: "Since the CFPB's in­cep­tion, Con­gress­man Ses­sions has fought vig­or­ously against its un­war­ran­ted and un­pre­ced­en­ted as­sault on the free en­ter­prise sys­tem. The con­cerns raised by this lib­er­al watch­dog group are grossly in­ac­cur­ate and a com­plete mis­char­ac­ter­iz­a­tion of Con­gress­man Ses­sions' con­tin­ued ef­forts in fight­ing against the flawed prac­tices of the lib­er­al, un­elec­ted bur­eau­crat­ic 'tsars' at the CFPB."
Meeks, meanwhile, said in a statement that the complaint "completely ignores the fact that the policy position involved is one I had long and consistently held." He added that the complaint "lacks any factual or legal merit whatsoever."
It's un­clear if OCE will form­ally in­vest­ig­ate the mat­ter; OCE de­clined to com­ment.
In or­der for OCE to in­vest­ig­ate Cam­paign for Ac­count­ab­il­ity's com­plaint, two board mem­bers (one ap­poin­ted by the House speak­er, an­oth­er by the minor­ity lead­er) would need to au­thor­ize a pre­lim­in­ary re­view. A vote in fa­vor gen­er­ally means that pub­licly avail­able in­form­a­tion provides a reas­on­able basis to be­lieve there may have been a vi­ol­a­tion.
Stan­ley Brand, former House coun­sel and cur­rent seni­or coun­sel at Akin Gump, said that while he doesn't know all the facts in this spe­cif­ic case, it's a mem­ber's job to write le­gis­la­tion and work with ad­vocacy groups. "The whole no­tion that the co­in­cid­ence of cam­paign con­tri­bu­tions makes everything they do il­leg­al is ab­surd, and it's been re­jec­ted by courts and by the com­mit­tee," Brand said.
He poin­ted to a case he was in­volved in re­gard­ing law­makers who held fundraisers around the time the House voted on the Dodd-Frank fin­an­cial-re­form le­gis­la­tion, which first es­tab­lished the CFPB. OCE re­ferred the in­vest­ig­a­tion of three mem­bers to the House Eth­ics Com­mit­tee, stat­ing that there was sub­stan­tial reas­on to be­lieve they had so­li­cited or ac­cep­ted con­tri­bu­tions linked to of­fi­cial ac­tions or seem­ingly provided spe­cial treat­ment. The eth­ics pan­el dis­missed the mat­ter and con­sidered it closed.
"You have to show an ex­pli­cit dir­ect con­nec­tion between the of­fi­cial act—whatever that is—and the re­ceipt of the cam­paign con­tri­bu­tion, which is very dif­fi­cult to do and al­most nev­er proven," Brand said.
But Anne Weis­mann, Cam­paign for Ac­count­ab­il­ity's ex­ec­ut­ive dir­ect­or, said she be­lieves the tim­ing of the mem­bers' ac­tions sug­gests mis­con­duct. She cited the in­dict­ment of Demo­crat­ic Sen. Robert Men­en­dez of New Jer­sey—on charges that he used the power of his of­fice to help a long­time friend and polit­ic­al sup­port­er—and said it shows how tim­ing can play a pivotal role in a case.
"Noth­ing seems stretched here," she said. "We're not read­ing in­to things. What we are re­ly­ing on is the tim­ing, and I think the tim­ing is clear. That was something that was a key ele­ment in the Men­en­dez com­plaint, and I think that that really sig­nals that the tim­ing is a sig­ni­fic­ant factor in de­cid­ing wheth­er or not there has been a vi­ol­a­tion of eth­ics laws or crim­in­al laws."
This article has been updated.