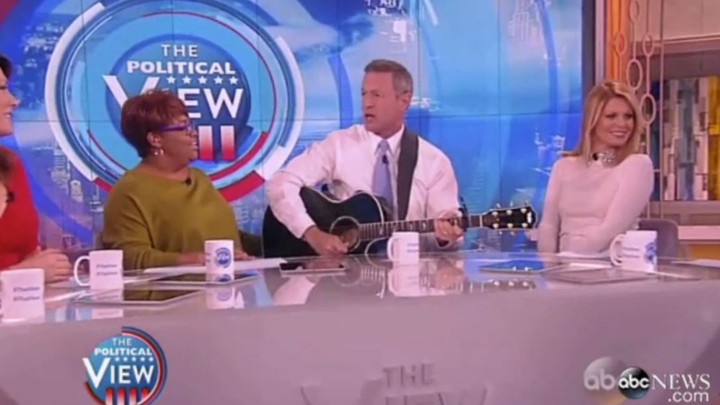 Martin O'Malley says there's no bad blood between himself and Hillary Clinton, but that didn't stop him from singing Taylor Swift's hit song while on the talk show circuit Tuesday.
During an appearance on ABC's The View, O'Malley launched into an acoustic rendition of Swift's song "Bad Blood"—to the delight of the show's female hosts.
"Katy Perry, I'm told, is doing like a benefit concert for one of my opponents in Iowa. So in response, I thought I would offer this up for Taylor Swift," O'Malley said, before serenading the ladies of The View.
Perry—Swift's alleged pop-star arch-nemesis and reportedly the inspiration for the song—is set to appear at a rally for that unnamed opponent, Hillary Clinton, in Des Moines this weekend. Swift recently disputed allegations that "Bad Blood" is about Perry.
The ladies of the The View fawned over O'Malley's physical appearance, showing a shirtless picture of him at Maryland's Polar Bear Plunge charity event.
"Oh my god, I mean, you are ripped. You are like Ned Flanders. Under your shirt you are just all man," remarked cohost Michelle Collins. "If this doesn't work out, I would love to see you act because, I mean, what a looker, honestly."
When asked how he planned to beat Clinton in the Democratic primary, O'Malley declined to go after her personally. After all, he did endorse Clinton for president in 2008.
"I didn't get into this race out of any lack of respect for Secretary Clinton," O'Malley said. "I actually like her."
The former Maryland governor turned also weighed in on Vice President Joe Biden's prospective presidential run.
"I know Vice President Biden very well. I have a tremendous amount of affection and respect for him," O'Malley said. "If he were to get into this race, he would certainly bring a lot of experience and that perspective, but I think his generation is already overly represented in our party in this field."
We want to hear what you think about this article. Submit a letter to the editor or write to letters@theatlantic.com.