A Settlement for Walter Scott's Family
The family of the man killed by a South Carolina police officer in April will receive $6.5 million.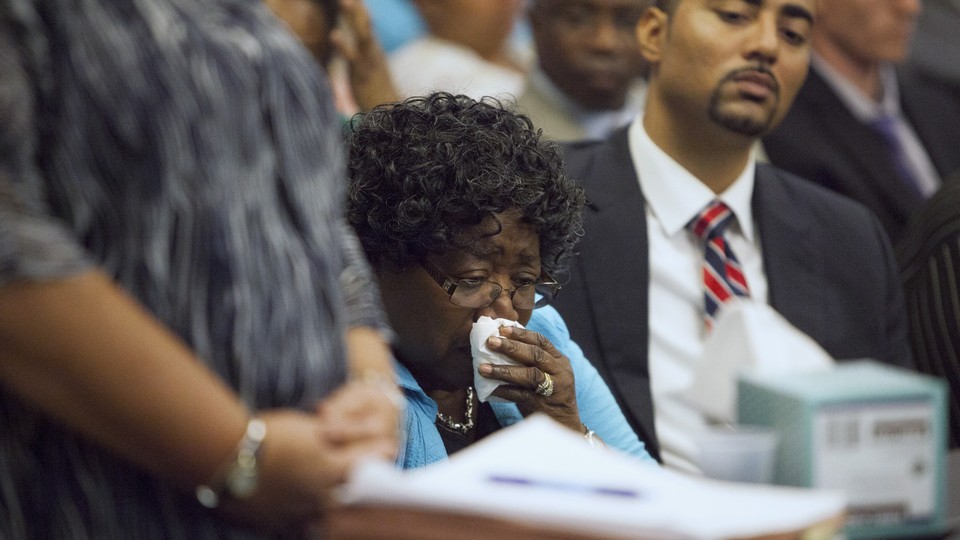 The city of North Charleston, South Carolina, has settled a civil lawsuit brought by the family of Walter Scott, the unarmed black man shot to death by a local police officer as he fled in April, according to The Washington Post.
The North Charleston City Council voted 10-0 to authorize the settlement on Thursday night. Scott's family will receive $6.5 million in compensation from the city.
Even as the United States has wrestled with a series of high-profile police killings of black Americans over the past 18 months, Scott's death on April 4 stood out. Video footage of his final moments, captured on a cellphone by a nearby bystander, shows Scott interacting with and then running away from Michael Slager, a 33-year-old North Charleston police officer. Slager immediately pulls out his pistol and fires eight shots at Scott, who crumples to the ground.
Before the release of the video three days after the shooting, local authorities had claimed Scott had taken Slager's Taser gun and tried to use it against the officer, forcing Slager to shoot him. Police arrested Slager shortly after the video went public, fired him, and charged him with murder. He is currently awaiting trial after a South Carolina grand jury indicted him on the murder charge in July.
As the Post notes, the Scott family's settlement is comparable to those received by families in other cases of officer killings of unarmed black men. New York City settled a lawsuit by Eric Garner's family in July for $5.9 million. Baltimore agreed to pay $6.4 million to the family of Freddie Gray in September.
North Charleston City Attorney Brady Hair told local reporters that the settlement amounts in the Garner and Gray cases had influenced the city's payout. "We think it is a really fair settlement and a good one," he told the Post and Courier on Thursday. "It's a lot of money but we had to realistically face the fact that the potential for a very large verdict was there because of the video and because we have a police officer who is charged with murder."
Civil lawsuits brought by the families of Tamir Rice in Cleveland, Akai Gurley in New York City, and Michael Brown in Ferguson are ongoing. National statistics on police-related legal settlements aren't readily available, but the numbers in some cities add up fast: New York City, for example, spent $428 million on NYPD-related legal settlements between 2009 and 2014.