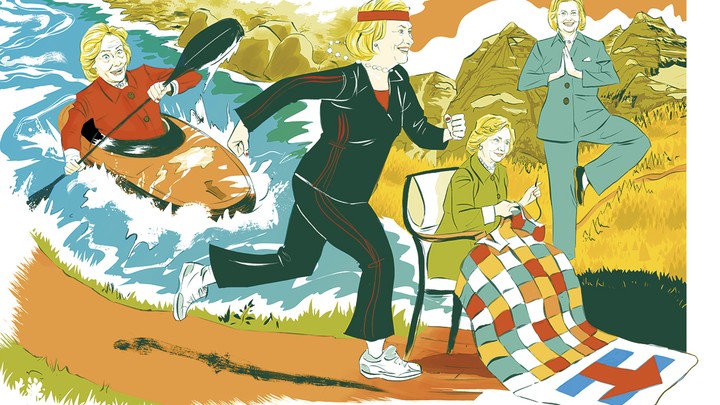 When you ask staffers for Hillary Clinton's campaign to describe their organizing strategy, the same phrase comes up again and again: They say they aim to "meet people where they are." This rather ambiguous sentiment could, of course, refer to any number of tactics or goals. But one thing it apparently means is that on a random Wednesday evening, Clinton campaign chairman John Podesta will show up in the Nevada desert in a "Hillary" logo T-shirt and black-and-yellow athletic shorts to join a "Runners for Hillary" meet-up.
Runners for Hillary—which hosted Podesta in August—is one of numerous activity-oriented groups surrounding the Clinton campaign. Through their on-the-ground organizers, Clinton staffers have put out the word that they're very interested in creating outside-the-box events—and supporters and volunteers have risen to the challenge. On New Hampshire's Seacoast, a yoga instructor who supports Clinton offered to host yoga sessions followed by traditional volunteer activities at a local field office. A suggestion from a supporter in Kellogg, Iowa, led to Kayakers for Hillary—which led to pro-Clinton paddlers ranging from high school students to middle-aged enthusiasts plying the waters of Rock Creek State Park in Kellogg and Rodgers Park in Vinton. In West Branch, Iowa, a 73-year-old Democratic activist's Facebook comment about Clinton's logo ("This would make a great quilt") spawned the Hillary Quilt Project; in Nevada, there are plans for a Hikers for Hillary group. "It's really been a lot of volunteers and supporters talking to each other and coming to us with these ideas," says Punya Krishnappa, a regional organizing director for the Clinton campaign in Iowa. "We've been able to help work out the logistics."
Campaigns have long targeted voters based on identity or affinity—think gender or profession. Kayakers for Hillary and their ilk are to those groups what microtargeting is to old-fashioned political ads: an effort to engage more voters, more deeply, by understanding more specifically how they view themselves. If the old-school outreach strategy assumed that a female high school teacher would see herself at a "Women for Hillary" event or at one geared toward educators, the new model recognizes that she might have an "I'd rather be golfing" bumper sticker on her car.
While Clinton isn't the only politician to employ this approach, it appears especially well suited to her candidacy. For one thing, because her comparatively large campaign already has dozens of organizing staffers on the ground around the country—especially in Iowa, South Carolina, Nevada, and New Hampshire—it has the bandwidth to set up nontraditional events in addition to the expected ones. Second, such events fit neatly into her campaign's broader image-making and marketing plan, which includes presenting Clinton as cool and relatable in such a range of ways that it sometimes borders on self-parody. In 2016, it seems, the Clinton campaign wants to be the lifestyle brand for every lifestyle.
So when one of these groups meets, the campaign makes sure people know it. Shots from Podesta's run with the Vegas group were tweeted and retweeted by Nevada state organizers; the quilt has made more than one appearance on the campaign's Iowa Facebook page and was featured on Clinton's main Twitter account; and a similar social-media barrage has followed other events. "Before, it was just an organizing strategy. Now you still do that piece of it, and it's the most important, but you can then highlight it [on social media] and get a lot of extra value from it," said Norm Sterzenbach, an Iowa Democratic strategist. "It's highly shareable, it's interesting, it's fun. Makes the campaign feel and look a little bit lighthearted."
All of this helps explain why the campaign has seized on suggestions for events such as the "Poetry Slam for Civic Action" at an independent bookstore in downtown Las Vegas, which saw a stream of slammers of varying ages, genders, and races perform poetry in multiple languages. Or upon the ideas of Victory Peterson, 70, a Clinton volunteer in Cedar Rapids, Iowa, who tells me she brainstormed with a Clinton organizer about ways to involve new people—and came up with a big one: community-service projects. The campaign, along with Peterson and several other local Democratic activists, subsequently got some 25 volunteers together to paint and garden as part of a Habitat for Humanity project; other activities have included working at a local nature center and collecting items for a veterans' food pantry. The group, informally known as "Hillary for Service," has also started a book club, with selections inspired by what Clinton is doing or talking about on the campaign trail. (The book for "What would Hillary read while driving around Iowa in a van?": The Bridges of Madison County. The one for "What would Hillary read while thinking about prison reform?" Orange Is The New Black.)
Are these events actually bringing new people into the Clinton fold? The campaign says they are: Of the 40 people who showed up to the Nevada team's first poetry slam, for example, 35 had no previous contact with the campaign, and five are now on their way to becoming precinct captains. "It's been very, very successful in us finding a niche community that 100 percent supports Hillary, but campaigns don't traditionally engage them," says Clinton organizer Anatole Jenkins, who brought the suggestion for the poetry slam to the state campaign and who worked as an organizer for the Obama campaign in Las Vegas in 2012. Erika Washington, a local Democratic leader whose 16-year-old daughter performed an original monologue at the poetry slam, tells me she thinks that, at the very least, such events offer important outlets for those who might otherwise feel disconnected from the political process. "No matter how you look at it, sometimes it can be intimidating to think about the ins and outs of elections," she says. "This gave at least a few people the opportunity to express themselves the way they know how, as opposed to the way that is the norm."
We want to hear what you think about this article. Submit a letter to the editor or write to letters@theatlantic.com.
Emily Schultheis
is a writer based in Berlin with a fellowship from the Institute of Current World Affairs. Her writing has appeared in
Foreign Policy, The Guardian,
and
Politico
, among other publications.