Hillary Clinton Shows a Sense of Humor on 'Saturday Night Live'
The Democratic frontrunner poured a few drinks for "SNL" regular Kate McKinnon and impersonated The Donald on Saturday night.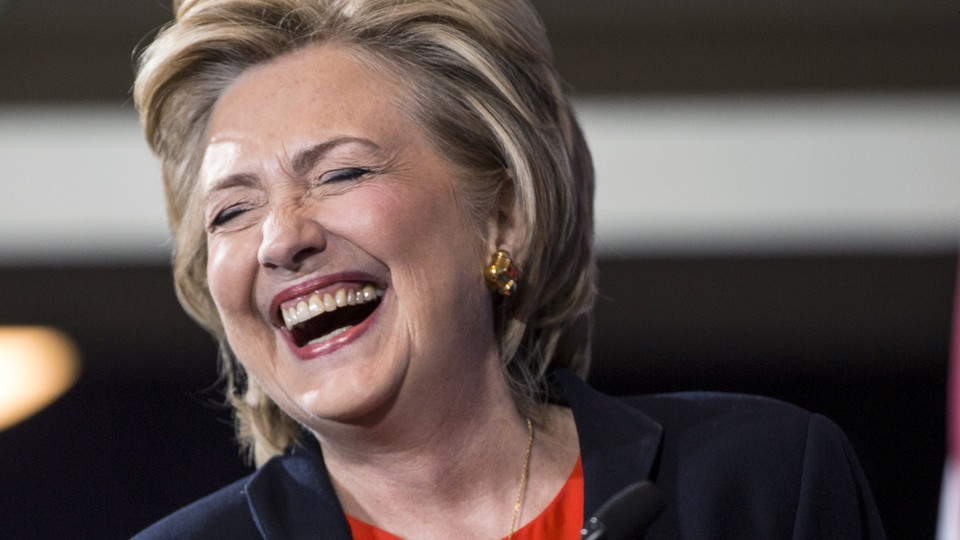 Hillary Clinton introduced the New Hillary Saturday night, but this time as Val the bartender during the season premiere of "Saturday Night Live."
Clinton made a guest appearance on the show alongside Kate McKinnon, who impersonates her on "SNL." The skit took place in a pub where McKinnon, as Clinton, meets the real Clinton—only she's a bartender named Val. McKinnon says she's blowing off steam after a "hard couple of 22 years," as Clinton pours her drink. But just who is Hillary Clinton? "First, I am a grandmother. Second, I am a human, entrusted with this one green Earth," McKinnon said.
The skit was an opportunity for Clinton to rejuvenate her campaign. It's no secret that the Democratic frontrunner has been trying to put forward her more personable self. Peppered through the skit were occasional comments from McKinnon on Clinton being "real."
In the exchange, McKinnon poked fun at how long it took Clinton to come to the conclusion that she opposed the Keystone XL Pipeline. (Clinton stayed mum on the issue for months until weighing in last month.) McKinnon also noted Clinton's late embrace of same-sex marriage. And, of course, there was one person that was impossible to ignore—Donald Trump. Clinton impersonated the Republican frontrunner: "Uh, you're all losers," she said in Trump-fashion.
Former "SNL" cast member Darrell Hammond also made a cameo as Bill Clinton. "My god, they're multiplying," he said, when faced with the two Hillarys.
Clinton's appearance on "SNL" is the latest in the Democratic frontrunner's attempt to portray herself as authentic. She did a skit with Jimmy Fallon on NBC's "Tonight Show," where she also impersonated The Donald. And she danced the Nae Nae with Ellen DeGeneres.
This isn't Clinton's first appearance on the "SNL." In 2008, she appeared alongside Amy Poehler, who played her on the show then. Like then, Clinton wanted to be president—a point McKinnon reiterated on Saturday night.
"I wish you could be president," McKinnon said, as Hillary. And with a fist pump, Clinton agreed, "Me too." And, if all else fails, maybe she can consider a career in bartending.