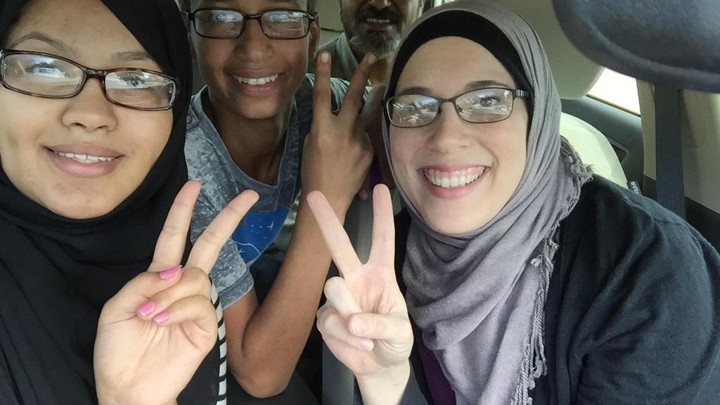 Update, 10/20/15, 11:30 a.m. ET: Ahmed Mohamed, the  14-year-old Texas boy who was detained earlier this year after bringing a clock to school, capped off a busy month with a visit to the White House Monday evening. Following a tweet of support and an invitation to visit from President Obama, Mohamed attended the administration's second astronomy night on the South Lawn. The boy met President Obama briefly. On Tuesday morning, Mohamed, his father and a family lawyer attended a press conference with Congressman Mike Honda (D-CA) to urge the Department of Justice to investigate Mohamed's arrest. In the past several weeks, according to the New York Times, the teen has visited Google, and met with Queen Rania of Jordan and President Omar Hassan al-Bashir of Sudan. 
14-year-old Ahmed Mohamed meets President Obama at White House Astronomy Night pic.twitter.com/LAj7wRcidE

— BuzzFeed News (@BuzzFeedNews) October 20, 2015
Original: President Obama on Wednesday tweeted support to a high school freshman who was arrested after teachers expressed concern that a homemade clock he brought to school was actually a bomb. 
Ahmed Mohamed, 14, was taken into custody in Irving, Texas, in what Chief Larry Boyd told reporters was an attempt to exercise caution. 
"We live in an age where you can't take things like that to school," he said. "Of course we've seen across our country horrific things happen, so we have to err on the side of caution."
 The commander-in-chief disagreed, tweeting: 
Cool clock, Ahmed. Want to bring it to the White House? We should inspire more kids like you to like science. It's what makes America great.

— President Obama (@POTUS) September 16, 2015
The handling of the situation by the school and officers has sparked a flurry of responses on Twitter, and a broader discussion around whether a white teenager bringing a homemade clock to school would be met with the same response. 
"He just wants to invent good things for mankind," Ahmed's father, Mohamed Elhassan Mohamed, told the Dallas Morning News. "But because his name is Mohamed and because of Sept. 11, I think my son got mistreated." 
Hillary Clinton expressed her support, tweeting, "Assumptions and fear don't keep us safe." 
Assumptions and fear don't keep us safe—they hold us back. Ahmed, stay curious and keep building. https://t.co/ywrlHUw3g1

— Hillary Clinton (@HillaryClinton) September 16, 2015
Encouragement for Ahmed has also come in from Facebook founder Mark Zuckerberg, Education Secretary Arne Duncan and NASA engineers. 
"The future belongs to people like Ahmed. Ahmed, if you ever want to come by Facebook, I'd love to meet you. Keep building," he wrote. 
We need to be encouraging young engineers, not putting them in handcuffs. #IStandWithAhmed

— Arne Duncan (@arneduncan) September 16, 2015
I can't imagine if be working @nasa today if anything like this had ever happened to me. http://t.co/OajWwPXchB #IStandWithAhmed

— Bobak Ferdowsi (@tweetsoutloud) September 16, 2015
The truth is the United States needs all the scientists and engineers it can get. The country doesn't produce enough STEM (science, technology, engineering and math) graduates to fill jobs in these fields--and the number of jobs in such fields is only expected to grow in coming years. People of color, a growing portion of the population, are far less likely to start tech companies. 
"This is an extreme example of how our education system disenfranchises students of color," said Tom Allison, author of a new Young Invincibles report on the racial disparities in what students study. "Kids need a safe place to experiment, without fear of unwarranted suspicion or harsh treatment. STEM majors require a strong foundation in math and science in middle and high school, so if we don't reward and celebrate a love of learning at an early age, we're squandering students' opportunities to pursue their interests, including the most lucrative and in-demand fields of study."
Clearly, there's untapped potential buried in the nation's shifting demographics. 
But arresting and interrogating a kid in a NASA t-shirt probably isn't the best way to keep a student who was excited about building and creating engaged. More broadly, what message does it send to other students of color who were contemplating STEM degrees, but not so sure? Not a welcoming one. 
I expect they will have more to say tomorrow, but Ahmed's sister asked me to share this photo. A NASA shirt! pic.twitter.com/nR4gt992gB

— Anil Dash (@anildash) September 16, 2015
This article is part of our Next America: Higher Education project, which is supported by grants from the Bill & Melinda Gates Foundation and Lumina Foundation.
We want to hear what you think about this article. Submit a letter to the editor or write to letters@theatlantic.com.
Emily DeRuy
is a former staff writer at
The Atlantic
, where she covered education.