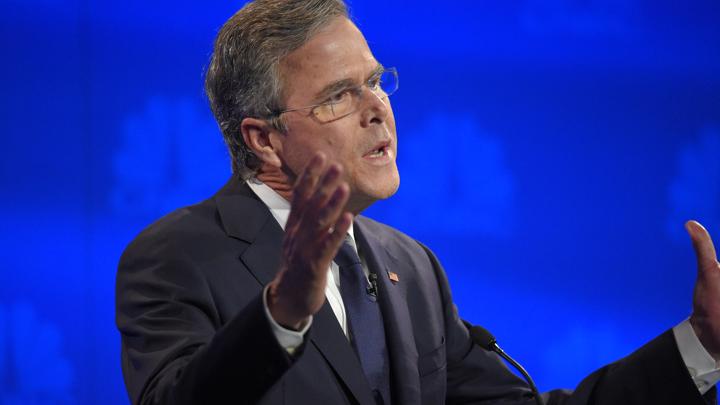 The candidates agreed, and the crowd agreed: CNBC's moderators weren't being fair to the Republicans on stage during Wednesday night's presidential debate. But beyond that, there was little in the way of harmony. Here's who thrived, survived, and floundered in the primary's third presidential debate.
WINNERS
Marco Rubio
Even Rubio's closest confidants wouldn't have believed the debate could go so well. The senator from Florida lampooned questions about missed votes in the Senate, convinced the audience that criticism of his personal finances were proof of a media double standard, and expertly flayed his chief rival and former mentor when the two men confronted each other.
His triumph over Bush was likely not just Rubio's best exchange but the night's most memorable moment. Bush criticized the senator for missing so many votes that he was failing to meet the basic demands of his job. Rubio, clearly expecting an attack the Bush campaign has telegraphed for weeks, threw it back in his face, saying that he never attacked John McCain for missing votes during his 2008 campaign.
"The only reason you're doing it now is because we're running for the same position and someone has convinced you that attacking me is going to help you," Rubio said, shutting Bush down and drawing applause from the crowd.
It's no surprise that, before the debate even ended, the Rubio campaign had blasted a video clip of the exchange to supporters.
For a candidate who has excelled in two previous debates, Wednesday night's showdown in Colorado was perhaps Rubio's best performance yet—and it will surely increase the growing belief that he is now the undisputed front-runner of the Republican presidential primary.
Ted Cruz
If the senator from Texas was looking for a breakthrough moment, he might have found it Wednesday. Cruz took a question about raising the debt ceiling and turned it into a platform to bash journalists for the way they've conducted the GOP debates—a surefire crowd pleaser to the conservative voters who love few things more than bashing the media.
"The contrast with the Democratic debate, where every fawning question from the media was, 'Which of you is more handsome and why?'" he said, to raucous applause.
Carl Quintanilla tried to interrupt him, but the conservative firebrand was undeterred.
"Let me be clear," he continued. "The men and women on this stage have more ideas, more experience, more common sense than every participant in the Democratic debate. That debate reflected a debate between the Bolsheviks and the Mensheviks."
Cruz, like Rubio, has been anointed one of the new front-runners of the GOP presidential primary. He demonstrated that he deserved such a vaunted standing Wednesday.
Chris Christie
About three-quarters of the way through the debate, the New Jersey governor had offered a solid but unspectacular performance. And then an unexpected subject gave him a golden opportunity to reinforce his campaign's message of serious straight talk on the big issues.
When the conversation turned to regulating a controversial website that offers games of fantasy football, Christie pounded.
"Are we really talking about getting government involved in fantasy football?" Christie asked, drawing laughs from the audience. "We have—wait a second, we have $19 trillion in debt. We have people out of work. We have ISIS and al-Qaida attacking us. And we're talking about fantasy football? Can we stop?"
Christie has shown well in all three debates. The previous two didn't help him much in the polls. Perhaps the third time is the charm.
LOSERS
Jeb Bush
Bush was listless in delivery, overshadowed by younger rivals, and—by the event's end—seemed to fade from the debate stage altogether. In a campaign marked by missteps and ineffectiveness, the former governor's worst performance was the one he submitted Wednesday—and it comes at a time when his candidacy can least afford it.
It wasn't just his half-hearted attempt to criticize Rubio's Senate record, either. Bush barely felt like a presence on stage at all, speaking, according to an NPR account, the second-least of all. While candidates such as Carly Fiorina and Christie found ways to interject themselves in the conversation, he seemed either unable or uninterested to get a word in edgewise. When he did talk, his second-most memorable moment came when he promised to deliver a "wet kiss" to any Democrats who promised to enact deep spending cuts.  Even Donald Trump was no longer interested in attacking his onetime target.
Not long ago, another former front-runner also failed to produce a strong debate performance when he needed it most. His name? Scott Walker, who dropped out of the race shortly after his anemic showing in the second debate. Suddenly, comparisons to Walker don't seem so far-fetched for Bush.
John Kasich
The governor started off well enough, urging in a fiery soliloquy that voters scrutinize the pie-in-the-sky proposals of some of his rivals. For a candidate who has tried to position himself as the adult in the room, the message resonated nicely.
And then Trump delivered a body blow that the Ohio governor never recovered from. The billionaire celebrity said all of Kasich's economic success was thanks to the fracking boom, called him a board member of Lehman Brothers, and said his campaign had taken a "nasty" turn after his poll numbers sank.
"He was such a nice guy," he said. "And he said, 'Oh, I'm never going to attack.' But then his poll numbers tanked. He has got—that is why he is on the end [of the debate stage]."
A candidate who needed a strong performance to boost his bottom-scraping poll numbers never got another chance to stand out. All thanks to Trump.
WHO KNOWS?
Ben Carson
We're going to pass on predicting how Republicans will react to the new leader of the Iowa polls. Normally, we'd say that the retired neurosurgeon lacked energy, a sure grasp on the issues, and a sense of how he could differentiate himself from his opponents.
But we thought that about Carson during the last two debates—and both times, Carson only rose in the polls.
The conservative favorite did have a few nice moments parrying questions about questionable endorsement deals, turning the inquiries into evidence that the liberal media was out to get him. And to the extent his recent rise has come in part from attracting the kind of Republicans who once backed Trump, any time he can call himself an avowed enemy of politically-correct culture, as he did several times Wednesday, it's a win.
It's seems unlikely that Carson's rise to the top of the field stopped Wednesday. But for a candidate who has defied predication so far, it's hard to know for sure.
We want to hear what you think about this article. Submit a letter to the editor or write to letters@theatlantic.com.