The White House Wants $700K for Standing Desks
The Executive Office of the President appears to be aware that sitting all day has its downsides.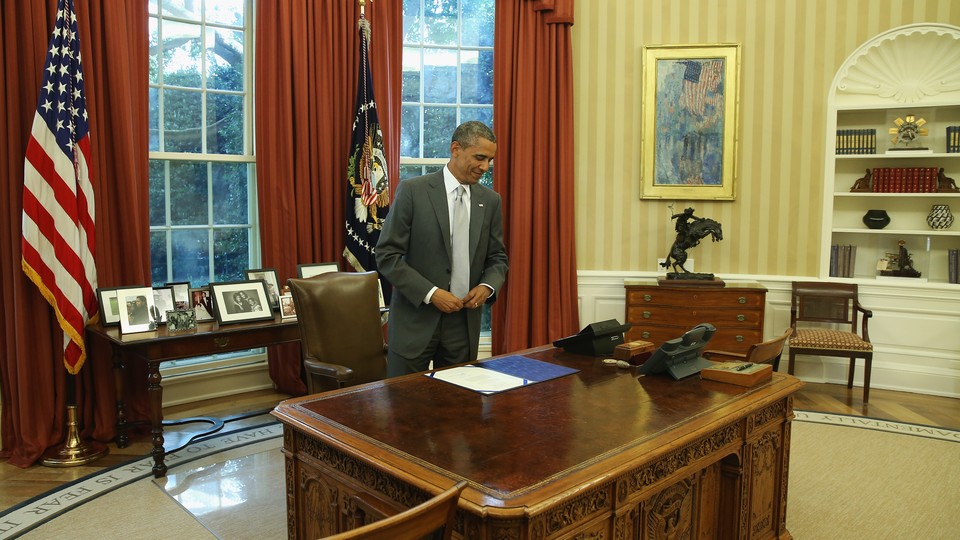 The White House is taking a stand.
According to a recent public solicitation, the Executive Office of the President is seeking up to $700,000 worth of standing desks. The cost is the government's best estimate over a five-year period, although the Obama administration will end in January 2017, and the latter four years of the contract are optional.
The federal government posting was quite specific in that the desks had to be "Varidesk brand name or equal" and provide the contractor's pricing for various models with up to three computer monitors. The larger Varidesks cost between $400 and $500 per unit.
The full minimum requirements are listed below:
1) A fully assembled height adjustable standing desktop that sits on top of an existing desk (no assembly [i.e., no clamps or arms]); 2) Keyboard/mouse tray included as part of the system; 3) Ease of use (multiple heights/positions); 4) The adjustment must be sturdy, stable and safe at all height extensions to accommodate individuals of various heights while they are in a standing position; 5) Durable, ability to withstand wear and tear; 6) Must hold up to 35 pounds; 7) Desk attachment should have an option that fits easily into corners; 8) No loss of work space; 9) Color: black unit; 10) Must be fully portable (easily moved from desk to desk) and easily stored (not cumbersome or bulky for storage); and 11) Minimum of one-year warranty included.
Optional accessories: 1) Standing mats, durable, sturdy, nonslip, and stable cushioning to support legs and back during long-term standing.
The standing-desk craze might have recently reached a new peak, but some high-profile Republicans in previous administrations have evangelized the nonsedentary life. In a 2002 memo on interrogation techniques, former Defense Secretary Donald Rumsfeld famously questioned some of the limits on detainees. "I stand for 8-10 hours a day," he wrote. "Why is standing limited to four hours?"
For centuries, users have extolled the positive effects of standing desks, although only in the past several years have many mainstream publications taken notice and proclaimed another boomlet. In 2011, The New York Times Magazine published an article titled, "Is Sitting a Lethal Activity?" Several months later, The Wall Street Journal ran a piece noting how the standing desk is "Silicon Valley's newest status symbol." In 2012, Google set up a treadmill desk at the Republican National Convention.
Then came The New Republic backlash—"Screw Your Standing Desk! A Sitter's Manifesto"—and the counter. According to a 2014 Washington Post column, the adjustable-height, no-nonsense, white-or-black Varidesks have popped up at the National Institutes of Health, United Nations Secretariat, and the Federal Reserve. Fast Company ran a first-person narrative that year (with the editor's note that it was "one of the most-read leadership articles of 2014") and Smithsonian.com rounded up five health benefits of standing desks: reduced risk of obesity, Type 2 Diabetes, cardiovascular disease, some forms of cancer, and thus dying early. Finally in February, satire website The Onion reported that Mayo Clinic experts recommend "Americans stand up at their desk, leave their office, and never return."
The White House did not respond to a request for comment.