The White House and GOP Have Agreed on John Boehner's Last Big Deal
The speaker has been eager to get an agreement on spending and the debt ceiling before he leaves office.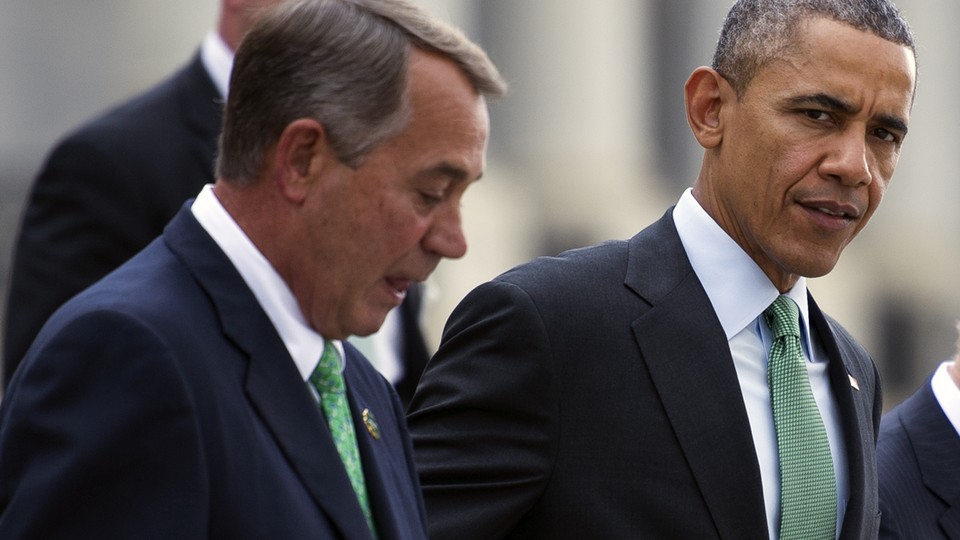 House Speaker John Boehner's last week is a busy one.
Boehner and the three oth­er top con­gres­sion­al of­fi­cials—House Minority Lead­er Nancy Pelosi, Sen­ate Ma­jor­ity Lead­er Mitch Mc­Con­nell, and Sen­ate Minor­ity Lead­er Harry Re­id—have tentatively reached a deal that would both raise the coun­try's bor­row­ing au­thor­ity to avert a devastating default next week and lift spending caps over the next two years.
"It is past time that we do away with the harmful, draconian sequester cuts," Reid said on the Senate floor Monday, referring to the 2011 budget caps that members of both parties are trying to subvert over the cries of some conservatives.
The House posted a draft of the agreement late Monday night. The deal isn't set in stone, so it remains unclear whether either chamber can muster the votes necessary for passage, but the talks are picking up speed ahead of the Nov. 3 deadline to raise the debt ceiling and a Dec. 11 deadline to keep the government running.
The deal would include a "clean" suspension of the debt limit a few months past the presidential election, until March 2017, and increase the spending caps by $80 billion—$50 billion in the first year and the remaining $30 billion in the second year—although the 10-year caps included in the 2011 Budget Control Act would remain in place. The additional funding would be equally divided between military and domestic spending, not counting extra cash that will be considered emergency war funding.
The deal would make long-term reforms to the Social Security Disability Insurance program, preventing a 20 percent cut to SSDI recipients that's scheduled to occur early next year, and would include structural entitlement reforms to strengthen the program's long-term solvency. It would be the first significant reform to Social Security in more than 30 years. It also addresses a rise in Medicare Part B premiums for some seniors. If premiums are frozen for all recipients, the price tag is around $12 billion.
"The most important part I heard is it's no tax increase and it's paid for with credible offsets and other significant entitlement reform," said Sen. John Cornyn, after a meeting to discuss the emerging deal with other Republicans Monday night in the Capitol. He noted that the SSDI changes were "one of the biggest" pieces of entitlement reform.
More moderate members like Sen. John McCain praised it as "the best deal we could probably get," adding that although he'd like to see billions more for defense, "we'll have a new president in '17."
But some conservatives will be wary of anything that raises the debt ceiling. Sen. Tim Scott said he would likely vote against it.
"I would say that those of us who are on the conservative side of the party probably flinched a little bit," said Scott after the briefing from the Republican leadership on Monday. "Listen, we're going to have an increase in our debt ceiling of probably over a trillion dollars, and we'll have about $80 to $90 billion of savings during the next 10-year budget window. So it's just hard to justify that. We're not figuring out how to clamp down on spending.
"We trim around Social Security disability," he added.
And even Cornyn, the senator in charge of whipping others in his party in support, said, "I don't think you'll hear anybody popping any champagne corks."
Boehner has said he wants to "clean the barn up" before his successor—in all likelihood Rep. Paul Ryan—takes over later this week. But it's unclear whether the House will have the votes to pass such a deal, even with strong Democratic support, given the number of Republicans who are wary of voting for a debt-ceiling increase.
"It has to go through the House first, so we'll see how the Freedom Caucus reacts," said McCain, referring to the hard-Right group in the House that worked to oust Boehner. "And there [are] some concerns in there because some of the savings—disabilities, crop insurance—whenever you make these adjustments, somebody's ox is gored."
"The big question is can they pass it in the House," added Cornyn. "And then we'll take it up here."
Boehner was light on details when he briefed his conference at a closed-door meeting Monday evening, but he had told them leaders could put the deal on paper Monday night, which would set the House up for a Wednesday vote—the same day Republicans will privately cast ballots for their next speaker.
With the contours of the plan in place, House leaders will begin whipping to gauge conference-wide support. Though leaders did not divulge specifics in the meeting, some members were tentatively receptive. Rep. Tom Cole, for instance, told reporters after the meeting that the extra budgetary room makes it much easier to pass spending bills.
"If it happens, then we're working on an omnibus bill under a number that we've all agreed to, so I think it really dramatically lowers the chances for a shutdown," Cole said.
Still, leaders will likely not get support from the Freedom Caucus. The group's chairman, Rep. Jim Jordan, has been a proponent of keeping the spending caps in place, and he said, exiting the meeting on Monday, that he has some reservations.
"I'm going to look at the plan tomorrow, but I'm skeptical," Jordan said. "We always kind of thought that the [continuing resolution] issue, the Dec. 11 issue, would be something we would work with with the new speaker, but now it looks like they're going to try to do it all at once."
Freedom Caucus board member Rep. John Fleming said he and his colleagues object in particular to the way the bill is being brought up outside of regular order. He pointed to an exchange between Boehner and Budget Committee Chairman Tom Price in the meeting: Boehner said the deal is necessary because committees could not finish their work; Price objected, saying his panel finished its budget but committees were told by leaders to stand down and not follow through on the spending blueprint.
"We've not had a clue as to what's been negotiated or decided, and we still won't until tomorrow at the earliest," Fleming said Monday. "Leadership has not wanted to do this from the … ground-level up, but simply a closed-door deal with just the top leaders and then it's delivered to us with very little time to review it or think about it."
The last-minute discussions came as top officials in the Obama administration warned of the dire economic consequences of even approaching the first-ever U.S. default.
This article has been updated.
---
Nora Kelly contributed to this article