The Week That Will Define the Direction of the House GOP
A host of leadership candidates will campaign furiously until Thursday's elections. Will the party push for change, or simply promote the current slate?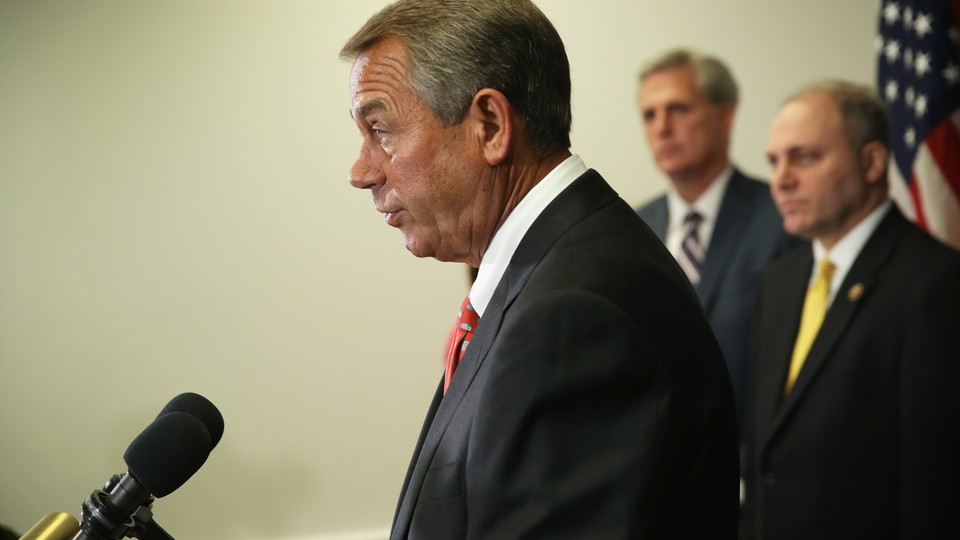 The House GOP will elect a new leadership Thursday after undergoing a fierce debate over the future of their conference, exposing both deep frustration at the status quo and the seams between warring factions such as fiscal conservatives and military hawks.
The race to succeed House Majority Leader Kevin McCarthy—expecting that the late speakership campaign of House Oversight and Government Reform Committee Chairman Jason Chaffetz isn't successful—pits two members who were both chief of the largest caucus on Capitol Hill, the Republican Study Committee. That group is expected to host their former leaders, Majority Whip Steve Scalise and Budget Chairman Tom Price, the day before elections.
Some lawmakers are pushing for only the contest for speaker to be decided Thursday, with the others delayed—perhaps to give other candidates a chance to jump in. A forthcoming letter to leadership from Rep. Mick Mulvaney, and supported by some other conservative members, argues that only the top job should be given out this week because, technically, it's the only vacancy. "Simply put, we cannot and should not hold elections for vacancies that have not occurred prior to October 8th," the letter states, according to an early text provided to National Journal. Politico reported Sunday that Speaker John Boehner was weighing whether to agree to such a delay. Asked for comment Sunday afternoon, Boehner spokesman Kevin Smith said: "All leadership elections remain on Thursday."
While the race for leader is tight—one senior GOP aide said Friday that "there is not a satisfaction with either candidate across the board"—Scalise is touting the support of defense hawks, such as Rep. Michael Turner, who are desperate to escape budget caps to boost military spending next year and are under the perception that Price hasn't been as responsive to their cries that national security is at risk if the Pentagon continues to be funded at current spending levels. And despite a handful of embarrassing setbacks since he took the top vote-counting gig in June 2014, Scalise's allies see promise in his message of a more effective, bottom-up group.
"The reason I have endorsed Steve is because I have found him to be very effective," says Rep. Marsha Blackburn. "He works at uniting the conference. He is a good listener. He wants members to know that they have been heard and that their opinion matters."
In an interview, Blackburn pointed to her work with Scalise last year to limit the President's Deferred Action for Childhood Arrivals program, which grants deportation relief to qualifying illegal immigrants who came to the U.S. as a minor. Even though the leadership had to pull a bill then in their effort to address the border crisis, and introduce a more conservative one that never had a chance of passage, Blackburn said that the more inclusive process was a positive showing for Scalise.
"You hear a lot of talk about well it's a rumble sort of conference, but I have to tell you, I think that's really good," she told National Journal. "And for those of us that are conservative to have been able to make certain that some things did not move forward on the floor or that we were heard in different things like with DACA, that we worked to a point that we were able to move the bill forward. Those are important steps."
Price, meanwhile, has the support of one of the most popular members in the conference—Ways and Means Chairman Paul Ryan—as well as influential figures such as Financial Services Chairman Jeb Hensarling. While not exactly a fresh face—he arrived to Congress a few terms before Scalise—Price could benefit from the same forces that made Boehner resign in the first place. In addition to a bumpy response to hot-button issues such as immigration, House GOP leaders had a high-profile mishap earlier this year when they had to drop plans to vote on an antiabortion bill after female GOP lawmakers revolted from language concerning exceptions for rape only if it was first reported to the police. The House later passed a bill banning abortions after 20 weeks of pregnancy.
Those same forces are at play up and down the ladder of leadership races. McCarthy remains the front-runner to succeed Boehner, but Chaffetz's entrance into the race Sunday—and his pledge to "bridge the divide" in the conference—underscores the intraparty tension defining the House GOP.
"You don't just give a promotion," Chaffetz said on Fox News Sunday. "That doesn't signal change."
A third race—for majority whip—will only happen if Scalise is successful in the majority leader race. Scalise's chief deputy, Rep. Patrick McHenry, is the favorite to move up a slot in a contest versus Reps. Markwayne Mullin, Dennis Ross, and Pete Sessions. The wild card in that battle is whether GOP lawmakers decide they need at least one fresh face after elevating McCarthy and Scalise, in which case they might be more inclined to back one of McHenry's challengers.
Leading up to Thursday's elections, the leadership candidates will attend a series of meetings with interest groups within the conference, including the RSC, the House Freedom Caucus, and various state delegations.
---
Ben Geman contributed to this article