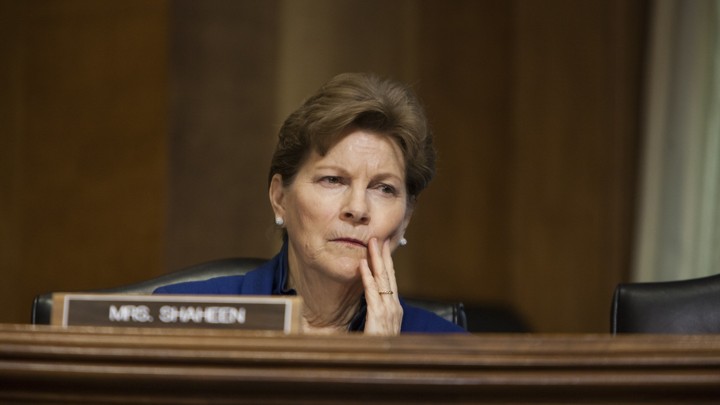 Sens. Tim Scott and Jeanne Shaheen achieved the unthinkable when they shepherded a bill amending President Obama's signature health care law through the Senate last week. There was no partisan dispute, or even much fanfare. The president gave the bill, dubbed the Pace Act, his blessing Wednesday evening when he quietly signed it into law.
The behind-the-scenes effort to enact that change could have implications for the fate of Obamacare: Republicans and Democrats alike hope that successful passage of the legislation put forward by Scott and Shaheen aimed at shielding small businesses from a spike in insurance premiums can serve as a template for future bipartisan agreement in Congress over changes to the Affordable Care Act.
Lawmakers are already eyeing a wish list of alterations, and what happens next will go a long way in showing how feasible it will be to tweak the health care law. But while some are optimistic that consensus can be achieved again to edit Obamacare, doing so will be difficult. To top it off, people with a deep understanding of the law and an array of lawmakers doubt that last week's process is replicable.
"I hope it serves as a model for what might come next," Shaheen said in an interview with National Journal. "It's a signal there are areas we can work together on … [but] every piece of legislation is different and the circumstances are different as we go forward, so we just have to see what works."
Despite the challenge of finding common ground to amend a highly controversial law so closely linked to Obama's legacy, Shaheen and Scott show it can be done. The pair found a way to agree despite a major difference of opinion: Shaheen supports the health care law, but has pledged to push for changes she says will make it better; ​Scott adamantly opposes Obamacare and has vowed to fight for its repeal. For Shaheen, the effort was a way to improve the law. For Scott, it was an attempt to halt the expansion of legislation he views as a government takeover of the health care system.
Still, they had to work together closely for months to achieve success.
In April 2015, Scott and Shaheen faced a major challenge and very little time. They needed a critical mass of bipartisan support for their small-business bill, and if it was going to make it over the finish line, it would have to be soon: A provision of the Affordable Care Act was set to kick in Jan. 1, potentially pushing up small-business premiums and giving the duo a looming deadline.
The provision would have expanded the small-group insurance-market definition from 50 or fewer employees to 100 or fewer, subjecting a number of small- and medium-sized businesses to new rules within the small-group insurance market. Prominent among these was mandated coverage of the law's essential-benefits package, and the expansion spurred concerns of rising costs and disruption within the small-group market. Under the legislation sponsored by Scott and Shaheen, states can choose whether or not to expand the definition. The small-group expansion did not impact the law's functioning and does not affect the core of the ACA.
On top of a looming Obamacare deadline, the senators had something else to contend with. The Supreme Court's King v. Burwell decision, which had the potential to upend the law, was just weeks away, and a fierce partisan debate over the future of Obamacare had erupted. Politically minded Democrats were taking pains not to do or say anything that might appear critical of the law. Republicans, meanwhile, were scrambling to determine what they would do if the Supreme Court blew a hole in Obamacare, leaving the GOP-controlled Congress to pick up the pieces.
That uproar threatened to poison the well for the senators' legislation, a measure that could succeed only if Congress managed to put partisan differences aside. Against that backdrop, the senators resolved to work under the radar to avoid making waves. Scott began reaching out to Republican senators, while Shaheen started talking with Democrats, both working hard to convince members of their party to sign on.
"I spent a fair amount of time making sure we could find a clear path forward," Scott said. When asked how he convinced Republicans to coalesce behind the measure, Scott replied: "There's an old song that says, 'Ain't too proud to beg.' So, whatever it takes."
The senators also worked hard to amass support in a carefully balanced ratio of Democrats to Republicans, an effort to keep the push as nonpartisan as possible.
"It moved along quite quietly, which I think was quite helpful. It didn't become a focus of partisan opposition," Shaheen said, adding: "The important thing here was to try and stay focused on the policy outcome that we were trying to achieve and to keep it from becoming partisan."
Still, a flood of support from Democrats and Republicans didn't arrive until after the Supreme Court test of Obamacare had been settled. No. 3 Senate Democrat Chuck Schumer signed on in support of the bill after the verdict, followed by an array of lawmakers on both sides of the aisle.
"A lot of people were keeping their powder dry until that decision was made. I did it early on," said Sen. Johnny Isakson, who signed on as a cosponsor before the court ruling. "There was a reluctance by some to sponsor it because they were waiting on the Burwell decision to come down, hoping that Burwell would lose."
Scott and other Republicans contend that the court decision didn't impact the timing of the legislative push. "I'm not sure that that was part of the calculus. I would say that we were just fortunate that as we continued to work on the project, we continued to gain momentum," Scott said.
That momentum surprised even some of the bill's earliest and most ardent supporters. "Did I think it was going to be able to move as quickly as it did? Nuh-uh," Sen. Lisa Murkowski, R-Alaska, said in an interview. "It's the Affordable Care Act, and up until this point of  time it's been like pulling teeth to get folks from the other side to do anything that would be viewed as eroding the president's priorities."
Even with the wheels in motion, it was still a delicate matter. Throughout the process, Shaheen made sure the administration was aware of what was going on. "My staff were in contact just to make sure that they weren't going to object as we got this through," she said.  
To make sure momentum didn't slow, Scott and Shaheen relied on procedural tactics to prevent the bill from becoming ensnared in bitterly partisan debate on the Senate floor.
"I have to give Senator Scott a lot of credit," Senate Majority Whip John Cornyn said in an interview. "He handled this very skillfully and, frankly, sort of below the radar, which actually I think enhanced the chances of something getting done. Sometimes when you wave red flags it creates more controversy, so I commend them for handling it in a way that was designed to get an outcome rather than creating a lot of news and attention."
Scott also worked with Sen. Lamar Alexander, the chairman of the Health, Education, Labor, and Pensions Committee, to bypass a committee vote and send the bill straight to the Senate floor.
"Senator Scott talked to us. We reviewed it very carefully with the committee staff. We thought it was a good idea, and we asked all the senators what they thought about it. ... No one objected, so we passed it," Alexander said in an interview at the Capitol. "It's not been easy to change the Affordable Care Act, but I think the difference here was not only did the House pass it, but it had strong support by two effective senators, Senator Scott and Senator Shaheen, in the Senate."
In the end, the legislation passed both the House and the Senate without dissent, a remarkable feat for anything linked to a law that has been the target of so much vitriol.
Shaheen hopes that the overall effort may act as a template to find future bipartisan agreement over changes to Obamacare. Scott, meanwhile, believes it might also serve as a model for Congress to find consensus on other issues outside of health care.
"We're looking at other things that we hope to find a clear path forward, some within the Obamacare footprint and some not," Scott said.
Both senators are part of efforts to repeal two other pieces of the Affordable Care Act: a tax on expensive employer-sponsored health care plans, known as the the "Cadillac" tax, and the law's medical-device tax.
But because of policy differences between the repeal efforts, these changes may not come as readily, and Scott and Shaheen's method is unlikely to function as an exact blueprint for future Obamacare edits.
Timothy Jost, a law professor at Washington and Lee University and a general supporter of the ACA, said for the process to be replicable, it must be applied to a change that has very little opposition, doesn't increase the deficit, and has not received a veto threat from the White House.
"There might be some very small things that could be done like that, but I just don't see—certainly the medical-device repeal, the Cadillac-tax repeal—some of those factors are in place, but there's clearly opposition to both of them, and both of them significantly increase the deficit," Jost said.
"There just aren't many changes like that," he added.
Both taxes are designed, in part, to bring in revenue to help pay for the ACA. The medical-device-tax repeal is generally supported by Republicans, but only a handful of Democrats have officially signed on board to the effort in the Senate. A similar repeal bill passed the House in June.
The Cadillac-tax repeal, however, is supported by many members of both parties, although each chamber has two separate bills that generally fall along party lines with some overlap. While Democrats demand an offset for the repeal, finding one will be no easy task: The tax's price tag is somewhere in the ballpark of $90 billion.
There is no shortage of lawmakers with doubts that the effort employed by Scott and Shaheen can be easily replicated.
"The changes that are currently being contemplated are major changes that would potentially blow big fiscal holes in the bill," said Democratic Sen. Chris Murphy, who has cosponsored the Cadillac-tax repeal. "The Pace Act was a rare example of something that enjoyed broad bipartisan support, so I'm not sure the Pace Act is a template for other changes that are going to be made."
Murphy also conceded that finding offsets for the Cadillac-tax repeal would be difficult, as budget talks are already tense and "there's a lot of demands for pay-fors right now."
Democratic Sen. Robert Casey was also reluctant to say that the effort could serve as a model for future change: "I don't want to extrapolate from that to say that this is an opening or a harbinger. I think these things tend to be case by case."
But there are a handful of lawmakers who remain optimistic that Congress can unite to tweak Obamacare once again, including some with the power to influence the path of legislation designed to repeal other aspects of the law.
"There's no question we hope we can," said Finance Committee Chairman Orrin Hatch when asked if he thought the Senate could repeat the bipartisan route to passage to make other changes to Obamacare. "And I'm going to do everything in my power to try and bring both sides together."
Scott and Shaheen's legislation doesn't create a cost shortfall—it actually generates revenue. But even that sparked debate over what to do with the money. The House wanted to direct the savings into the Medicare Improvement Fund, while the Senate would have set aside money for future legislative proposals.
Ultimately, the Senate acquiesced to the House and passed the House-sponsored version of the bill, but the incident shows how considerations of cost have the potential to disrupt any attempts to rework Obamacare.
If all else fails, and Congress can't manage to find the necessary votes to make future changes to the Affordable Care Act, Republicans can always blame their favorite target: Obama. The White House has issued a veto threat to the medical-device-tax repeal and is opposed to repealing the Cadillac tax.
When asked whether the Scott-Shaheen strategy could be used to pass other legislation tied to the ACA, Republican Sen. John Barrasso wasn't optimistic, and quickly pointed to the White House as the reason.
"I think it should be, but the president has threatened vetoes on some of these other things that to me are also common-sense solutions to issues with higher health care costs," he said.
We want to hear what you think about this article. Submit a letter to the editor or write to letters@theatlantic.com.
Clare Foran
is a former associate editor at
The Atlantic
.
Caitlin Owens is a health care reporter at National Journal. Her work has previously appeared in the Los Angeles Times, The News & Observer and The Charlotte Observer. She is a graduate of the University of North Carolina at Chapel Hill.