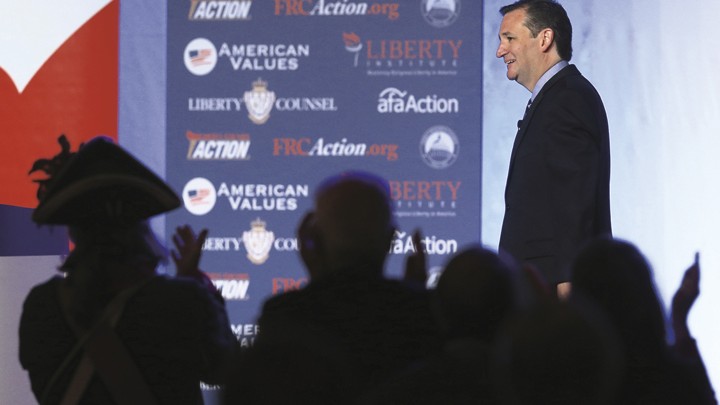 "Some people get excited about rock stars," says Joanne Reed, a 67-year-old retired reading specialist from Springfield, Virginia. "We get excited about politicians." She's standing outside a ballroom at the Washington Omni Shoreham last Friday morning, ready to bolt inside as soon as the doors open. Waiting with her are six of her friends, all from northern Virginia. They're among the 2,700 registered attendees at the 10th annual Values Voter Summit, a two-day gathering of social conservatives from across the country.
I came to the summit hoping to find a group of people to shadow. My goal was to get to know some of the conference's rank-and-file attendees and experience the event through their eyes. Reed and her friends—several of whom belong to a 16-member, all-female conservative book club called the Liberty Belle Literary Society—agree to let me join them.
The other members of the group are Orene Blum, who wears her light hair in a knot and is attending her fifth Values Voter Summit; Blum's husband, Paul; Wilma Hall, a former National Security Council employee (and mother of Fawn Hall, who was a secretary for Oliver North during the Iran-Contra scandal); Sandy and Sam Dominick; and Mary Anne Eastman, a retired nurse. All are grandparents.
Right when the doors open, Reed runs ahead as fast as her dress lets her. We score seats in the center section, second and third rows. The first half of the first day is a parade of presidential candidates. Marco Rubio speaks; then comes Ted Cruz, who opens with jokes. ("Yesterday, Pope Francis was in Washington. Wonderful to welcome him here," Cruz drawls. "I have to say, the press conference was a little awkward, because every time the reporters addressed a question to 'Your Holiness,' Barack Obama answered.") Then Rick Santorum, then Donald Trump. Trump earns more chuckles than applause.
As we make our way to lunch in a chandelier-covered restaurant off the hotel lobby, the group raves about Cruz. "Ted Cruz, he's fire and brimstone," Reed says. "That wouldn't go over well with our daughter-in-law, she's all about love, love, love."
"Well that's OK. I'm angry, too," Orene Blum says.
Ben Carson, Mike Huckabee, and Bobby Jindal take the stage after lunch. (Rick Perry still has a speaking slot and gives what sounds like a campaign speech; weirdly, he never acknowledges the fact that he has just dropped out of the race.) Huckabee gets applause for his pronouncements on abortion, but it's Carson who captures the crowd. Eastman thinks he has a great sense of humor. Orene Blum, who recounts Carson's life story to me, says she had her grandson watch a movie about Carson's life in order to teach him the values of education and faith, and how important it is to listen to his mother. Reed thinks Carson has a good soul but notes that he's probably considered an "Uncle Tom." At the very least, they agree, he should be surgeon general. (In the Values Voter straw poll, most of my group ends up voting for Carson or Cruz.)
The star of the nighttime session is Kim Davis of Kentucky marriage-license fame. (At this point, we're back in the second row, Sandy Dominick holding a glass of red wine she didn't have time to finish at dinner.) Davis speaks through tears for just a few minutes after getting an award. My group stays through a performance by comedian Scott Wood before retiring for the night. (The routine is mostly apolitical, but not entirely. "They've got a new Subway sandwich," Wood says at one point. "It's called the Obama, have you seen that? It's a six-footer, full of baloney.")
On Saturday morning, I meet the Blums in the lobby, and we wander the red, white, and blue exhibit hall, where organizations like Ohio Christian University and the Heritage Foundation have set up booths. "We have such a deep bench, it's hard to pick," Orene Blum says as we look at CPAC's booth of cutout paper heads of all the presidential candidates—plus Joe Biden—with a full-size Ronald Reagan looming over them. It's her weekend refrain. "They have three," she says of the Democrats. "All of the rest are ours. And theirs is full of old people." She gives me a side-eye. "Not that there's anything wrong with being old."
Lindsey Graham is the only presidential candidate relegated to Saturday morning. Red-faced and halting, he doesn't seem to connect with the audience. "He's strong on foreign policy, but he knew the crowd didn't love him for whatever reason," says Reed, whose husband knows Graham from the Air Force. She snaps a picture with him after he speaks. "Washington's changed him. I think he just got tired of fighting, you know?"
The last speaker to address the summit before lunch devotes her speech to directly discussing a common thread of the conference: radical Islam. Brigitte Gabriel—who grew up as a Maronite Christian in Lebanon and founded a national security organization called ACT for America—promises at the beginning of her talk to say controversial things. She doesn't disappoint. "A Muslim man can lay his hand on the Koran and swear he is telling the truth and know the Koran forgives him because he is advancing the cause of Islam," she says. "Anything signed with Iran means nothing to them."
Afterward, the group can't stop talking about Gabriel. "She was amazing," Eastman says. "So powerful," Orene Blum agrees. Whoever wins in 2016, her husband adds, should put Brigitte Gabriel in some foreign policy position.
As Reed and I wait for Orene Blum before heading to our table for lunch, Reed recalls how appalled she was to see the country elect Bill Clinton. "It's character," she says. "What kind of a person you are is most important. It's judgment. It's not what you do when people are looking—it's when they're not looking. I could steal this plate when people aren't looking"—she puts her hand on a white bread plate at the empty table next to us—"but I don't. I don't know. People are asleep."
Reed looks over at Orene Blum, who has walked up next to her, and says, "I think it's easier to be bad than good." Blum nods. "At my grandson's old school, the bad kids were the most popular," Blum says. She worries about the society her grandchildren are growing up in. A Baptist, she prefers the label "conservative" to "Republican." She admires the writings of Jonathan Cahn, a Messianic Jew and one of the summit speakers. She points me to his book The Harbinger, which uses a Bible verse to link the fall of ancient Israel to current events in America and casts 9 / 11 as a warning to the country because it turned away from God.
We say grace before meals, hands joined and heads bowed over the table. Sandy Dominick, who leads grace before Saturday's lunch, thanks God for friends, for the meal, and prays that God will put the right person in the White House in the upcoming election. Over lunch, the group chews over everything from the threat of radical Islam to Planned Parenthood and mulls how atheists manage to live a meaningful life—how can you when you think everything is random?
Lunch is the end of the conference for Reed—the afternoon sessions don't interest her—so her husband picks her up. The rest of the group attends a breakout panel titled "The Silencing of Free Speech in the Media and Education." After that, they decide to call it quits.
As the Blums wait for Hall and the Dominicks, a tour group files into the lobby; a guide is handing everyone their room keys by name. Orene Blum jumps when she hears the name "McKenzie" called.
"McKenzie? That's my maiden name," she says. "We could be related. Where are you from?"
"Australia," says the man with the last name McKenzie. They would be in the city for two days. Probably not a relation.
"Welcome to America," she says, waving as the Australian family follows its tour group out of the lobby. "Have a wonderful time."
We want to hear what you think about this article. Submit a letter to the editor or write to letters@theatlantic.com.
Sarah Smith
is a former editorial fellow at
The Atlantic
.