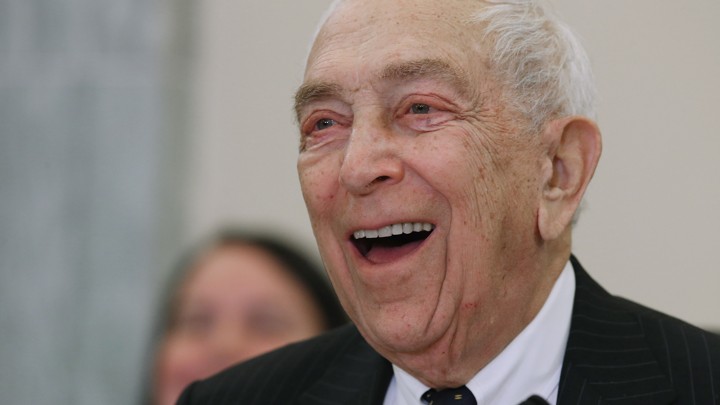 For decades, Democratic Sen. Frank Lautenberg of New Jersey tried to pass a bill that would reform the way the government tests and regulates chemicals, but even in a Democratic-controlled Senate, the bill couldn't make it to the floor.
Now, three years after his death, a bill bearing his name is close to crossing the finish line.
Sen. Tom Udall on Friday announced the support of two influential Democrats for his bill to reform the Toxic Substances Control Act, which has not been updated since being passed 39 years ago. The addition of Democratic Whip Dick Durbin and environmental hawk Ed Markey means the bill now has 60 co-sponsors, a filibuster-proof majority that would seem to give it safe passage through the Senate.
The bill, which Udall co-authored with Republican David Vitter of Louisiana, would overhaul the 1976 measure, which has been roundly criticized by public-health groups and the chemical industry alike. The vague language and weak authority in the bill has left the Environmental Protection Agency largely powerless to regulate toxic chemicals in commerce.
Of the 80,000 or so chemicals currently in commerce, EPA has only required testing for about 200 since the original TSCA legislation was passed and has partially regulated just five.
Despite widespread clamor to reform the system from public-health and environmental groups and even the industry itself, no bill has moved until this Congress. The House passed a smaller bill in a 398-to-1 vote that set new standards for risk evaluations for chemicals and requires EPA to act more quickly.
Now it appears the Senate could move on its own bill as early as next week. The Udall-Vitter bill set­s up min­im­um bench­marks for EPA to test and reg­u­late chem­ic­als, establishes a new user-fee sys­tem to pay for it, and sets a schedule to clear a lengthy back­log of untested chemicals. It would also give EPA guidance to only evaluate chemicals based on their health and safety risk at first, rather than including a cost analysis (a major concern from the left).
An aide in Senate Majority Leader Mitch McConnell's office said no schedule for the bill has been set, but sponsors say they hope to move it as quickly as possible given the broad support.
The addition of Markey is significant. The Massachusetts Democrat last spring teamed up with California Democrat Barbara Boxer for a competing TSCA-reform bill over concerns that the Udall-Vitter bill overrode states' ability to regulate chemicals and handed too much power to the industry.
The division was indicative of the broader concerns with the bipartisan bill, which has moved significantly to the left since its original introduction in 2013. (That version stalled amid Democratic opposition.) Many public-health groups opposed the initial version, although the more vocal opposition has died down as more Senate supporters have come online.
To get Markey and Durbin on board, sponsors made some tweaks to their package, including setting tighter compliance deadlines on the industry to comply with any EPA regulations. The agreement also increases the fees industry would pay from $18 million to $25 million a year, speeds up action on a list of 90 chemicals EPA has identified as having the greatest risk, and adds mandatory protections for vulnerable populations like pregnant women, children, and workers.
The agreement—which will be brought to the floor as a substitute amendment—also simplifies a process for states to obtain waivers allowing them to continue to regulate a chemical even while the federal government is evaluating it. With a lack of federal action, many states have passed their own, stricter laws, and the pre-emption process has been one of the largest sticking points in the TSCA debate.
Boxer, whose home state has the most aggressive chemical laws in the nation, still hasn't indicated whether she'd support the bill if it reached the floor or if she would stand in the way of it coming up for a vote.
There are still obstacles that could stop the bill in its tracks. Sen. John Hoeven said last month that he was considering trying to attach a bill to repeal a ban on crude-oil exports to the TSCA reform bill when it came to the floor, saying, "I think that would be a very good fit."
Politico has reported that Sen. Richard Burr may block movement on the bill until he can force action on a reauthorization of the Land and Water Conservation Fund, a popular public-lands program that expired this week.   
And should a bill even clear the Senate, it would still have to be reconciled with the House bill, where more fault lines could emerge.
For now, though, Udall appears set to bask in getting a rare 60-member agreement on an environmental bill, in a Republican-controlled Congress no less.
"This bill is the product of years of work, collaboration, and positive input from lawmakers across the country who understand that we need a national solution to our broken chemical-safety law," Udall said in a statement. "The law has been broken for far too long, and as we prepare to begin debate on the Senate floor, I encourage all lawmakers to act to protect families, young children, and pregnant women from dangerous chemicals and support this bill."
We want to hear what you think about this article. Submit a letter to the editor or write to letters@theatlantic.com.
Jason Plautz
is a Colorado-based reporter covering energy and environment policy.