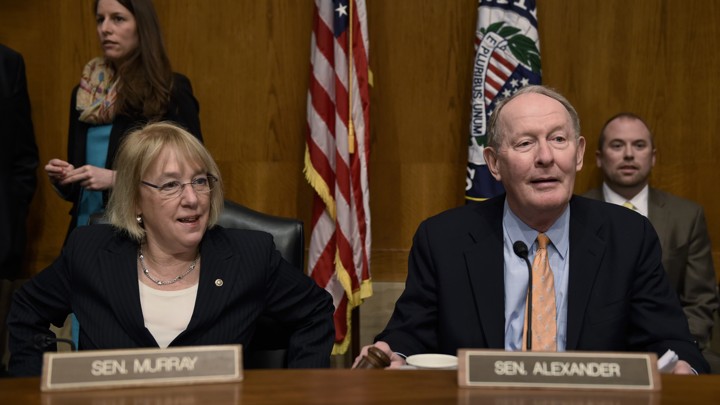 Roughly 10 hours before a popular form of need-based college aid was to sunset, Sen. Lamar Alexander took to the Senate floor and objected to unanimous consent. And with that, the Senate could no longer approve a House-passed, one-year extension of the Perkins Loan program that had garnered some bipartisan support in the upper chamber.
In a floor speech, the Health, Education, Labor, and Pensions Committee chairman explained why: His committee is in the thick of crafting a bipartisan Higher Education Act reauthorization, a sweeping law that, among other issues, governs the country's federal aid for college. And his goal is to simplify the aid system. In his view, "Perkins ... is not as effective a loan in meeting those goals as the other loans."
When it comes to higher education, there's a hope among members that the Tennessee Republican and the panel's top Democrat, Sen. Patty Murray, will work the same negotiation magic that the pair performed on a No Child Left Behind rewrite that garnered support across the political spectrum.
Discussions between Murray and Alexander's staffs began recently, and the panel's goal is to write a bill by year's end. 
The ongoing conversations between the panel's staff follows many bipartisan working group meetings—open to any HELP Committee member's aides—that the chairman and ranking member announced in May. The staff met almost daily during the summer to discuss the four major issues they were tasked with analyzing: accountability, accreditation, college affordability and financial aid, and campus sexual assault and safety. 
The task of reauthorizing the act—an almost 1,000-page law, with another 1,000 of higher-education regulations—is one that eluded the 113th Congress. The Higher Education Act, first signed into law in 1965, was a feature of President Lyndon Johnson's Great Society, aiming to help financially strapped students afford college. The legislation has since been reauthorized eight times, the last which came in 2008.
The top members of this iteration of the HELP Committee are tackling its reauthorization and have proven once before that they have not only the political chops but the knack for compromising with one another to create a bipartisan product both can feel confident bringing back to their respective parties.
For higher education, they'll work off the negotiating framework they created to reauthorize the Elementary and Secondary Education Act, which Alexander said in an interview "worked very well then, and hopefully it will again."
"We've actually made a list of what we're sure we could do, what can we probably do, and what will we probably have to handle by amendment," the Tennessee Republican said. "And so what Senator Murray and I will try to do is offer a bipartisan starting point that'll include those things that we can easily agree on and then other things we'll just have to vote on, in committee and on the floor."
In an interview, Murray listed the three top priorities she's working to address: Accessibility, affordability, and safety on campuses. The former recipient of Pell Grants and student loans said at a May HELP Committee hearing that when it comes to the price of college, "we need to reduce the crushing burden of student debt. Making college more affordable will be a central part of what I focus on throughout any discussion on higher education."
Debate could come in the form of amendments on the more polarizing items, such as for-profit colleges and President Obama's proposal for free community-college tuition, Alexander said.
Proposals with both some Democrat and Republican support that have already been introduced in the Senate will likely be looked at for possible inclusion in a new bill, Alexander said. One, the FAST Act, would significantly reduce the lengthy Free Application for Federal Student Aid questionnaire, aiming for as close to two questions as possible. It would also let high school juniors see how much federal aid they could receive for college, make Pell Grants year-round, and more.
Another stems from a task force created by two Republicans, Alexander and Sen. Richard Burr, and two Democrats, Sens. Barbara Mikulski and Michael Bennet; the senators commissioned the task force to review and write a report on the Education Department's regulations and reporting requirement for colleges and universities. Inside, the report provides a variety of changes, and it's possible some version of these could be included in a broader higher-education package.
Additionally, the committee is also looking at a bipartisan bill, the Campus Accountability and Safety Act, which is aimed at combating sexual assault on campus. The committee may include some of those proposals in the reauthorization, according to Alexander. In committee hearings, Murray has noted that a safe learning environment is paramount for student success; thus, preventing sexual violence and assault is a high priority for the Washington state Democrat.
"There should be no question that sexual violence on campus is a widespread, growing, and unacceptable problem," Murray said at a June 29 hearing combating sexual assault. "Simply put, in colleges and universities across the country, basic human rights are being violated. And all too often, current systems and campus climates encourage underreporting rather than action."
These aren't all the issues that could come up in a higher-education package, and there may be disagreements along the way as members hammer out a reauthorization that could pass the panel and the full Senate. Still, Alexander noted that "there's already enough well-developed bipartisan proposals by members of the committee that we can put those together and make a pretty good bill just with the proposals that are already out there."
We want to hear what you think about this article. Submit a letter to the editor or write to letters@theatlantic.com.
Rachal Roubein is a staff correspondent for National Journal covering Congress