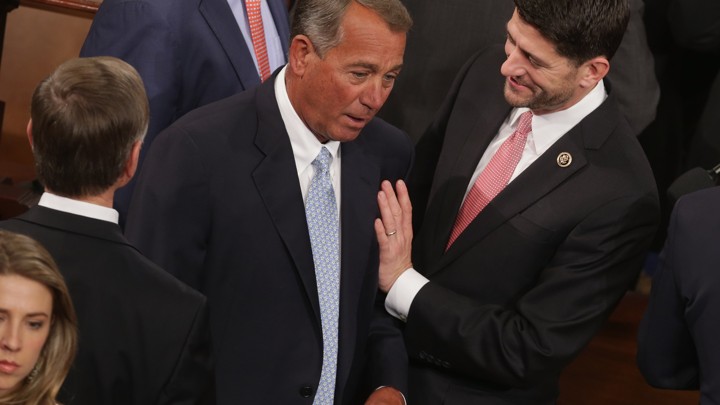 As Congress was thrust into history-book-level dysfunction Thursday, the field of candidates for speaker of the House seemed to swell from three to 300 million.
Yet the only one that many members said would be able to attract the support of the conference refuses to do it, leaving House Republicans effectively leaderless in the wake of Majority Leader Kevin McCarthy's surprise withdrawal from the race to succeed Speaker John Boehner.
House Republican leaders tried throughout Thursday to recruit Ways and Means Chairman Paul Ryan, the most-recent unsuccessful vice presidential candidate. When asked whether Ryan should run for the position, McCarthy said, "I hope he would." And conference Chairwoman Cathy McMorris Rodgers said she asked Ryan to run, too.
"There are two things that can happen: Paul Ryan or Boehner stays," Rep. Devin Nunes said.
"I believe if Paul Ryan wanted to run, I bet he could support 218 Republican votes," Rep. Charlie Dent said.
But before most members had even left the room where they convened this morning, thinking they would elect a new speaker, Ryan released a statement: "While I am grateful for the encouragement I've received, I will not be a candidate."
Rep. Trey Gowdy, who himself was being pressed to take a run at leadership, said the persuasion would be slow. "It's not just about what's best for the conference. It's also in some regard what's best for your friend. He's got small kids. He's a family guy, goes home every weekend. And that job is really tough, very demanding, and you travel a lot," Gowdy said. But when asked whether he thought Ryan could unify the conference, he replied, "Either him or the fella that just spoke to us, but he went back to Italy."
Amid the confusion, Rep. Lynn Westmoreland threw his hat in the ring Thursday afternoon. It's unclear how much support he could attract, but some members had suggested the Georgian as a middle-ground candidate who has relationships with current leaders and conservatives.
"We've been getting a lot of good comments and feedback. It's very encouraging," Westmoreland told The Daily Caller. "We put our name out there. People know we are interested in it. So we'll see what happens."
Meanwhile, members absorbing the shock mused behind closed doors that any American could be elected, since the Constitution does not specify that the speaker has to be a member of Congress. Former presidential candidate Mitt Romney or Mitch Daniels, some members said, should be drafted to lead the rambunctious House.
"There's actually some talk about this," Rep. Andy Barr said added. "Mitt Romney is a standard bearer for our party. … He's someone who has private-sector-executive [experience] who has come into difficult, challenging organizations and turned them in a positive direction. He's a leader. He can lead as the nominee of our party. He has the communication and political skills that are required, but I don't know if that's even something that he would entertain."
The far-flung suggestions illustrate just how dumbfounded members are at their inability to come to a consensus candidate for the post. Rep. Peter King said some members were crying in the Republican cloakroom after McCarthy's announcement, bemoaning the bitter divisions in the part and its lack of direction. Others were simply at a lack for words.
"It's almost like you've got these cards and they've just been shuffled, then they've just been thrown up in the air," Rep. Mia Love said. "I've got to wait and see what choices we have at this point."
In the coming days, House Republicans will have to come back to earth and decide who can be their party leader. Boehner has said he will resign Oct. 30, though he has told colleagues privately that he will remain speaker until another candidate can win the 218 Republican votes needed to succeed him.
"It is kind of ironic that the people that wanted him gone might be the very people that make him stay," Rep. Tom Rooney said of Boehner. "The hard-liners are not going to allow anybody that can truly get 218 to get 218, so in that respect, the speaker is going to have to stay until they can get there."
As they did the day Boehner announced his resignation, members began floating the idea of what would in essence be a continuing resolution for speakers—a caretaker speaker, or a member who has already announced his or her resignation but could step into the role for the remainder of the 114th Congress.
"Right now we are clearly divided, and I'm not sure we have the ability to come up with a consensus for a long term," Rep. Bill Huizenga said. "If there was an understanding that we would have somebody like a Candice Miller or a John Kline or somebody like that, who doesn't have aspirations beyond getting out of Congress after the end of this term, but has an understanding of how the institution works, an understanding about how the political process works, how to govern; I think that may be something that we need to do."
But Miller herself shot down the idea of running, and others questioned whether even an interim speaker would be able to attract the 218 votes on the House floor, saying instead that Boehner already fits that role.
"If we're going to have a caretaker speaker, let that be John Boehner," Rep. Carlos Curbelo said. "He will continue serving as speaker until the House elects a new speaker."
Many members of the House Freedom Caucus, who essentially blocked McCarthy by declining to vote for him unless he made concessions on procedural changes or even allowed one of their own into the leadership circle, said they would continue backing Rep. Daniel Webster. But the former Florida statehouse speaker does not seem to have made inroads with many members beyond the Freedom Caucus.
When asked who he would like to see as the next speaker, Freedom Caucus founding member Rep. Mark Meadows replied: "Obviously, the House Freedom Caucus endorsed Daniel Webster and that's where we remain with our commitment, but this is a fluid situation that will change hour by hour, day by day, and to suggest that everything is in concrete would be disingenuous."
Many other, presumably more likely names were quickly floated for speaker, including Reps. Tom Cole and Greg Walden, the latter of which told reporters he would actually consider it.
But it was clear the issue would not be settled in the near-term, and the conference may meet Friday to begin discussing who, if anyone, can unify them. When asked who could possibly be the next speaker, Rep. David Schweikert replied, "Right now, there's a chance all of us could be."
---
Alex Rogers, Alex Brown, Clare Foran, Ben Geman, and Rachel Roubein contributed to this article
We want to hear what you think about this article. Submit a letter to the editor or write to letters@theatlantic.com.
Daniel Newhauser is a staff correspondent for National Journal, where he primarily covers the House of Representatives. He was formerly a House leadership reporter for Roll Call, where he started as an intern in 2010 and quickly earned a slot as a beat reporter.
A native of San Antonio, Texas, Newhauser traveled further West to study journalism at Arizona State University's Walter Cronkite School of Journalism and Mass Communication and write for newspapers including the East Valley Tribune and the Green Valley News & Sun.