The Five U.S. Cities With the Most Educated Latinos
High school and college graduation rates are steadily improving, but not fast enough.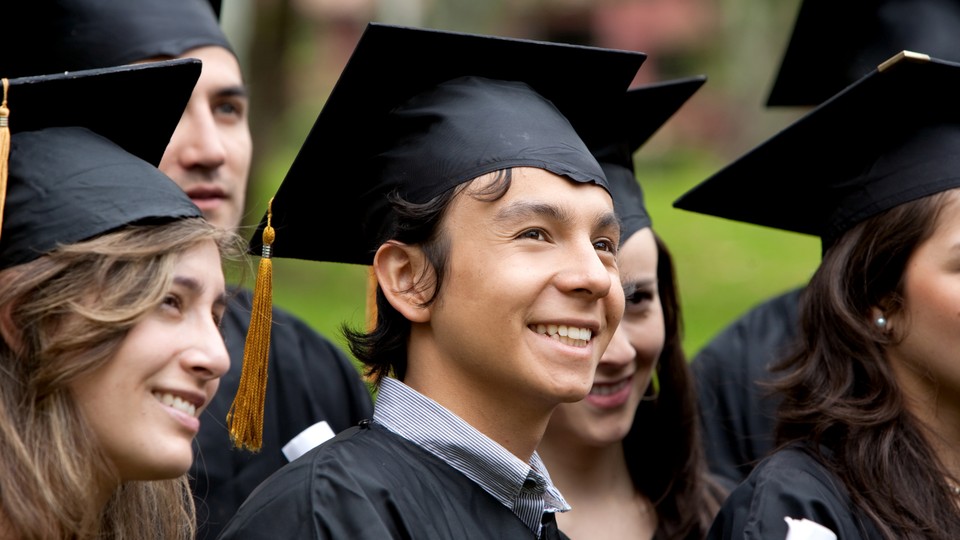 Overall, educational-attainment rates for Latinos are far behind where they need to be, especially considering their projected growth as a share of the workforce and the growing demand for postsecondary training.
Among the cities with the largest Latino populations, the share of those with a bachelor's degree or higher is in some cases as low as 5 percent, according to data from the National Equity Atlas, a joint research collaboration from PolicyLink and the University of Southern California's Program for Environmental and Regional Equity. Nowhere is educational attainment higher for Latinos than in Miami, where 26 percent of Latino working adults ages 25-64 hold at least a four-year degree. By comparison, 42 percent of Miami's white population is college educated—a 16-point gap.
For Joaquin Martinez, associate provost for student achievement at Miami Dade College, that 26 percent is just not good enough. Especially in the face of what he calls "the perfect storm building on the horizon" of a growing Latino population and workforce, higher attainment for Latinos is crucial for fully benefitting from and contributing to the economy.
"We are floored by that, and we work diligently to increase that. That's not impressive," Martinez says of Miami's share of Latino working-age college graduates. "Student success outcomes have huge implications economically for the whole country, but especially for students locally and the local workforce."
For a more fair comparison, Next America evaluated educational attainment in the top 150 metropolitan areas that are also home to at least 200,000 Latinos (37 in total). Rounding out the top five metro areas for college completion among those 37 after Miami are Washington, D.C., where 23 percent of Latinos are college graduates; Orlando and Boston, both at 20 percent; and San Francisco, where 18 percent of Latinos hold at least a bachelor's degree.
Among the 37 cities, Miami is not only first in Latino college attainment, but also a close second to Orlando on high school graduation (82 percent), followed by Albuquerque (79 percent), Tampa (78 percent), and Tucson (75 percent).
The cities with the highest share of Latino high school and college graduates also tend to mirror those that have a high share of working-age Latino adults. All but one of those 10 cities (Tucson) also rank in the top 20 cities with the highest share of Latinos over the age of 18, according to the Census Bureau's 2013 American Community Survey. At the very least, that translates into a higher share of the Latino population old enough to have graduated with a degree. But Miami education leaders say it has also fostered a more established and supportive environment in which those adults mentor and inspire youth to dream bigger and achieve more.
"We have a significant amount of Hispanic teachers that teach Hispanic students. I think that absolutely makes a difference in high school graduation rates," says Fedrick Ingram, president of United Teachers of Dade, a union for education professionals in Miami. "People see themselves in a better light when you get a chance to see more success. Here in Miami, you have lots of successful people of the Hispanic diaspora, and I think that manifests itself as it relates to students in K-12 and through higher education."
Martinez has seen higher high school graduation rates translate into a steady increase of Latino applicants over the past three years at Miami Dade College. That's also partly thanks to the school's outreach to Miami-Dade County public schools. Martinez leads the college's retooled efforts to improve completion rates, making sure students leave either as a transfer student or with a degree in hand.
One of the college's other measurable successes is better connecting students to a major, because Martinez's data shows entering a program early significantly increases a student's odds of earning a degree. In three years, the college decreased the share of undeclared students from 44 percent to about 5 percent today.
"At Miami-Dade, 71 percent of our students identify as Latino or Hispanic, so anything we do is going to impact Latino completion rates, because that's the population that we serve," Martinez says.
Educational challenges in California's Central Valley
Four out of five cities that rank in the bottom five among the 37 that Next America analyzed for high school and college attainment are located around California's Central Valley. Dallas is the exception. Only 5 to 7 percent of the Latino populations hold a four-year degree or higher in the California metro areas of Bakersfield, Visalia, Salinas, Stockton, and Modesto. And just about half of Latinos have finished high school in Salinas, Bakersfield, Visalia, Fresno, and Dallas.
Those statistics have long concerned California education experts. They also carry serious implications for the state's future, says Michele Siqueiros, president of the Campaign for College Opportunity, a nonprofit working to expand access to higher education in California.
"We're on track to under-produce the number of graduates we need for the state's workforce and economy," says Siqueiros. "We do absolutely need to close gaps that exist for students of color in our state, considering that we are already a minority-majority state."
The challenge in the Central Valley is its high share of immigrant workers whose children are often first-generation college students. It is both one of the fastest-growing regions in the state and one of its poorest, according to data from the Campaign for College Opportunity.
While more students are enrolling, the goal now is to make sure they graduate, says Cheri Cruz, associate director of the Central Valley Higher Education Consortium, a partnership of 27 area colleges working to increase attainment in the region. Latino students in the Central Valley often arrive underprepared and without the financial resources and support that a college-educated parent can provide.
"They're working maybe one or two jobs, some of them are trying to balance family, and it's taking them seven years to go through college," Cruz says. "They're going to give up. We know that without that support at home, without all of what it takes to support someone going through college, it's really easy to just give up. So persistence becomes an issue."
The Central Valley Higher Education Consortium is tackling attainment from many angles—from hosting math and college boot camps to facilitating collaboration on curriculum between high schools and colleges, as well as providing more course-scheduling flexibility.
"With students that are highly at risk of not completing, the best thing we can do is to decrease the time to degree, especially for Hispanic students," Cruz says. "They have other priorities; they want to get out and work and start a family. We want to get them through, get them out and get them employed."
Already there is noticeable progress among second-generation Latinos in the Central Valley. Attainment levels for Latinos tend to skew low overall, because they include education levels of both immigrants who might not have degrees and those who were born and educated in the United States. High school graduation rates immediately shoot up past 75 percent for native-born students in those Central Valley metro areas, reaching as high as 81 percent in Visalia. College completion among native-born Latinos reaches 13 percent in the Salinas metro area and 10 percent in Visalia and Stockon.
However, even a 10 percent college graduate rate is far below what cities like Stockton will demand in merely five years. In 2020, 67 percent of jobs in Stockton will require at least some postsecondary education or training, and 36 percent of jobs will require at least a bachelor's degree, according to National Equity Atlas data.
To fuel future economic growth, Latinos will increasingly need postsecondary certificates or degrees to fill the demand for highly skilled jobs. While students are enrolling at higher rates, the challenge now is for campuses to make sure they graduate.
---
Andrew McGill contributed to this article