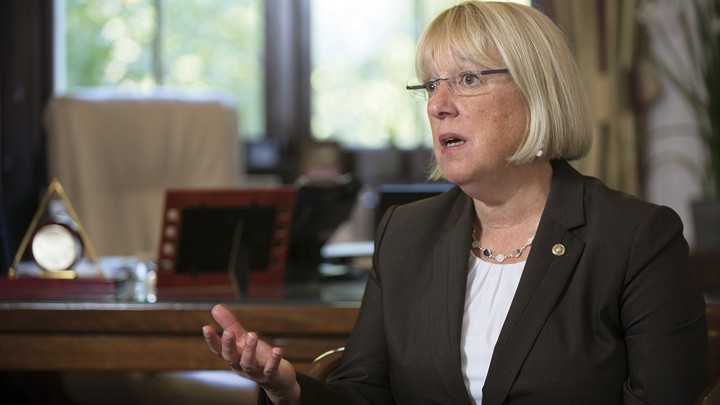 Sen. Patty Murray grew up far from the D.C. political bubble. As a child, she lived in a suburb of Seattle, working with her six siblings in their father's five-and-dime store. After illness took away her father's ability to work, food stamps helped the family get by for a few months. When Murray went to college, Pell Grants and student loans put her through school.
This notion, that the government can lend a helping hand, is the foundation of Murray's approach to public policy, and she draws from her personal experiences as she spearheads the Democratic side of the Senate Health, Education, Labor and Pensions Committee.
"I felt like I had a country at my back when my dad got multiple sclerosis and lost his job," Murray said in an interview. "We had nothing, and I want to make sure that people in this country today feel like they have a country at their back if hard times come at them, and that a hand up will provide a stronger country for the future is, I think, what drives me."
Murray's colleagues view her as principled, yet pragmatic. During her more than 22 years in the Senate, the former preschool teacher and current No. 4 Democrat has developed a reputation for cutting tough deals in a Congress often stymied by partisan gridlock, perhaps most notably brokering the Murray-Ryan bipartisan compromise of 2013.
"By avoiding opportunities to be publicly combative, she is a trusted negotiator from the perspective of the Republicans," Sen. Tammy Baldwin, a HELP Committee member, said. "There's a belief that they can have frank conversations, and that she's simply trying to get the job done."
So what basic ingredients does Murray need when she's trying to make a deal?
"I would answer that by saying, knowing the person that you're negotiating with—what's important to them. Is it their kids and their family? Is it fishing? Is it football? Something that you can always go back to when negotiations get tough that you can share a laugh with or joke about or make it personal again to remind them that you're two people."
This congressional session, Murray forged that bipartisan negotiating table for her panel. At the start of the year, Alexander introduced a conservative draft of a No Child Left Behind rewrite.  
"That's not typically how we do things in the HELP Committee," Murray told National Journal at the time. So, she came to Alexander with a proposition: that the two work together to create a bipartisan draft. In that plan, there would be no need to slowly win over enough Democratic support for the legislation to squeak through the upper chamber. Instead, the chair and ranking member could sell the bill together.
"I thought about the fact that we had not succeeded in the last three Congresses on fixing No Child Left Behind," Alexander said in an interview, "so I said, 'OK, I'll take your advice.' And it turned out to be good advice."
That moment, it turned out, was not only critical in passing the bill unanimously out of committee and 81-17 on the Senate floor, but in setting a foundation for future bipartisan negotiations. "A committee takes on a tone," said Sen. Sheldon Whitehouse, who's on the HELP Committee, "and the tone it takes on helps define what its possibilities are. And I think the success of the [education] bill—that's a very positive and constructive tone for the HELP Committee that gives us a lot of momentum going into higher education reform and going into [health information technology] reform."
Chair and ranking member have similarities. They each have respect within their political parties—Murray has served as Democratic Conference secretary since 2007 and Alexander is a former conference chairman, who resigned from leadership in 2011 to "spend more time working for results on issues that I care most about." Their approach to governing is more than fighting for what they believe. And they both, Murray says, have strong beliefs in terms of policy but are comfortable sitting back and listening to the other side.
Alexander has found a good partner in Murray. For one, "she's results-oriented," the chairman said in an interview. "She's no-nonsense. She's in Democratic leadership, so I know that she reflects the Democratic caucus, and I also know that if she agrees to something, she can probably get it done."
Sen. Susan Collins felt the same way when, last session, she served as the top Republican on the Senate Appropriations Subcommittee on Transportation, Housing, Urban Development, and Related Agencies. Murray was the chair. "She recognizes that we're not always going to agree on an issue, but she will try to find common ground wherever possible," said Collins, also a HELP Committee member. "The results when I worked with her is that we always were able to produce a bipartisan bill in the Appropriations Committee."
Yet, despite the HELP panel's commitment to bipartisanship, Murray is still in the minority party, and Democrats don't have the final say. But, Murray said, the minority has its own power: Without them, the majority can't push legislation through the Senate.
"If you want to just come here and fight, you can do that," Murray said. "But if you really came here because you passionately care about making sure that education works for families or that higher education is accessible or that the [Food and Drug Administration] works for tomorrow and brings accessible, affordable drugs to Americans that are the gold standard—those kinds of things—if you want to accomplish that, then you do have to reach across the aisle, whoever's in the majority."
And, Baldwin said, Murray doesn't let being in the minority be an excuse for not championing Democratic causes. "I think she organizes other venues for us to raise those issues, but we obviously want to urge the chairman to give greater attention to issues like increasing the minimum wage and paid sick leave and paid family and medical leave—issues that are so important to the American worker and aren't getting enough attention in the United States Congress."
You can hear that fight in Murray's speeches on the Senate floor, in her opening statements at HELP Committee hearings, and in the legislation she's introduced.
Throughout her Senate tenure, Murray has stayed true to this mission of helping families and women. On Feb. 2, 1993, the new senator took to the floor to deliver one of her first of many speeches there. She voiced her support for the Family and Medical Leave Act, drawing upon her own experiences as a mother.
"When I was 26 years old and worked as an executive secretary in Seattle, I became pregnant with my first child," Murray said. "At that time, even though I was working out of economic necessity, there were no options for working mothers. A family leave policy would have enabled me to devote my attention to the changes in my family. It would also have given me a very important message about our country: that our families are as important as our jobs."
We want to hear what you think about this article. Submit a letter to the editor or write to letters@theatlantic.com.
Rachal Roubein is a staff correspondent for National Journal covering Congress