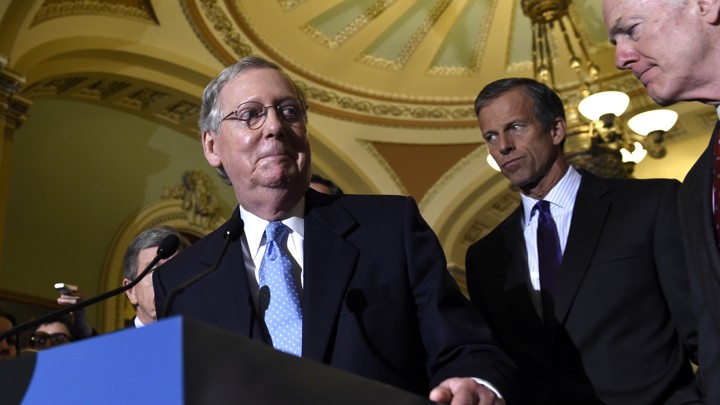 House and Senate leaders are at an impasse about how to move a debt-ceiling bill, after support for a House Republican plan to conditionally raise the nation's borrowing cap collapsed amid wide complaints within the conference.
A Wednesday whip check of a debt-limit bill crafted by the Republican Study Committee found that it would not have enough GOP support to pass the House, so leaders have abandoned tentative plans to move forward with the bill, according to several sources within the leadership operation.
Many Republicans objected to the fact that the measure was not brought up through regular order and that the full implications of the plan could not be understood by members in the few days leading up to what would have been a Friday vote.
Centrist members, meanwhile, rejected the plan because many believe they will ultimately be called upon to bail out the conference and vote for a clean debt-limit increase that most GOP members would reject. Voting for the RSC plan and then a clean bill would have isolated them and made it appear they were caving while the rest of the conference was standing firm, according to members and aides involved in the discussions.
That same dynamic played out in 2014, when 28 Republicans voted with most Democrats to advance a debt-limit bill with no strings attached. But GOP leaders have said they are unsure they could find that much support this time around. Several of the members who voted for the 2014 bill have since retired or been defeated.
As a result, the House may cede its position as the body that will move a debt-limit bill first. Several House leadership sources said the House would not likely act before the Senate, even though the upper chamber's unique processing issues would considerably slow the process.
Senate Republican leaders have said all week that they would wait on the House to act first, potentially adjusting whatever the lower chamber sent over to ensure that it could pass the Senate with the necessary Democratic support. Sen. John Thune, the No. 3 GOP leader, said Tuesday that leaders would prefer that the House act first because the Senate could need as long as a week to pass anything on the debt limit and leaders would hate to waste that floor time on something that couldn't get to 218 votes in the House.
But with just a handful of legislative days left before the country reaches it debt limit, Senate leadership may have to reverse course and move before the House. Leaders have not set a public deadline for the House to act before they move forward, but they acknowledge that as they get closer to Nov. 3, the clock could force their hand.
"We've got, what, just two weeks from today basically," Thune said Tuesday. "So yeah, I'd be game with the Senate jump-starting this thing if necessary."
"We know what the deadline is," added GOP Senate Whip John Cornyn on Thursday. "So we're just waiting, for now, but at some point we probably can't afford to wait any longer."
Leadership expects to open any debt-limit legislation to amendment in the Senate, which could present problems in coming to agreement with the House, regardless of which chamber moves first.
Some House leadership sources have said Speaker John Boehner is continuing to work with House Democrats and the White House to try to craft a compromise that would include mandatory spending reforms, thus attracting some Republican votes. But time is running short, and the White House has said often that it does not plan to negotiate against the full faith and credit of the United States.
Whichever chamber moves first, Cornyn emphasized Thursday, Congress will not allow the U.S. to default on its debt.
We want to hear what you think about this article. Submit a letter to the editor or write to letters@theatlantic.com.
Daniel Newhauser is a staff correspondent for National Journal, where he primarily covers the House of Representatives. He was formerly a House leadership reporter for Roll Call, where he started as an intern in 2010 and quickly earned a slot as a beat reporter.
A native of San Antonio, Texas, Newhauser traveled further West to study journalism at Arizona State University's Walter Cronkite School of Journalism and Mass Communication and write for newspapers including the East Valley Tribune and the Green Valley News & Sun.
Alex Rogers covers Congress as a staff correspondent for National Journal. He previously worked as a political reporter at TIME. He is a native of Bethesda, Maryland and a graduate of Vanderbilt University.